by Désirée Guzzetta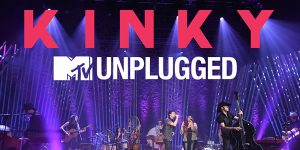 After five studio albums, Kinky, a popular Mexican alternative band that formed in 1998 in Monterrey, Mexico, is getting its first "MTV Unplugged" album, and it's a gem.
Rather than a career retrospective, however, Kinky decided to put its own imprint on the "Unplugged" format. While the band has re-imagined songs from four of its studio efforts, as well as put its own spin on several covers, as other acts have done for the MTV series, it's also premiering new music specifically for the "Unplugged" performance.
It should be noted that the songs are not entirely unplugged—some synthesizers creep in, but do not overwhelm the truly unplugged instruments. After all, it wouldn't be Kinky without some electronica, but the band remains vibrant, even when the songs are subdued. By removing most of the electronic layers from its frenetic hybrid of electronic and Mexican Regional sounds, Kinky bares the deeper beauty of its music.
The album is a star-studded affair, with La Mala Rodríguez again lending her rap skills to "Negro Día" (off the fifth album, "Sueño de la Maquina"), and new collaborators, including Carla Morrison on "¿A Dónde Van Los Muertos?" (one of the band's most popular efforts, from its third album, "Reina"), and Banda Los Recoditos sitting in on a reworked version of its own hit, "Ando Bien Pedo" (here retitled "Bien Pedo, Bien Loco").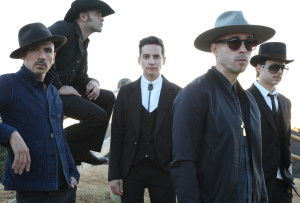 "MTV Unplugged" also captures Kinky's live energy, which it has in abundance, even when it slows the tempo down, as it does on the quiet but strong opener, a nearly unrecognizable version of "Soun Tha Mi Primer Amor" (off the band's self-titled debut album). Stripped of its horns, with its half-spoken, sometimes shouted lyrics replaced by straight-up singing, the "Unplugged" version of "Soun" is revelatory, less insinuating and seemingly more nakedly emotional than the original. It's not as bouncy, but it's also unbounded.
Both "Dónde" and "Negro" work well as slower dance songs, while "Una Línea de Luz" (also from "Reina"), with its stuttering rhythms smoothed out, sounds like it should have been performed this way all along.
Highlights of the new material include "Huracán," danceable even in its acoustic trappings; "Sin Palabras," a mid-tempo song; and "Vuelve," a beautiful ballad. The covers also work well, especially their version of Ramón Ayala's "Para Poder Llegar a Ti," here recast from its original, bouncy norteño into a quick-paced dance track, as well as "Soy Lo Peor" and "Para Que Regreses," redone in the Kinky mold (sans heavy synthesizers, of course) as peppy dance tunes. "Bien Pedo, Bien Loco," which closes out the entire set, is a crowd-pleaser, judging from the audience reaction throughout.
Despite the acoustic, generally unhurried nature of the "Unplugged" series, Kinky keeps the tempos peppy and the album well-paced. Musically, everything still works; real drums replace drum tracks, and acoustic guitars focus in on the melodies of the music in a fresh way. Also, even without the visuals, the band's energy is palpable, with the guest stars adding to the fun atmosphere. "MTV Unplugged" is ultimately an enjoyable journey through the band's past, and an exciting peek at its future.
 The album, as well as a DVD of the performance, will be released February 10, 2015, with the show making its U.S. premiere on MTV tr3s on February 9, 2015.
*A previous version of this article incorrectly stated that Carla Morrison appeared on Kinky's album, "Reina." That information has been corrected.