During their press conference at E3 2014, Sony announced that Bungie would be granting access to the Alpha release of Destiny for people who owned a PS4 and had registered through their website. 

Why they were letting people into play an alpha release was beyond me, but you can imagine how quickly I jumped online and went to Bungie's site to sign up. 

Typically, developers will grant access to the a beta release of a game, which is the stage after the alpha. This usually feels like a lottery and not everyone gets accepted.  If you are somehow accepted, you can expect a game that is pretty close to the full release, but it's a little bit buggier, as they are still working out the kinks at this point. 

The alpha is usually kept in house and not shown to the general public. 

I wasn't sure what to expect when I got an email from Bungie saying that I had been accepted.  I rushed home from work and jumped on the PS4 as soon as I walked in the door. 

I obviously wasn't the only one, because the download took forever. I figured there were bandwidth issues with a ton of people trying to download the alpha at the same time.  Sure enough, the next morning the game was downloaded and installed. 

So how was it? 

Short answer:  It was beautiful!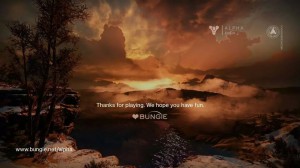 As you start the game, you are greeted by a message from Bungie, thanking you for taking part in the alpha.  What's behind this message is a breathtaking vista of the landscape you will be playing in.  It seems that you can see for miles 

You're next taken to a character select screen where, as in most MMO's, you select which class you would like to play as.  Then you are directed to create your characters appearance. Unlike most MMO's, the character appearance screen isn't very complicated it all.  You are given a few choices and then you are on your way.  I was able to create a character that I was actually pretty happy with. 

After this you, you dropped into the game. 
Because this isn't a final release, you aren't just starting from scratch.  You character is already level 3, with some of the abilities unlocked.  I can only assume this won't be the case when we get to the final game.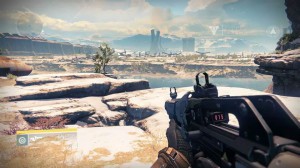 The first thing you hear is the voice of Peter Dinklage as Ghost, your robotic AI companion. 

Now, the word around the net is that his performance is a bit underwhelming, and I hate to say it, but I agree.  I know that he is playing a robot, and maybe that was an acting choice, but he just sounds like he's bored.  I'm hoping he becomes more lively as the game progresses. 

Llana : James I'm hijacking your article because I got to play the Alpha too, and I have some questions for you. 

James: Lol ok. 

Llana: I spent an inordinate amount of time designing my character, and was thrilled to be able to design a Black woman. What did you think of the options available as far as aesthetics, especially with all the E3 grumblings about the lack of diversity when it comes to your personal avatar? 

James: I liked it. It was simple but it had a lot of variety. You could spend forever doing a character. 

Llana:  What character did you pick? 

James: I picked the human. First I started with the Warlock but went through all three (Warrior, Hunter, Warlock). I did like the Warlock the best. He had the most interesting powers.
Llana: What could be improved?
James: There were a couple of things that bothered me. I think they stuck a bunch of different leveled creatures in the game and it made it difficult. Also Peter Dinklage as the voice of the AI.   The story is a little weak.
Llana: Did you get to do online game play?
James:  No alpha ended before I got the opportunity. Did you get to do online play?
Llana:  I did. I was always scared to do it because I didn't want to be the character that sucked. Nobody was a jerk and it was fun. The game play was pretty fast and I didn't notice any glitches. I definitely think we need a TNE team when the time comes. That would be fun.  Any parting thoughts?
James: Not too much. I know that some people will play a beta and be done with the game. This just wet my appetite.  I'm going to be pre ordering it so I can get access to the beta. I just hope we get to keep our progress from that.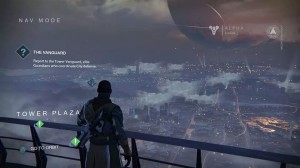 I can't wait until September 9th!