Taking place at the Washington Convention Center in Washington DC June 3-5, Awesome Con was a convenient metro ride away.  It had stiff competition as Wizard World Philadelphia, Phoenix Comicon, and Dallas Fan Expo occurred on the same weekend, but I wasn't worried, because DC knows how to represent and there was still a great guest list and several cool activities and panels offered. As someone who has had a great experience the last few years of attending this convention, I was looking forward to it again this year.
The beginning of the con started off great! Friday had a steady crowd, got the lay of the land.  I went to mostly small panels which I enjoyed.  It was great that a few of the media guests were there so I can get some autographs done and over with before the larger crowds on Saturday and Sunday.  Not all guests were doing selfies at their booths which was probably a good thing.  One of the things I do regret this weekend was not getting a mug that had Awesome Con's logo on it from the Wild Bills' booth.  I also didn't explore nearly enough of the exhibitors that were there either.
The guests like Agents of SHIELD's Brett Dalton, Elizabeth Henstridge as well as Brimstone and John Barrowman were funny and very friendly.  Guest Phil LaMarr even talked in Green Lantern's voice from the Justice League cartoon when I said that I thought he made the character sound sexy! Georgina Haig had a "Let it Go" box and I had to write about the lackluster season of Once Upon a Time so I can get over it. I had long conversations with Brimstone, who is the CEO of Hound Entertainment and creator of the comics Brimstone and the Borderhounds.  I'll post my interview with Brimstone soon!
As always with Artist Alley I visited some familiar faces while discovering some new ones and enjoyed talking with them.  I will include interviews I did in a separate article.
The Panels
For more about my panel experience check out my Awesome Con Panels and John Barrowman articles. As much as I enjoyed the big panels, a huge part of me wants to try to focus on smaller one's next year.  Don't be surprised if next year most of my panel coverage will be on a smaller scale.  Also there was an issue with the Doctor Who panel on Sunday, which I will get into more detail shortly.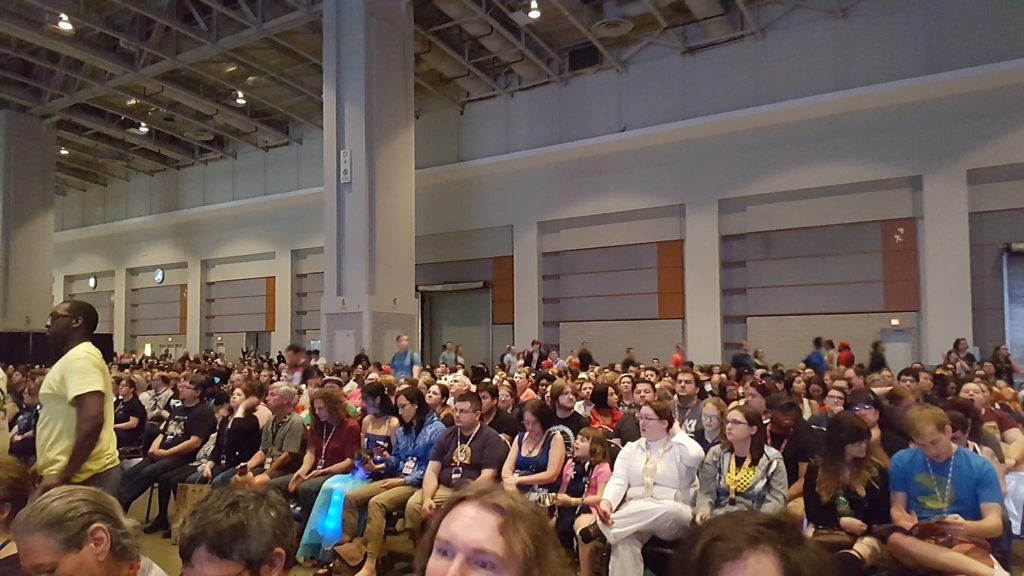 The Con Layout
This year there was only one way to enter the convention which was through the main convention center entrance which made it a little inconvenient for those that already had their badges.  Even though the panel map indicated you could enter a certain way into the convention in between buildings, that was not the case like last year.  You could get to the other building through the exhibit hall or going towards the registration.  While the layout was initially confusing I could see the flow they were trying to go for.  Registration occurred in Hall E where the big panels were last year, and there was space to line up for Hall D which was where the big panels were this year.  Those lines came in handy for panels like John Barrowman which many people were trying to get into.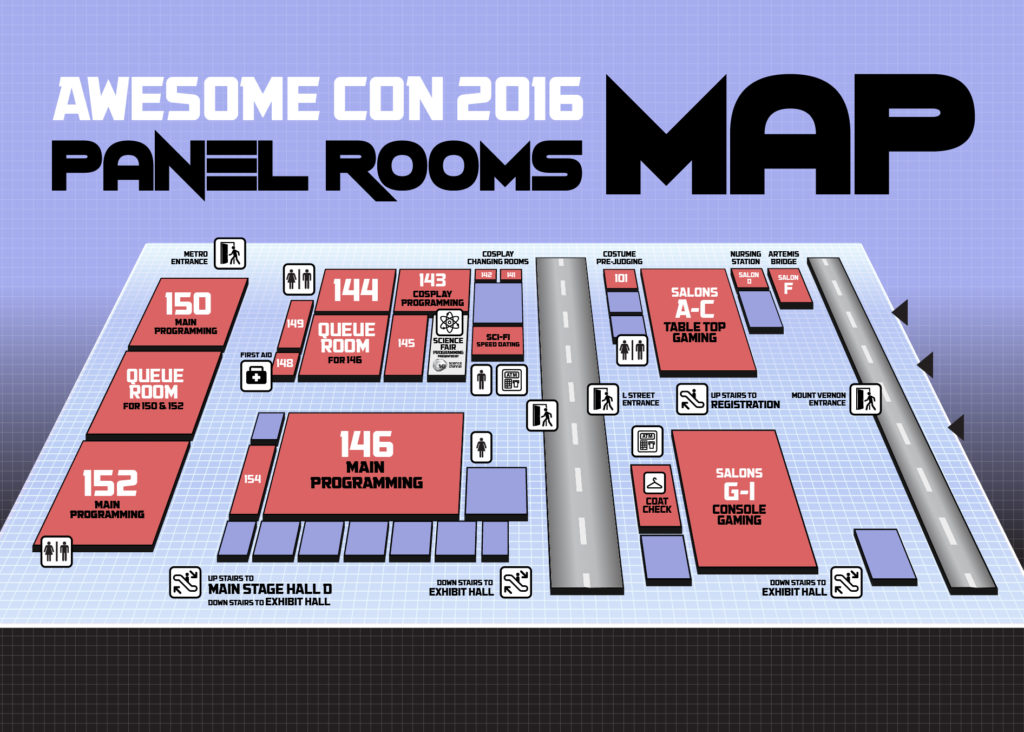 The Marriott Marquis has a tunnel that connects to the convention center in the main building. That was the main appeal of staying there so I wouldn't have to worry about going outside in the hot air.  On Friday it was great.  However, Saturday the tunnel was blocked. There was confusion on whether it was the hotel's doing or the convention's.  However, I did let someone know from Awesome Con that it needed to be fixed.  It looked like the issue was corrected on Sunday but just in case I went outside.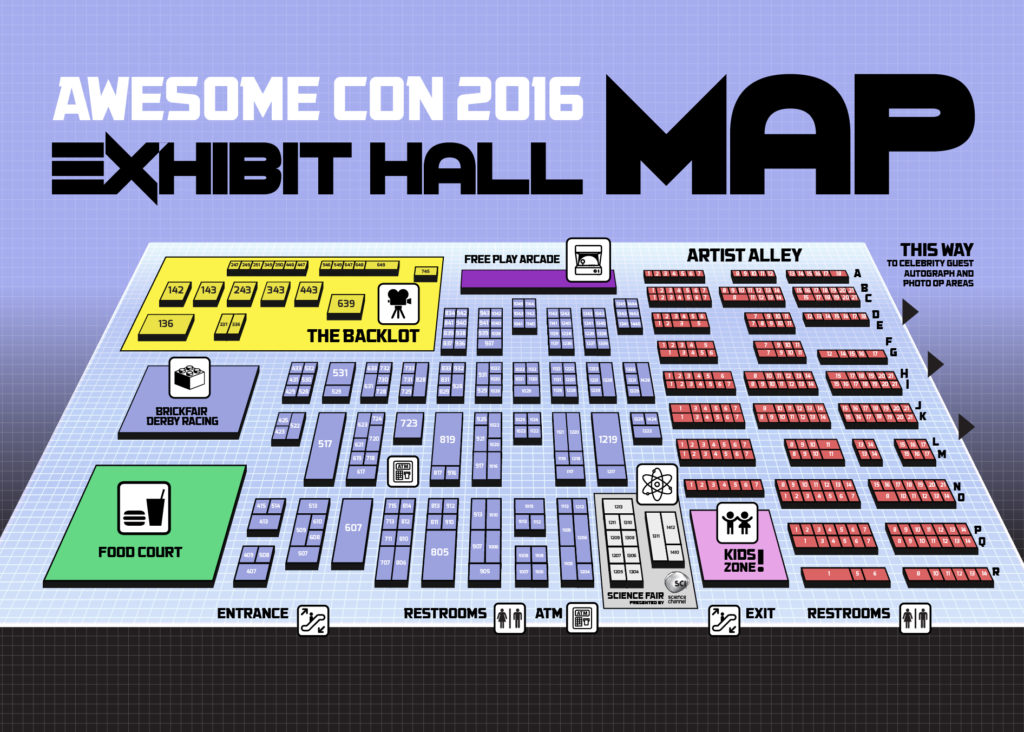 The exhibit hall was laid out as in years past where you have to get through some exhibitors and artist alley before heading to the media guests.  I'm glad that the layout stayed the same.  This gives both exhibitors and artists plenty of traffic as people are on their way to meet media guests if that was their goal. The aisles didn't feel too congested, even when it was very busy so you could walk to wherever you needed to go.
Photo-Ops
The Photo-ops that I got for the most part worked very well (except for Sunday, more on that shortly).  The company was very good at doing exchanges if you missed a photo op or if you wanted to do a photo-op one day versus another day.  However, there were problems of potentially overselling photo-ops.
Then Sunday Happened
I don't know what it was about Sunday but it just started on the wrong foot.  I noticed on the panel map that there was a room where we could check our coat and bag so I was like great I can drop it off instead of leaving it at my hotel because the convention center was on my way to the Metro.  However, when I got there with my heavy suitcase a volunteer near the entrance informed me that unfortunately the room was unavailable that day.  I was trying to not get frustrated at the volunteer because she was just relaying what she was told.  But after already sweating (it was hot outside) I had to go back and drop off my bag at my hotel, which means at the end of the convention I had to pick it up in the opposite direction of where the Metro was.  That was probably the worst day to not have the room since other people probably had the same idea.
Then I had some interviews (as press) with some artists scheduled around 9:30 am because it wouldn't be as crowded which helps eliminate too much background noise.  I was only a few minutes early, but unfortunately volunteers and security was only letting vendors into the exhibit hall, even when I tried to explain that I was meeting artists there I was directed into the Registration/Queue Hall.  Fortunately, another press person was also in the Queue Hall and was able to get us in after talking with another volunteer person. Once I got into the exhibit hall I let some of the artists set up and took a break eating a muffin trying to calm down.  There's just something calming taking a breath and eating.
The morning finally started going right.  I had the interviews I had scheduled and a few extra done. I was having such great conversations that I lost track of time and missed my photo op with Henstridge and Dalton.  However, I was able to exchange that op for Matthew Lewis and extra prints for the Doctor Who photo-op later that day so that was a nice spin from a negative to a positive.
I noticed that there was a lot of VIPs in the Peter Capaldi and Jenna Coleman autograph lines and it was steady throughout the morning.  Not only that but there were also long lines at the photo-op line to the point where the photos-ops were falling behind.  Since I was getting a duo photo-op it was supposed to start at 1:45 and go for 30 minutes.  However, not all of the single photo-ops were done yet, then there a long period of time where nothing was happening.  And the line seemed to keep on getting longer to the point there was no way their panel was not going to start on time.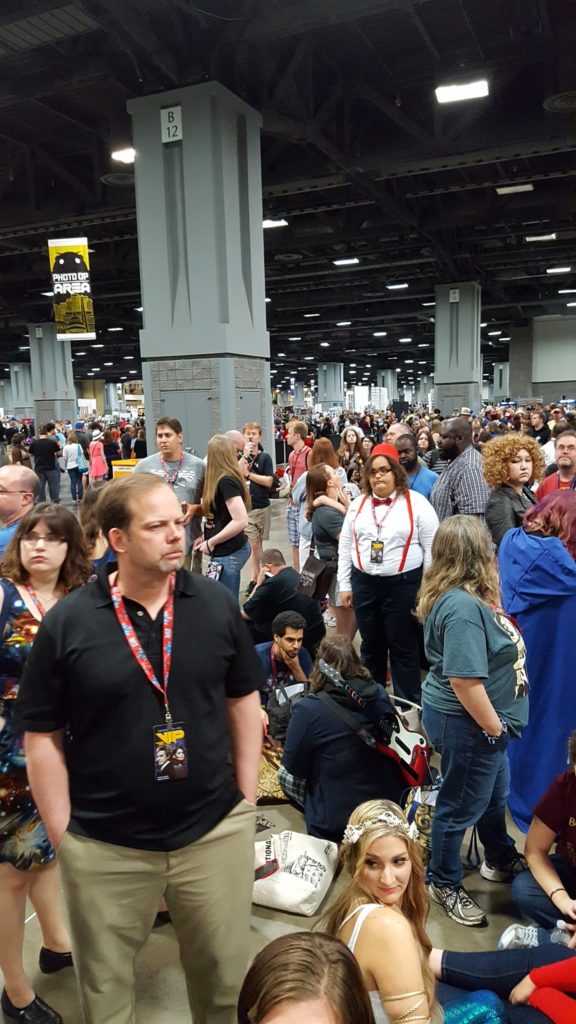 The duo photo-ops finally started but it was cutting into time the panel was scheduled.  By the time I got to the panel (which I barely got into mind you) it was close to maybe 3:30 pm then the panel didn't officially start until close to 4:30 pm.  There were people seated in the panel room that already waited over 2 hours for the panel to start.  At least while we were waiting the volunteers were giving out wristbands to people that had seats so they were able to come back.  Then since the convention ended at 5 pm the panel was cut in half when it finally started.  However, both Capaldi and Coleman were going to continue doing autographs afterward.   Yeah Sunday didn't go as planned at all for me and probably for several people.  I felt really bad for the cosplay contest that was originally supposed to occur after the Doctor Who panel.  I don't even know for sure if it was cancelled or moved to a smaller room.  Here is some of what founder, Ben Penrod, wrote on Awesome Con's website regarding the situation:
Yesterday, we welcomed Doctor Who's Peter Capaldi and Jenna Coleman – and while we anticipated a massive turnout, the volume of fans exceeded all our expectations.

From within the first hour of Sunday, we knew the plan we made going into the show wasn't going to work, and I apologize for that. We were unprepared, and I own that mistake.

We issued tickets because we didn't want fans to wait eight hours and not meet Mr. Capaldi and Ms. Coleman. We changed times and locations for their panel and signing to accommodate as many fans as possible. We could have done a better job of communicating the changing plans to the fans, and I own that as well.

At the end of the day, Mr. Capaldi and Ms. Coleman met everyone who received autograph tickets and the VIPs who were able to stay. We know a lot of people stayed late, and we know a lot of people weren't happy, and I apologize for that.

I want to thank all our fans for their passion and their patience, I want to thank all our volunteers who were our front line in communicating our changes, and I want to thank Peter Capaldi and Jenna Coleman for their graciousness and willingness to extend their time.

If you had a Doctor Who VIP ticket or a Capaldi or Coleman autograph or photo op ticket and weren't able to get an autograph or photo, tell me at tickets@awesomecon.com and we'll make it right.
For the full letter to attendees from Penrod, click here: http://www.awesome-con.com/official_information/ If you haven't contacted Awesome Con regarding your Doctor Who VIP, please do so sooner rather than later.
Suggestions for Next Year
This year I got the general VIP pass as in years past even though I was also press.  In the last few years, I have mentioned that I felt that getting the VIP pass was worth it.  However, this year I really didn't feel like a VIP.  It was especially felt during the Doctor Who photo-ops and seating at big panels.  I'm not sure if there were too many VIP passes sold but I'm sure that those that got the Doctor Who VIP didn't feel special at all for the amount of money they paid.  There should be a very limited number of VIP tickets sold (from general to guest specific) so that those that do get them feel like they have spent their money's worth. This is especially true if you have individual guests and theme guest VIPs.  Maybe it would be good to keep the perk of lining up first for photo-ops but for the general VIPs I think it would be good to bring back also being able to cut for autographs which was available in 2014.
Organizers probably already know this, but if the guests are only going to be there only one day, it is even more prudent to sell less VIP tickets and create a schedule that is doable so it doesn't seem like the guests have no break at all (I'm sure that wasn't the case but it seemed like it from my observations).  From what I saw of both Capaldi and Coleman, they seemed to be in good spirits but they also looked tired.
For the Marriott Marquis, if I decide to stay there next year (hopefully there will be a block of rooms) I'm hoping that both the hotel and Awesome Con can work out something regarding the tunnel.  The fact that it was closed on the busiest day was troubling, especially since that was the main draw for staying at that hotel.
For the room clearing for Hall D, if there are people that want to line up for the next panel, they should be able to exit through where they entered so they can immediately line up again with whatever line is already created.  This may help clear the room faster instead of everyone converging through one exit and then walking all the way around again to Hall E again.
I'm sure I haven't thought of nearly enough suggestions so let me know in the comments more suggestions!
There you have it guys! I still love this convention despite the hiccups.  I'm really looking forward to the con next year and see what Penrod and the other organizers are able to bring us!
Check back to the Awesome Con page for more coverage of Awesome Con 2016.
What vendors did you enjoy talking to and visiting?  What activities did you do? Did any of you experience the Science Fair portion of the convention? Sound off below on your Awesome Con experience!