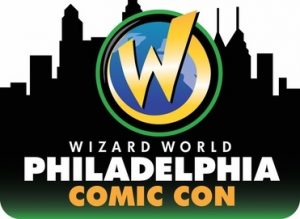 Starting Thursday, June 19th at 12:00 pm Wizard World Philadelphia (Philly) Comic Con will kick off at the Philadelphia Convention Center and last through Sunday, June 22nd.  With two weeks to go, the four day passes have already sold out and the Saturday tickets are close to getting there.  If that has not convinced you to at least check out this event I don't know what will.  Wizard World has several conventions in major cities across the country so there is a chance to check out a Wizard World convention that maybe closer to you if you are not able to attend here.
I attended the convention last year for the first time and had a blast! Check out my 2013 Wizard World Philadelphia Photo Gallery.  I made friends with a few fellow attendees and got to meet several artists that I'm looking forward to seeing again this year. A major highlight for me last year was meeting John Barrowman and Manu Bennett.  I still remember the kiss on the cheek Bennett gave me *sigh* and the 2 second hug I got for my photo-op with Barrowman. Interesting that both are on the hit TV show Arrow….
Ticket Breakdown
For those that are thinking about attending for the first time there are 5 type of passes:  individual day, four day (now sold out), a general VIP pass, and a specific special guest VIP pass, or a Dual VIP Pass.  Wizard World also offers autographs and photo-ops separately for several guests;  however, people have to have at least one of the passes mentioned above in order to get those photos and signatures. The fees of the autographs and photo-ops vary from $20 to $195.  Tickets  and any additional fees are non-refundable.
For those considering getting a VIP pass for a particular actor or a dual one, here is what it generally includes:
A three or four day pass
Getting into the exhibit hall 30 minutes early on Saturday and Sunday
A photo-op
An autograph on an 8×10 photo or a premium item (this pretty much means anything other than an 8×10 photo),
Guaranteed seating for that particular actor's panel.  For a Dual VIP pass it includes the panel that both actors are both going to be in.
The inclusion of these items makes the dual and single actor VIP package the most expensive of the group of passes.  The regular VIP/4 day pass only includes the first two items listed.  So far none of the VIP passes have sold out so there is still time to purchase the one you want.  The good thing about getting a specific guest's VIP pass is it saves time waiting in their autograph and photo-op line.  This helps if you are trying to line up for a popular panel.  However, if you're getting anyone else's autograph or photo you will still have to wait with the other attendees.
Here is the link where you can see the list of VIP passes that are offered and what is included:  http://www.wizardworld.com/vip-tickets.html#philadelphia.
One difference this year is the addition of a paid panel. The Doctor Who Panel, with guests Matt Smith and Karen Gillian introduces a paid tiered structure with the first tier seating people in rows 1-5. This first tier with a whopping price of $125 has already sold out! The other two tiers are still available as of this afternoon, so there is still time to buy.  For those that have purchased either a Doctor Who Dual VIP pass for Smith and Gillian or the guests individual VIP pass will have guaranteed seating at this panel and not pay extra. Whovians will be invading Philadelphia like the Daleks mark my word.
Star Line-up
I thought the line-up last year was great.  This year seems even bigger.  Especially with Doctor Who's Matt Smith and Karen Gillian and Captain America: Winter Soldier stars Anthony Mackie and Sebastian Stan attending. Nerd favorite Nathan Fillion will also be there and his Firefly co-star Alan Tudyk.  Even the WWE is has a bigger presence this year than last with John Cena returning, Dave Bautista, who will be in the summer flick Guardians of the Galaxy, and Divas the Bella Twins.  Be sure to check the main page of Wizard World Philadelphia for a full list of guests, especially the artists.  http://www.wizardworld.com/home-pa.html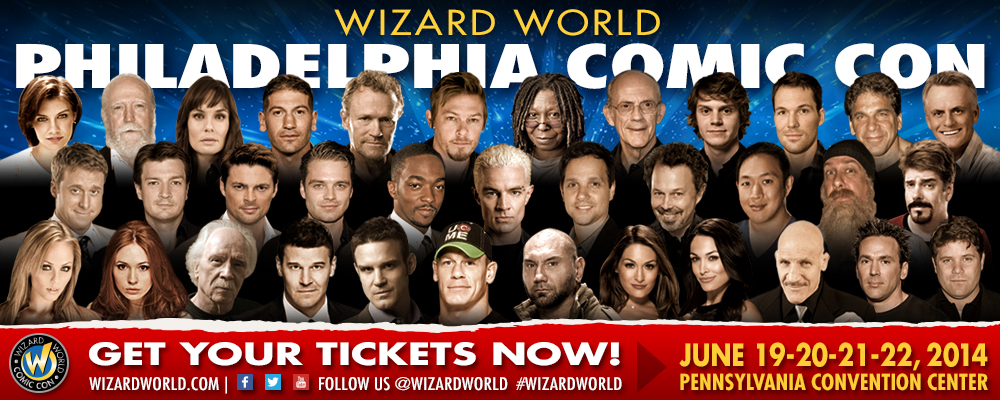 This was a harder year for me to decide which VIP to get as there were several stars I wanted to meet. Fortunately some of the guests I was lucky to meet at other conventions.  The two VIP passes I was debating about were Whoopi Goldberg's and the Dual VIP pass for Anthony Mackie and Sebastian Stan from Captain America.  Goldberg won out as I grew up watching several of her movies and this is the first time I have heard of her ever making a comic convention appearance.
Programming
Since the programming is out, attendees can start creating their schedule. The photo-op schedule is also out so people can figure out how to work that in between panels. Taken from experience it is easy to get conflicted with the different panels offered especially if it is at the same time as a major Q&A panel.  Saturday is going to be the harder day as several guests will be in the Grand Ballroom doing their panels, including Whoopi Goldberg. While I am looking forward to the Q&A panels with several of the guests listed above, I do hope to check out some of other panels that could be just as fun.   I'll create a separate article with programming that I am considering checking out.
The fun does not stop when the convention programming ends as there will be events at night both inside and outside the convention center. Some after-hours events include: "Revenge of the Nerds (30th Anniversary) Screening" on Thursday; "Dracula's Ball" featuring a world class dancer and a "Creator Pro AM: Drink and Draw" that has artists  and writers competing for prizes on Friday. On Saturday there is the Wizard World After Party. I attended this party last year and let's just say it will be interesting who shows up!  The events mentioned are listed in Philly's programming schedule so attendees can take a look and add it to their plans. Please be aware that some are paid events.
I still have fond memories from last year, let's see if this year will top them!
Photos: Property of Wizard World