Harley Quinn has become in recent years, one of the most iconic comic characters around. She is becoming one of the top cosplays that people have been dressing up as, as anyone who has went to any comic con recently will attest to. She has been in video games such as Batman: Arkham City and Injustice: God Among Us. Co-staring in the DC comic Suicide Squad and recently getting her own self titled comic. And now, its official San Diego Comic-Con goers this year, Harley Quinn invades Comic Con International: San Diego! Well, sort of, as she has her own one-shot comic entitled just that.
Here is the cover for the issue: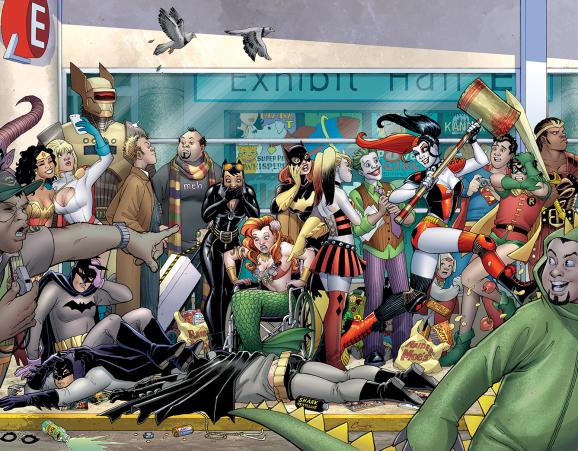 Here is the description from DC comics about the one shot: "The title says it all! Our favorite little troublemaker, Harley Quinn, takes on Comic-Con International: San Diego in this over the top issue! She'll have to battle long lines, crazy crowds and the dread con crud, all in the quest to get her own comic book published!" The issue is written by husband and wife writer team of Jimmy Palmiotti and Amanda Conner. The duo who has collaborated on other DC comics such as Power Girl and Terra, had this to say about Harley and the issue: "Harley and her freak show friends get a booth at Comic-Con. Harley to come along to help them out [and] wherever she goes, mayhem ensues, and that's what happens at Comic-Con. More mayhem than the usual."She's out of her mind, so anything goes. There's nothing we can think up that's too crazy for Harley, and that's the best thing. We'll think of something absolutely insane and, [realize] oh yeah, we can do that with Harley." ~ Amanda Conner "We've been going to Comic-Con for over 20 years and we tried to put in all the positive stuff. We wanted to celebrate Comic-Con rather than go after it. Because that's a whole different book altogether. She has a comic strip that she wants to show off at the Con to see if anyone's interested in hiring her to draw it. It features a character Harley made up called Hurl Girl, a superhero whose power is to throw up." ~ Jimmy Palmiotti Along the way in the comic Harley bumps into the likes of Arrow star Stephen Amell, who just happens to be a guest at Comic-Con, both in the comic and in real life as he will be the emcee at Comic-Con's 'Night of DC Entertainment' on Saturday night in Hall H from 8-11pm.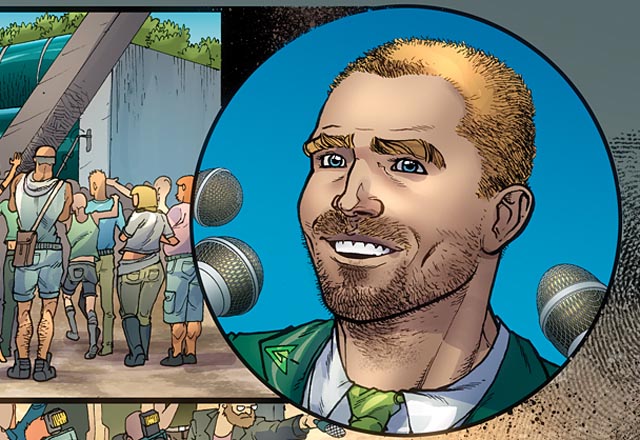 This issue will be available at your local comic shop for $4.99 on Wednesday, July 16th as well as digital at www.readdcentertainment.com.
For those of you lucky enough to be actually going to Comic Con International: San Diego itself, not only will you be seeing many different versions of Harley cosplays by different attendees, you will be able to get two different con exclusives of the comic:
The first exclusive is a black and white variant of the original cover: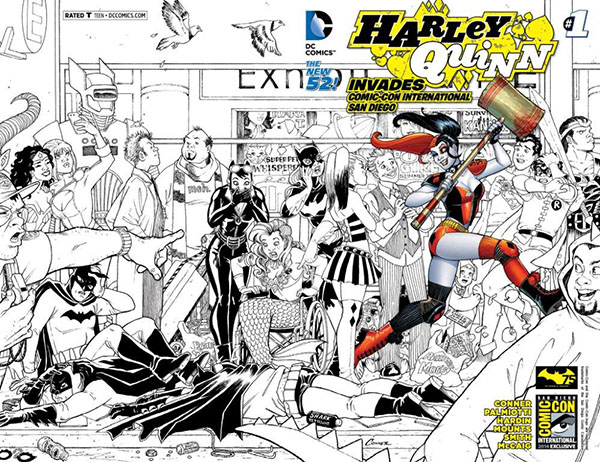 The second exclusive is a blank variant cover: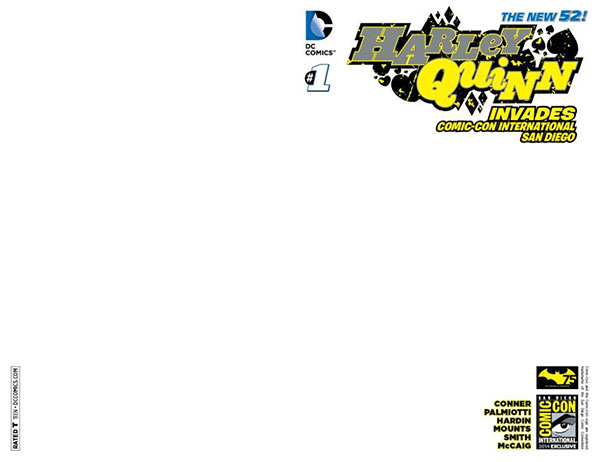 Both issues will be available from Graphitti Designs at booth #2314 for $10 each.