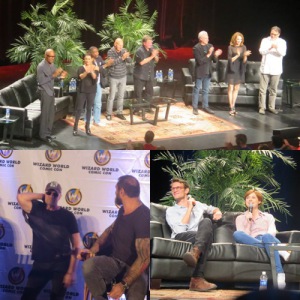 Wizard World Chicago took us on a journey through time and space with these panels.  Stars from the hit TV franchises Star Trek: The Next Generation and Doctor Who, and the latest box office hit Guardians of the Galaxy all sat down and answered questions from the fans.
Doctor Who Panel
Matt Smith and Karen Gillan aka The Doctor and Amy Pond together again. Enough said.
Guardians of the Galaxy Panel
Michael Rooker and Dave Bautista reenact that infamous *slight spoiler* dance scene at the end of the movie.
Star Trek: The Next Generation Reunion Panel
Captain Picard and Captain Kirk in the same room? A must see.