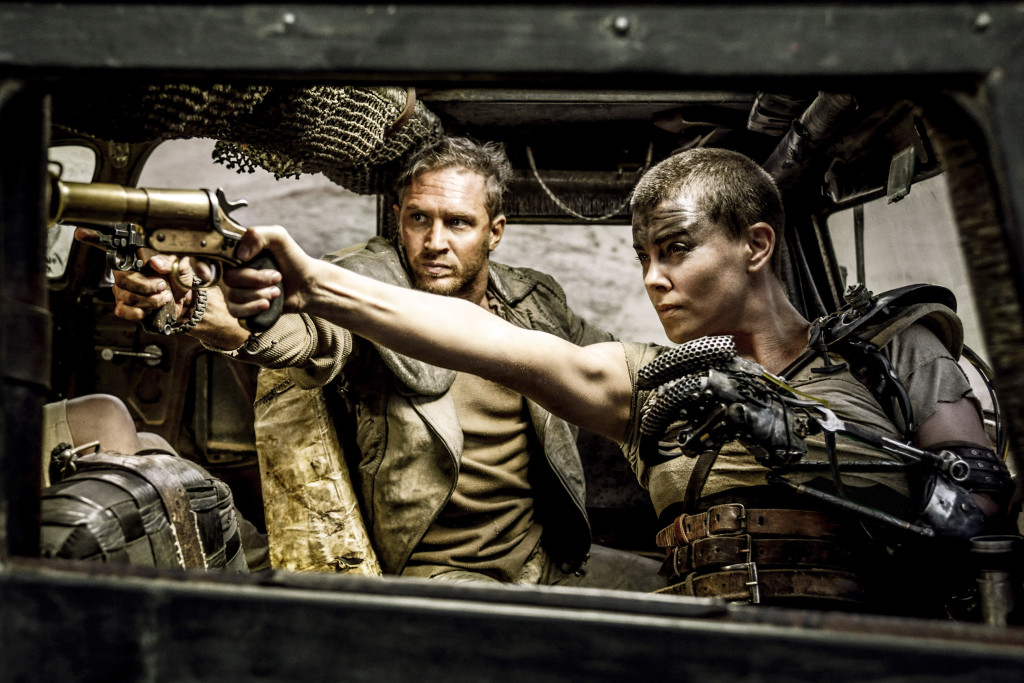 By Evan Jackson
George Miller's Mad Max: Fury Road roars on to theaters this weekend over thirty years after the original starring Mel Gibson as Mad Max. This time around actor Tom Hardy does a retake of the title character and captures him perfectly. The look of the film is masterfully well done with a good balance of colors that pop off the screen and modified cars that are certified war chests on wheels. The non-stop action fits right in with the litany of blockbusters lined up for the summer, but the subtext of the script makes it stand out. Charlize Theron delivers when it comes to the action scenes and audiences will quickly buy into her character. This wild adventure of a movie is must see in this blockbuster season.
Tom Hardy barely says anything in the first fifteen minutes of the movie, mostly just grunts and commands. But what Tom Hardy lacks in dialogue he very much makes up for with his physical performance. Every stare down, grin, and grunt from Hardy tells a story in its own. Tom Hardy wears the anti-hero look well. Not knowing if he's all in for himself or if he cares about saving those who need his help lingers in the first part of the movie. You can say the all the people in his past he didn't save haunts him as well as drives him "Mad."
Filmed on the sands of South Africa the cinematography of Mad Max is amazing. Within the post-apocalyptic wasteland the hues go from a seemingly endless dry desert brown to a stark contrast of cool midnight blue. The flares, explosions, and car mash ups that fill up the sky provide colors of vibrant red and a fiery orange tinged with black. Car aficionados will surely gush over and be in awe of supped up mustangs with tank like features equipped with military artillery. Charlize Theron's character rides around in somewhat of a cross between a Beatle Volkswagen and a water tanker.
The action in Mad Max is gritty, relentless, and quick. Leaving no room for clever quips George Miller writes a tight script with a simple plot. Max, an ex-cop and road warrior, is held captive by the War Boys of leader Immortan Joe. Max is used as a blood bank for the anemic War Boy Nux played by an unrecognizable Nicholas Hoult. Immortan Joe has a stronghold on all the available water and Imperator Furiousa, a gasoline collector, turns rogue to end his tyrannical reign. Max and Furiosa cross paths on an epic chase and decide to team up which leads into an interesting road ahead. George Miller ushers in a revamped Mad Max into a new era. The themes of hope and redemption are mostly in the subtext with Charlize Theron embodying both as the clear hero of the movie.
Charlize Theron's character serves as the emotional anchor of the movie. She carries the weight of the dialogue and even outdueling Tom Hardy in the action scenes. As the female protagonist she's strong and from the get go viewers can relate to the fact she sees a better world not only for herself but for her people.
Director George Miller revives the Rated R action movie genre with Mad Max: Fury Road. Fans of the original Mad Max will enjoy Tom Hardy as the rugged Max Rockatansky. George Miller pulls you into his world and makes you grip on anticipating each scene. The hand to hand combats with non-CGI villains is a great change of pace in this blockbuster season. The cinematography adds to the film with vivid colors. Those looking for an action summer blockbuster that goes there and never holds back should go see Mad Max: Fury Road.
*Photos Courtesy of the New York Post