The End of the Tour (2015)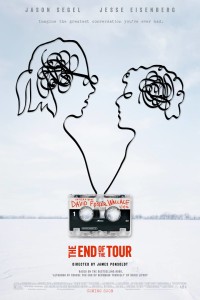 Before his death in 2008 (not a spoiler—the film starts with news of his suicide), David Foster Wallace was one of contemporary literature's shining stars. His 1996 novel, "Infinite Jest," was critically lauded, and Wallace, already known for his earlier writings, became a very influential figure in the literary world.
The End of the Tour covers a five-day period at the end of the book tour promoting "Infinite Jest" as Wallace (played marvelously by Jason Segel) is on the cusp of absolute fame. The film shows Wallace's struggle adapting to his new situation through a series of conversations he had with Rolling Stone reporter David Lipsky (played by Jesse Eisenberg), himself a novelist, who'd convinced his editors Wallace was worth the coverage. In Wallace, Lipsky winds up finding a kindred spirit. Or does he?
Over the course of the film, Lipsky probes Wallace about his writing process, his life, and what it's like handling his burgeoning fame. Wallace in turn probes back, bringing out some of Lipsky's own insecurities. It's a challenging task for both men, resulting in a series of fascinating exchanges.
Based on Lipsky's 2010 account of the interview, "Although Of Course You End Up Becoming Yourself: A Road Trip with David Foster Wallace," The End of the Tour uses actual dialogue from the interviews and highlights not only what's it like to be a reporter chasing a difficult subject (Wallace was seemingly very private), but what it's like to have your life and ideas laid bare for the public. It's something Wallace apparently chafed at, judging from the sometimes combative discussions depicted.
Segel's portrayal is the breakout here. Giving Wallace a sort of shaggy dog quality, Segel gets deep under the author's skin. He is especially good revealing the complexities of Wallace's depression in a naturalistic way. It's some of Segel's finest work, exemplified in a scene where Lipsky probes too hard and gets Wallace to discuss his hospitalization after an early suicide attempt. Wallace throughout the conversations is guarded, but also vulnerable and occasionally sardonic.
Eisenberg's Lipsky is full of nervous, chain-smoking energy. It's clear he admires Wallace, and at times, it appears his instincts as a reporter are clashing with his desire to establish a true connection (Ron Livingston, in a cameo as Lipsky's editor, has to push Lipsky to dig harder into Wallace's past, saying "Be a prick if you have to. You're not his best buddy—you're a reporter").
The interplay between the two is absorbing. There's a sort of antagonistic chemistry in the beginning that plays out throughout the five days depicted; the resolution is not the expected cliché of begrudging admiration between two disparate individuals who happen to be writers, but something much more human and real, something that should be experienced by as wide an audience as possible.
Livingston is good in his quick appearance, and Joan Cusack is downright delightful as the driver who chauffeurs Wallace and Lipsky around Minnesota during one of his tour stops. The bulk of the film, though, is between the two men as the questions and answers get more serious and as Wallace's underlying depression bubbles to the surface.
The movie does well in depicting Wallace, Lipsky, et al, as people, not mythologies, and also illuminates the interviewing process. At one point, Wallace, bristling at Lipsky's probing, says, "You're gonna go back and shape this," meaning, Lipsky will present Wallace the way Lipsky sees him, not necessarily as he really is. It's an interesting insight to include in what is, ultimately, a film about the interview shaped by the screenwriter (Donald Margulies) and the director (James Ponsoldt) and presented for the audience's interpretation. That they've shaped it into a touching and meaningful meditation on fame, writing, and so much more is to their credit, and well worth your time.
Note: Make sure to stay through the credits for an extra scene.
The End of the Tour opens July 31, 2015