Here's what Kidrobot announced the week ending 8/13/16. All pictures and information is courtesy of Kidrobot.
Crayola x Kidrobot MUNNYWORLD Zipper Pull Keychain Series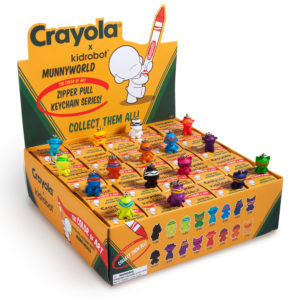 The Crayola x Kidrobot DIY Capsule is a refreshing take on Kidrobot's signature MUNNYWORLD DIY platforms!
Kidrobot is excited to announce a new addition to the capsule! Crayola x Kidrobot MUNNYWORLD Zipper Pull Keychains are now available. Each piece makes the perfect accessory to any jacket or backpack. Each Crayola x Kidrobot MUNNYWORLD comes attached to a lobster claw clasp.
New from Kidrobot & Travis Cain: BFFS Series 3 Love Hurts
BFFS Series 3 is here by popular demand! Travis Cain and Kidrobot debut a third series of famed frenemies with 13 new blind box styles! Each blind box comes with a pair of vinyl mini figures featuring interlocking action! These BFFS are perfect together!
You can find out more about Kidrobot on their website at www.kidrobot.com, as well as on their social media channels below:
Facebook https://www.facebook.com/kidrobot
Twitter https://twitter.com/kidrobot