Tenacious Toys today announced their 4th wave of NYCC exclusives. This one includes a few exclusives from Rampage Toys. Information and pictures below courtesy of Tenacious Toys' press release.

NEW YORK, NY, Sep. 21, 2016 — NYC-based online art collectible retailer Tenacious Toys has revealed another wave of their NYCC Exclusives. This wave includes the following pieces:
• Pink Rotten X custom sofubi by Rampage Toys. Vinyl, 10 pieces, $150.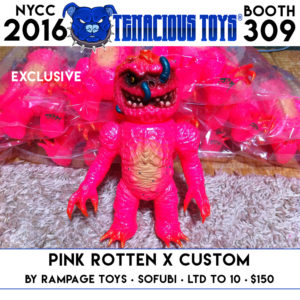 • RAMPAGE x KONATSUYA Ugly Onicorn (Blue Ver.) 34 pieces available at $45 each.

• Painted Micro Sofubi (Unicorns and Hipster Shitmen by Rampage Toys). 25 pieces at $10 each.
• Unpainted Mixed Parts Micro Sofubi by Rampage Toys: 13 pieces at $5 each.
• Candy Colors Bunny Bear 4-pack of micro sofubi by Rampage Toys. 10 sets at $20 per set.
• Cyclops Dinos 3-piece set by Rampage Toys. 9 sets at $40 per set.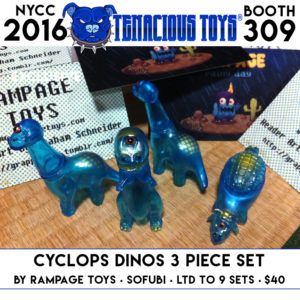 MANY MORE Rampage Toys exclusives and customs (in addition to the above) will be available on Saturday when Jon Malmstedt is on hand in the booth.
More NYCC Exclusive will be revealed daily in the run up to NYCC. All Exclusives will be posted on the Tenacious Toys NYCC 2016 page with the "Sold Out" designation. Any leftover items will be made available immediately after NYCC on that page.
Tenacious Toys Booth 309
New York Comic Con
Jacob Javits Center
655 W 34th St, New York, NY 10001
October 6 – 9, 2016
___
About Tenacious Toys
TENACIOUS TOYS is an NYC-based online designer toy shop specializing in vinyl art toys, handmade resin collectibles and one-off custom toys.
___
Links
Tenacious Toys NYCC 2016 page
http://www.tenacioustoys.com/collections/nycc-2016
Tenacious Toys homepage
http://www.tenacioustoys.com
Add Tenacious Toys to your NYCC Show Planner
http://www.newyorkcomiccon.com/en/Exhibitors/2009740/Tenacious-Toys
New York Comic Con website
http://www.newyorkcomiccon.com/