Earlier today Disney announced that at D23 Expo 2017 there will be an exhibit featuring props, set pieces, photographs, and costumes from various pirates portrayed in Disney productions over the years including ones from Peter Pan's Captain Hook all the way up to Pirates of the Caribbean's Captain Jack Sparrow. More information below courtesy of their press release.
 BRAND NEW WALT DISNEY ARCHIVES EXHIBIT, "A PIRATE'S LIFE FOR ME," TO OPEN AT D23 EXPO 2017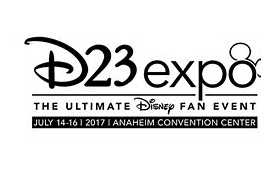 Hundreds of Props, Set Pieces, Photographs, and Costumes Will Be On Display to Celebrate Disney's "Rascals, Scoundrels and Really Bad Eggs" at the Biennial Fan Event
BURBANK, Calif. (April 18, 2017) – The Walt Disney Archives returns to D23 Expo with an all-new exhibit, "Walt Disney Archives Presents––A Pirate's Life for Me: Disney's Rascals, Scoundrels and Really Bad Eggs." Disney's most memorable marauders, from Peter Pan's Captain Hook to Pirates of the Caribbean's Captain Jack Sparrow, will be on display July 14–16 at the Anaheim Convention Center during the biennial event, presented by D23: The Official Disney Fan Club.
The 12,000-square-foot exhibit, located on the Expo show floor, will honor Disney's treasured pirates from film, television, and the beloved Disney parks attraction that has thrilled guests from Anaheim to Shanghai. Hundreds of iconic and never-before-seen items will be on display.
Objectsfeatured in the exhibit include Audio–Animatronics® figures from the original Disneyland attraction, a ride vehicle from Peter Pan's Flight, and artwork and imagery from Treasure Island, Peter Pan, as well as an unproduced Donald Duck animated short, featuring the irascible duck searching for swashbuckler gold. The action-packed film franchise is represented with original costumes worn by the star-studded cast, Davy Jones' pipe organ, a 23-foot-tall set model of the Black Pearl ship, the Dead Men's chest, and more original props and set pieces, including items from the new film, Pirates of the Caribbean: Dead Men Tell No Tales.
Also on the show floor, the Archives will present "Fantastical Fashions," a dazzling selection of dresses worn by beloved heroines and sinister villainesses. Costumes from six of Disney's live-action fantasy films will be showcased including Enchanted (2007), Maleficent (2014), and Beauty and the Beast (2017).
Ticketsfor D23 Expo 2017 are available for $81 for one-day adult admission, $59 for children 3–9. Membersof D23: The Official Disney Fan Club can purchase tickets for $72 for a one-day adult admission, $53 for children 3–9. Multi-day tickets are also available. For more information on tickets and D23 Expo 2017, visit D23Expo.com.
About D23 Expo 2017
D23 Expo—The Ultimate Disney Fan Event—brings together all the worlds of Disney under one roof for three packed days of presentations, pavilions, experiences, concerts, sneak peeks, shopping and more. The event provides fans with unprecedented access to Disney films, television, games, theme parks and celebrities. For the latest D23 Expo 2017 news, visit D23expo.com. Presentations, talent and schedule subject to change. To join the D23 Expo conversation, make sure to follow DisneyD23 on Twitter, Facebook, Pinterest, Instagram and YouTube, and use the hashtag #D23Expo.
About D23
The name "D23" pays homage to the exciting journey that began in 1923 when Walt Disney opened his first studio in Hollywood. D23 is the first official club for fans in Disney's 90-plus-year history. It gives its members a greater connection to the entire world of Disney by placing them in the middle of the magic through its quarterly publication, Disney twenty–three; a rich website at D23.com with members-only content; member-exclusive discounts; and special events for D23 Members throughout the year.
Fans can join D23 at Gold and General Membership levels at D23.com and at DisneyStore.com/D23. To keep up with all the latest D23 news and events, follow DisneyD23 on Facebook, Twitter, Instagram, Pinterest, and YouTube.