Last Friday, Universal FanCon announced that the convention was postponed indefinitely.  Seeing the amount of vendors, and artists slated to exhibit at Fan Con in a financial bind, the online community banded together to boost those left in the lurch.   Less than 24 hours after FanCon's postponement, a one-day pop-up convention taking place Saturday, April 28, called WICOMICON  was tweeted by Black Heroes Matter and spread across social media.
From the event website:  "The name 'Wicomico' is derived from the Algonquin words meaning 'a place where homes are built.'" Very fitting.
While the priority of the event was to find a home for the artists and vendors, there will also be panels and special guests.  Lo Mo Pro has already publicized that several of The Magicians and Killjoys cast originally slated for Fan Con will be there signing autographs and doing photo-ops.   For more information about that click here.  WICOMICON recently announced on twitter four guests so far, Greg Pak, April Reign, Brian Tillman, and Leah Williams.
Look who's coming to #WICOMICON! @gregpak @ReignOfApril @mymonsterischic @followthekaiser We will be updating this list throughout the week! Let's come together! #ConTogether! This Saturday, April 28th the #WICOMICON #PopUp is here to #SaveTheDay! Go to https://t.co/7vaAxDipL8! pic.twitter.com/AEmbyD1ocp

— #WICOMICON (@WICOMICON2018) April 25, 2018

Putting this con together on such short notice, fans can thank Black Heroes Matter, Nerds of Color, New Release Wednesday, The Blerd Gurl, Carbon-Fire Media, and Be a Boss App.
Other ways the community came together this past weekend was with a Virtual Artist Alley on Tumblr created by Kamikaze Comics and a google doc created by Kat Calvin and Angelique Roche via twitter where exhibitors could sign up.
Here is some general information about the pop-up con:
When: Saturday April 28, 2018
Hours: 10 am – 7 pm
Where: 1100 Wilmico Street
               Baltimore, MD 21230
Cost:     $5 for Universal Fan con ticket holders
               $10 for all other adult attendees
               Free for children under 12 years old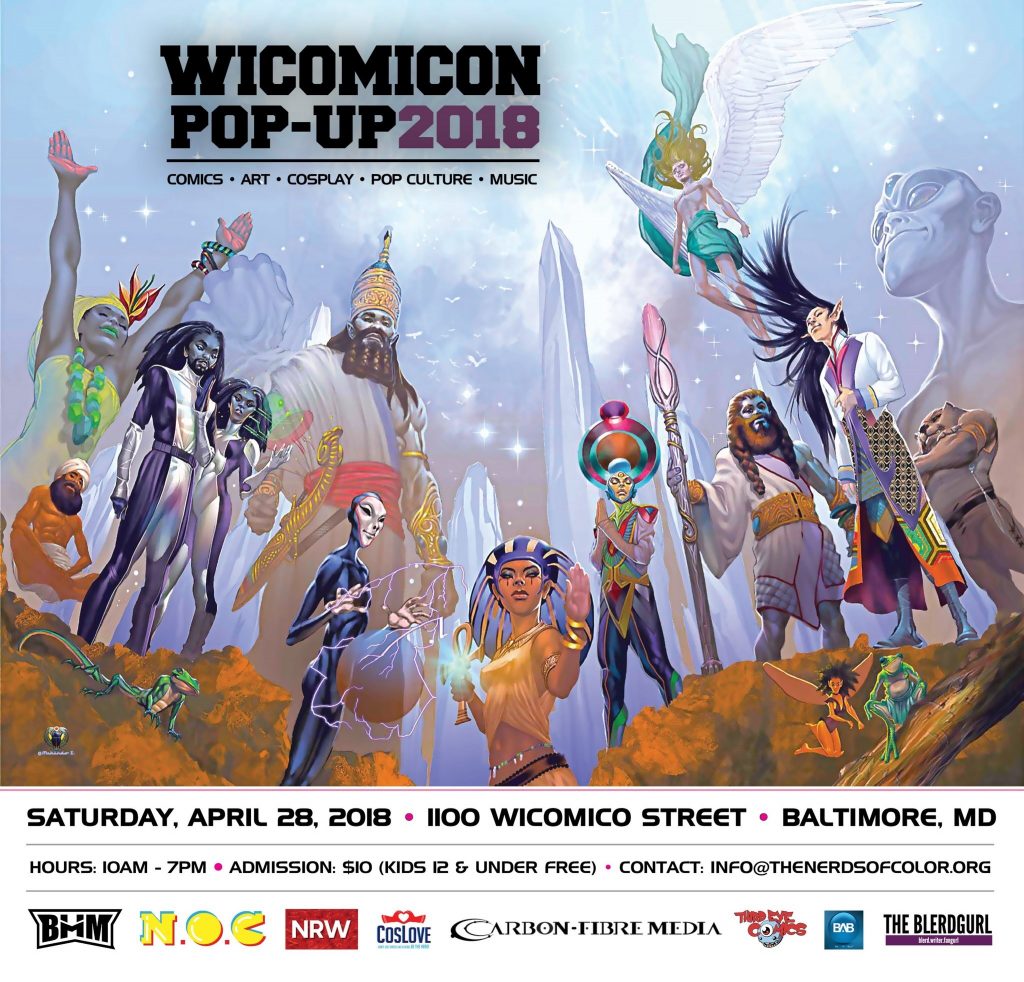 There is no preregistration. According to Keith Chow, Founder of Hard NOC Media and Nerds of Color, the proceeds will go towards paying for the venue.
When asked how many artists and vendors so far were participating, here is what Chow had to say:
"We've been inundated with requests since we teased the pop-up last Saturday! As it stands, there will likely be at least 50+ vendors and artists participating in WICOMICON on April 28. If you are interested in exhibiting, please send inquiries to me at keith[at]hardnocmedia.com"
According to Chow, Uraeus CEO of Black Heroes Matter, got the ball rolling on WICOMICON and securing the venue.  "He reached out to us about organizing something and turned to his partners in Andre [Robinson] and Elijah [Kelley] to turn this into a reality."
The Wicomico building was found within 36 hours after FanCon's announcement according to Uraeus. "It was really quite amazing the speed with which things materialized. All credit due to Andre Robinson (Carbon Fibre Media) for identifying the Wicomico Building as a potential home for this effort, and the generosity of the building owners for allowing us to utilize this incredible space."
What made it perfect? "Through our collective network of contacts we were able to fast track a site walk the day after the FanCon implosion, and as soon as we stepped foot in the space, we fell in love with it instantly. It has the reputation of being one of 'the most interesting spaces in Baltimore' and it does not disappoint," said Ureaus.
While Chow oversees the press and vendors. Uraeus and Karama Horne, aka theblerdgurl are hard at work on the programming.
If anyone was wondering about whether there will be any carry-over as far as panels this weekend, says Chow:
Because WICOMICON is not affiliated with FanCon at all, it's hard to say which programming is 'carrying over' from that show, if any. That said, many of the panelists at WICOMICON are, like the exhibitors, 'refugees' of FanCon and may be presenting panels they had intended to, but there is no official connection to what came before.
Patrick Strange of New Release Wednesday is managing cosplay and entertainment.  Strange has teased musicians, a special New Release Wednesday comedy panel, and a cosplay contest as part of the festivities.  As part of the prizes for the contest, other conventions like BlerdCon, All-Star Comic Con and Fairfax Comic Con has stepped up in offering free passes.  Judges confirmed so far are Maki Roll, Aleggra, and Sharifa Reynolds of CosGala.
Here is a breakdown of the prizes:
COSPLAY CONTEST:
PRIZES – GROUP:
               * First Place: BlerDCon Tickets (x4), Third Eye Comics Swag, Gemstone Publishing Swag
* Runner-Up: Fairfax Comicon Tickets – Saturday Passes (x4), Third Eye Comics Swag, Gemstone Publishing Swag
PRIZES – SOLO:
* First Place: FigureThisIn3D 7 in/9 in Statue, GIF Scan, All Star Comicon Ticket (x2), Third Eye Comics Swag, Gemstone Publishing Swag
* Runner-Up: Figure ThisIn3D $75 Gift Certificate (towards 5 in statue), GIF Scan, CosGala Ticket, Third Eye Comics Swag, Gemstone Publishing Swag
* Third Place: FigureThisIn3D $50 Gift Certificate (towards 5 in statue), GIF Scan, Third Eye Comics Swag, Gemstone Publishing Swag
Strange felt firsthand the impact of FanCon's postponement and the need to step up.
Like many I was affected by the FanCon fallout, my #TotallyAwesomeAsians panel was set to have its most impressive lineup to date and feature comics superstar, Greg Pak, the writer of Totally Awesome Hulk that birthed the inspiration for my Asian American/Pacific Islander Appreciation panel. However, like my Wicomicon organizing partners, instead of getting mad and giving up, I rose to the occasion and like Peter Parker 'with great power comes great responsibility!' I utilized my industry knowledge and partnerships to help provide something great for all of those affected like me. So, like pop culture and the comics that we are fond of, it is in times of tragedy/adversity that real heroes emerge and people come together. This is that time. Let's come together. #ConTogether! #WICOMICON! ~ Patrick Michael Strange
Robinson and Kelley have logistics of the venue and any volunteers.  Those that want to volunteer this weekend can contact e.kelley[at]beabossnow.com.
Expect more announcements to be made this week as the programming schedule is coming.  Chow confirms, "I can assure you it is worth the wait!"
For more information and who to contact about WICOMICON click here:
Could there be a future for the convention given it's unexpected beginning? "Never say never. But let's get to Saturday first!" says Chow.
I plan to attend so stay tuned for more coverage! I'm looking forward to it!