A media alert went out announcing the game show Composer Squares will have a panel at comic-con. The alert is below. Will you be watching?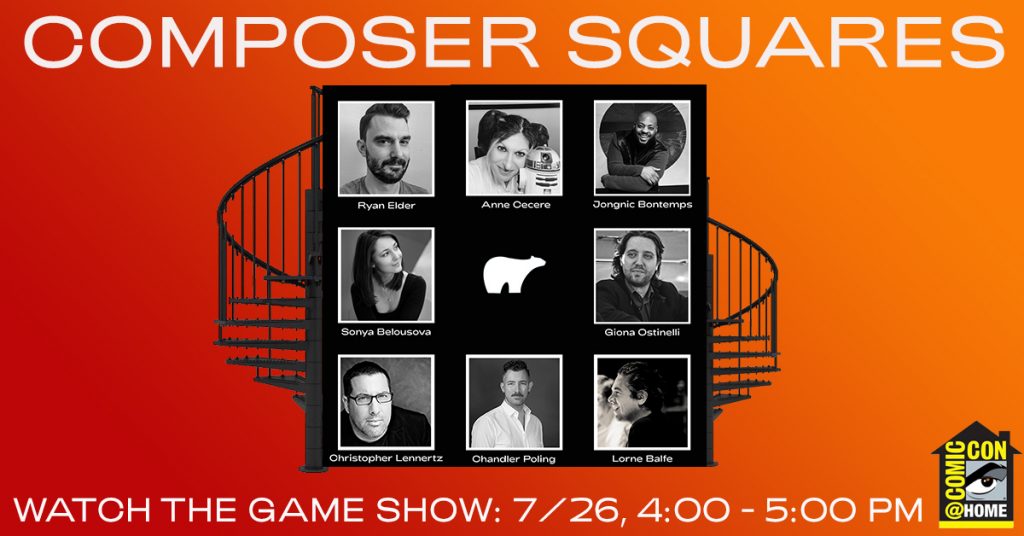 COMPOSER SQUARES GAME SHOW AT COMIC-CON @ HOME
What:
Composer Squares Game Show at Comic-Con @ Home
Film & Television composers participate in a Hollywood Squares-like online game show where two film music fan contestants compete to win a soundtrack prize package. Watch this fun and entertaining show, as Lorne Balfe (His Dark Materials, Mission: Impossible Fallout), Jongnic Bontemps (Murder to Mercy: The Cyntoia Brown Story), Christopher Lennertz (Lost in Space, Supernatural), Ryan Elder (Rick and Morty), Sonya Belousova & Giona Ostinelli (The Witcher) answer trivia questions on topics like the Marvel Cinematic Universe, Buffy the Vampire Slayer, and even the Golden Girls.
The game show is moderated by BMI's Anne Cecere and White Bear PR's Chandler Poling.
When:

Sunday, July 26 from 4:00 pm – 5:00 pm PDT

Where:

Comic-Con @ Home
Watch online.
#ComicConAtHome