Don't miss SCOUT COMICS & THUNDER Present 2022 Comic Slate, featuring ETERNUS by Andy Serkis, only at San Diego Comic-Con

JULY 12, 2022, (SEATTLE, WA) — From seminal actor and filmmaker Andy Serkis (Planet of the Apes, Lord of the Rings) and award-winning artist Andrew Levitas (Minimata), comes Eternus, an all-new seven-issue series from Scout Comics and Thunder Comics, written by Don Handfield (Knightfall, The Source) and Anastazja Davis (Sultana), with art by Karl Moline (Buffy the Vampire Slayer, B.P.R.D.), Alexandre Nascimento (The Dark Age), Marco Del Forno, Inks by Andy Owens, colors by Pamela Poggiali and letters by two-time Eisner award-winner Dave Lanphear.
360 CE. The great god Zeus is long dead, brutally murdered in his own temple some thirty years prior. Heracles, Zeus's son and champion, spends his days drunk and depressed as the old gods struggle to stay alive after decades of Christian disruption. When Athena's Temple is sacked by a mysterious Centurion looking for a powerful relic that once belonged to Zeus, the old gods are convinced they have found Zeus's killer. Now the mighty Heracles must sober up long enough to keep the lone witness, a 9-year-old blind priestess, alive long enough to identify the killer and finally find justice for his dead father.
"When Andy and Andrew pitched us the concept for this series, we were immediately intrigued. Ana and I both discovered the Greek Gods through Edith Hamilton as kids and to us they were the first 'superheroes'," said writer and Chief Creative Officer of Scout Comics, Don Handfield. "Powerful, but deeply flawed, much like the humans they ruled over. We really pushed each other to not only ground the story in actual history, but to also make it fun, fresh and different from what we've seen around this mythology before."
Drop by Scout Comics and Thunder Comics, booth #2615 at San Diego Comic-Con International, and don't miss the panel ANDY SERKIS, SCOUT COMICS & THUNDER Present 2022 Comic Slate, Thursday, JULY 21 at 5:00PM, in Room 32AB.
Join award-winning and groundbreaking performance capture  artist, Andy Serkis (Venom 2: Let There Be Carnage, Lord of the Rings) via video feed, actor producer Joel David Moore (Avatar Franchise), director Andrew Levitas (Minimata), writer-producer Don Handfield (The Founder, Knightfall),  producer Tim Zajaros (The Peanut Butter Falcon, Mudbound), James Haick (Scout  Comics President) and writer Mike Capes as they discuss their  upcoming titles and how comics are revolutionizing the film and television industry.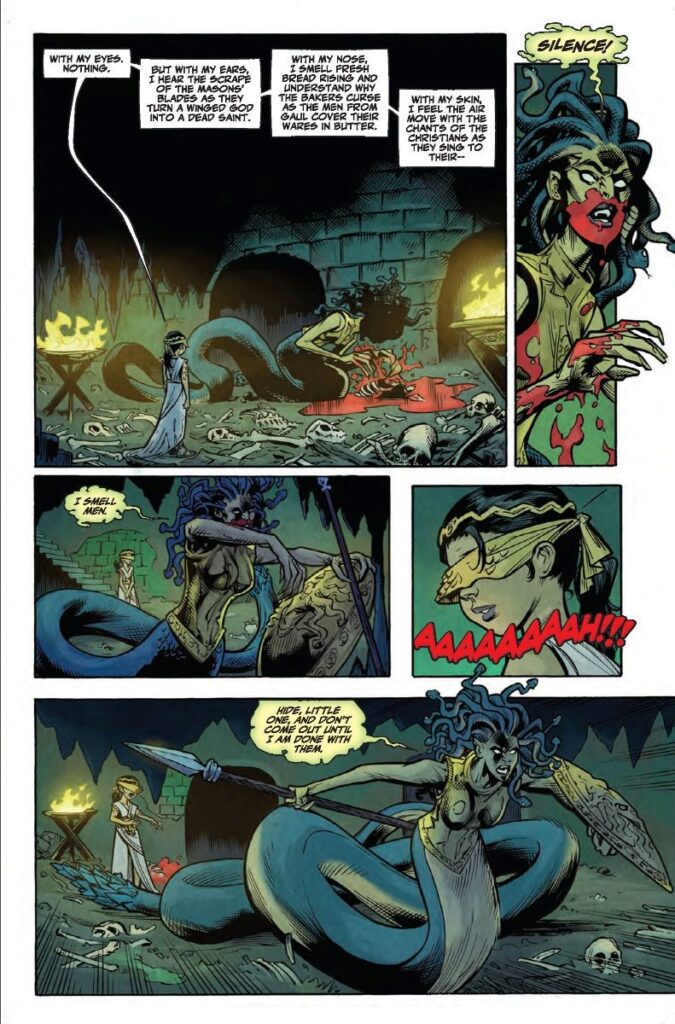 The main cover for Eternus features wraparound artwork from fine artist Rob Prior, who recently sold an original, one million dollar painting of Virgil Abloh at Art Basel. Eternus is the first title from Thunder Comics, a comic fund founded in 2020 to bridge the gap between comics and established creators from the film and television space.
Eternus hits shelves August, 3rd, 2022.