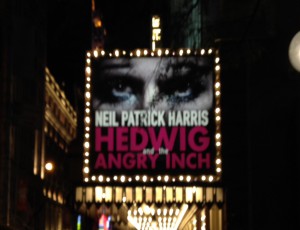 If you know me, then you know two things about me, I am a musical theatre junkie and I adore New York. This weekend I got to combine these in spectacular fashion. After a great trip back to the UK I stopped off in NYC on my way home to Austin.
There are very few people that I would plan a trip to NYC around were they to appear on Broadway and Neil Patrick Harris (NPH) is one of them.  I have always wanted to see him perform and Bernadette Peters. So I now have a big tick in the NPH box.
NPH is currently appearing as the title role in Hedwig and the Angry Inch.   A German transgender singer whose sex change left him with "an angry inch".  Originally performed on Broadway in 1998 it became a cult hit and was turned into a film in 2001. It's a rock musical about love, betrayal, dreams and wigs. I knew nothing about Hedwig, all I knew was that I was getting to see NPH perform, he could have been in Fiddler on the Roof for all I cared! But before I went a friend showed me NPH performing as Hedwig at the Tonys. Holy crap…holy holy crap. It. Was. Awesome. I was now beyond excited as opposed to just super excited.
I can't say it was the best show I have ever seen, but only because I have never seen anything like this before so there is nothing to compare it to.  NPH held every audience member in the palm of his hands. I was spellbound.  Even the uber annoying woman next to me couldn't put me off watching. It was 100 minutes of perfection. Everything appeared effortless, from tossing the microphone around to jumping onto a car hood in 6 inch platforms. His voice is so suited to all the songs, from loud rock music to haunting ballad. He is such an amazing showman. It doesn't hurt that he was on stage with a group of talented musicians. And what a surprise Lena Hall was, I definitely want to know more about her, she has a great voice but her presence on stage did not detract from NPH's performance and that worked brilliantly because Hedwig does not like the limelight to be elsewhere!
A short note about the staging, it rocked, perfect for the concert setting and the clever use of animation especially during 'Origin of Love' was excellent. Yup, I'm pretty stumped by this production, I can't come up with anything bad to say about it. And trust me, I can always find something bad to say about a show! I have a whole new respect for NPH, especially as he has no understudy. Performing 8 shows a week is exhausting in any role but the stamina required for Hedwig puts him in a league above the rest.
We tried to get standing room tickets for the next show but people had been queueing since 6am for those, so we attempted the lottery for tickets and no luck there either. It's ok, I feel blessed to have been able to see the show, I was just being greedy wanting to see it again! We did wait at stage door for NPH, along with a few hundred other people. He is clearly well loved and not just for his HIMYM role. He looked exhausted and kept
apologising for not staying too long with the fans. I will definitely go out of my way to plan a trip around seeing NPH on Broadway again, if he ever takes on another role.
Oh and the show we were there, Edgar Wright was in the audience and then the following day, Daniel Radcliffe and some of the HIMYM cast were in to see it, so I'm not the only one to like it. Have I mentioned I liked it? 🙂
SELL YOUR SOUL TO SEE THIS SHOW!