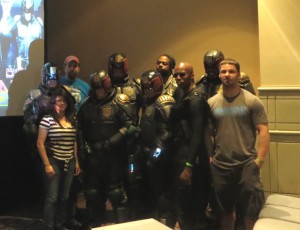 Wizard World was the first to debut a spin-off series called The Deep End  based off of the UK series,  Cursed Edge. The Deep End  is produced by Together Brother Productions in conjunction with Sunnymeade Films.  The panel was moderated by Eric "The Smoke" Moran, a cosplayer who was on this season of  Heroes of Cosplay.  Moran wrote, produced, and directed the show. The episode we was made specifically for Wizard World Philly and according to Moran, when the series does debut the episode will be slightly different than what we saw at the convention.  It's a shame that Karl Urban had to cancel his appearance at Wizard World Philly as it would have been nice to see him interact with the Moran and the other cosplayers who were dressed as Judges.
Smoke is very excited about this series as all of the cast and crew worked hard on it with some cool fight scenes and realistic weapons.  Joining Moran on the panel to talk about the show were Kurt Struss, fellow cosplayer who also produced, wrote and directed the episode, fight choreographer Raymond Blong, Sean Cho who did the props and newest cast member, Lowell Gilbert, who will appear in the 2nd episode. We first saw a teaser trailer of Cursed Edge,  then we saw the first episode of The Deep End, followed by a making of and blooper reel.  Despite the little hiccup with the sound I enjoyed the first show.  The camera shots were really clear and the cinematography shots were good as well, since it reminded me of the Dredd remake with Karl Urban, especially with the shots of the neighborhood.  In this premiere episode, we see Rookie Smoke, played by Moran, kicking butt in a major bust.
It was nice to see the bloopers. Moran's helmet sure did get a beating! The clip with the ball not going off was funny too!
During the Q&A Cho explained how he made one of the weapons. I was impressed by what he used and how he enhanced it.  Cho was very humble and mentioned that the props were a group effort.  I wound up asking how they perfected the "Dredd" look. All of the Judges said it just came naturally once they were in that mode.  I've tried making the face and failed miserably, it must be a guy thing.
Definitely check out the panel and show some support for Cursed Edge and The Deep End.  At least we have a few episodes of Cursed Edge to tide us through until we see more The Deep End.  Please be aware that it has been requested that the debut episode of The Deep End not be shown as it was exclusive to Wizard World Philadelphia.  According to Moran, the show will debut sometime late in the summer.
Here is the link to watch Cursed Edge:
https://www.youtube.com/playlist?list=PLNQyf4hHrfUwR0gXdE9uNLX-sRNYPLh3m