SDCC Exclusives 2014: DC Comics
by Llana
Believe it or not some still go to Comic Con for well….comics!  There is no shortage of special variants this year, as DC always has a huge presence at the popular arts festival.  The following is a list of DC exclusive comics available at the convention this year:
Batman #32
Cost: $12
This is an exclusive cover written by Scott Snyder and illustrated by Greg Capullo.  The popular Zero Year story arc will reveal pivotal plot points as Batman comes closer to a showdown with The Riddler.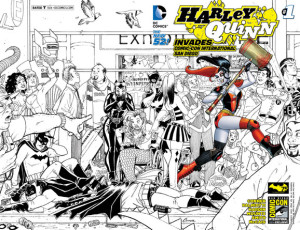 Harley Quinn Invades Comic Con International: San Diego #1
Cost: $10
If there is any issue to pick up it's this one. Join Harley Quinn at her first trip to Comic Con.  Harley will run into cosplayers (a room full of Jokers), and have a grand time. The issue is written by Amanda Conner and Jimmy Palmiotti. This issue will offer two variants (the one shown above) and a blank variant.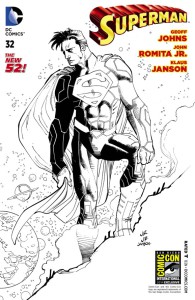 Superman #32
Cost: $10
DC legend Geoff Johns is back at the helm at the head of the Superman series. New characters and new adventures await Supes in a brand new story arc.  This variant is designed by another legend, John Romita Jr.
Grayson #1
Cost $10
This new comic follows Dick Grayson (Nightwing) and his adventures as a spy. The series is written by Tim Seely and illustrated by Mike Janin. This Comic Con exclusive variant is illustrated by Giuseppe Camuncoli.
All DC variant comics are available at Graphitti Designs booth #2314. Happy reading!
All images property of DC Entertainment. No copyright infringement intended.