I hope you were at your local comics shop yesterday since DC Comics declared July 23 as Batman Day! To celebrate the Dark Knight's 75th Anniversary, comic shops around the world were giving away Batman bookmarks, bags, a Batman cape, and four different Batman masks. The masks were created to reflect four different eras of Batman's iconic costume including his original appearance, the 1960's campy TV show, the Frank Miller "scowl cowl ", and the modern costume.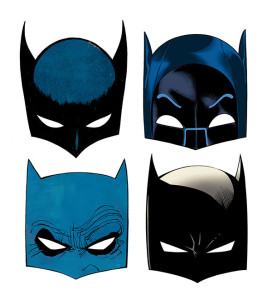 In addition, DC supplied stores with free copies of Detective Comics #27 Special Edition which reprinted the very first Batman story. You will also get a sneak peek at writer Brad Meltzer and Chip Kidd's reimagining of the story. It's great to see the original story reprinted and find out what was captivating from Batman's first appearance in 1939. I have to add that the masks are pretty cool!
Did you miss Batman Day? No worries! This Saturday, July 26 libraries across the US will be participating in the Batman Day festivities as well. You can pick up a copy of the special Detective Comics #27 at participating libraries. All of this coincides with San Diego Comic-Con and the many bat themed things happening there.
If you happen to be at the con in San Diego you can check out the Batman 75: Legends of The Dark Knight panel on Thursday 3:30-4:30pm. This includes creative greats such as Frank Miller, Grant Morrison, and Jim Lee in addition to the current Batman creative team. It will touch on Batman's past and present for a more comic centric focus. You also have the option of going to Batman 75th Anniversary panel on Saturday 4:00-5:00pm that will take a more pop-culture and TV Batman focus. Add this to the Batman swag and displays at Comic Con and it will be Batman overload!
However, if you are like me and not in San Diego this weekend, you can just sit on your couch, put on your Batman mask, and read Detective Comics #27. Happy Batman Day!