Manglehorn (2014)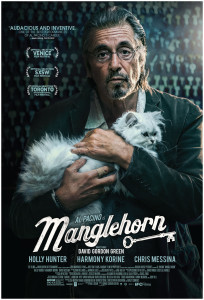 To say Manglehorn contains some of Al Pacino's finest acting ever is not hyperbole; he truly is superb, giving a quiet, understated performance as Angelo "A.J." Manglehorn, a locksmith living a desperately lonely existence in a small town. In fact, the acting in the movie is great all-around, from Holly Hunter as equally lonely bank teller, Dawn, to Chris Messina as Jacob, Manglehorn's estranged son, and to Harmony Korine as Gary, a former classmate of Jacob's.
Unfortunately, the performances are in service of a trite story, making the film hard to recommend.
It's a damn shame, too, because Pacino's work deserves to be seen, not just by fans, but by everyone who loves watching an actor at the top of his game (not to mention the outstanding work of Hunter, Messina, and Korine).
Manglehorn's plot is relatively simple: Manglehorn, an embittered, angry man alienated from his son, works his days as the owner of a lock and key shop, and spends his nights with his cat, Fanny, or by drinking, or by gambling at the local casino and drinking, or by writing letters to a long-lost love named Clara. While the narration of the letters gives some insight into what went wrong in Manglehorn's life, it doesn't tell us everything we need to know. Worse, it doesn't show us.
Manglehorn lives a life of bland routine, from his work, to where and what he eats, to his weekly deposits at the local bank where he shares brief friendly visits with Dawn. He barely talks to or sees Jacob, a high-powered commodities trader, though he makes an effort to see his granddaughter. He does talk to Gary, who he coached in Little League in the past, and sees Gary—a drug addict and owner of a massage parlor that apparently specializes in "happy endings"—as somehow more successful than Jacob (because jocks vs. nerds).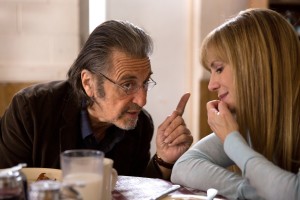 His feelings for Gary show just how much Manglehorn lives in the past, as do the letters he writes like clockwork, letters that seem to be going unanswered. Meanwhile, Manglehorn slowly drifts through his life, much as he'd like to physically do, he tells Dawn, by getting into his boat so he can "float away." He's a pretty unpleasant person, for the most part.
Will Manglehorn ever snuff his torch for the absent Clara and find love with Dawn, the light shining before him? Will he make up with Jacob, who he seems to delight in telling that he never loved Jacob's mother (again, because of Clara)? Will he let go of the past that has made him so bitter and see the life of connection he could have with people other than his cat (no joke, though—that cat is awesome)? Will he ever punch Gary in his stupid, punchable face?
If you can't guess the answers to the above, then this is the movie for you.
Director David Gordon Green, whose past work includes Pineapple Express and Your Highness, does his best to elevate Paul Logan's script from a simplistic tale to one of elegance and beauty, often crafting surreal imagery (whenever Manglehorn is out of his comfort zone) to try and create tension between that and Manglehorn's mundane life, and cramming in all sorts of symbolism (such as the beehive growing under Manglehorn's mail box, and all those keys), but none of it works.
Despite all this, though, I will grant that the ending of the film was effective, which made me curse it even more because it made me long for an entire film worthy of the emotion it inspired, as well as worthy of the performances of the cast.
Maybe I need to go write a letter to Manglehorn about it.
Manglehorn is in theaters beginning June 19, 2015