Two quick reviews of films that came out the weekend of August 7, 2015, one for the family and one for adults (and mature teens) only: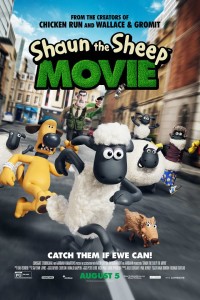 Shaun The Sheep Movie (2015)
Shaun The Sheep Movie, the latest from Aardman Animation, is an utterly charming and funny film that will please both kids and the adults they take to the movies.
Shaun (voice of Justin Fletcher), who's always been a bit mischievous, tires of his daily humdrum life at Mossy Bottom Farm and decides he needs a day off being a sheep. With the rest of The Flock and a bribe-able duck, Shaun concocts a plan to sideline The Farmer and his faithful sheepdog, Bitzer (both voiced by John Sparkes), so that Shaun and The Flock can hang out in The Farmer's house all day watching TV and generally not doing anything sheep-like.  Unfortunately, the plan goes awry; The Farmer winds up in The Big City, having lost his memory, and it's up to Shaun, Bitzer, The Flock, and a dog Shaun meets named Slip (voice of Tim Hands) to find The Farmer and get him back home before a cruel animal catcher, Trumper (voice of Omid Djalili), can confine them.
Just how cruel is Trumper? So cruel that when the Animal Containment office he works at has an adoption event, Trumper knocks the sign over so no one will come save the animals, the jerk.
The adorable Shaun first appeared in the Wallace & Gromit short, A Close Shave (1995); he's since gone on to star in his own animated series. This is his first feature-length film, and writer/directors Mark Burton and Richard Starzak make the most of it, with hilarious visual humor and great stop-motion animation.
The most remarkable thing is that there is no dialogue; the human characters make noises, but they aren't words, while Shaun and his friends bleat, baa, and bark, depending on the type of animal they are. It's always easy to tell what's going on, of course, thanks to the visuals, which are a treat, and the jokes, which rarely let up; in fact, the film (a short 85 minutes) never drags.
Will Shaun and company find The Farmer and restore their family, or will Trumper triumph in the end? Go find out for yourself. You'll be happy that you did. You'll be even happier if you stay all the way through the credits and slightly beyond for some extra treats.
Trailer: http://shaunthesheep.com/movie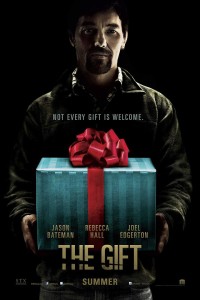 The Gift (2015)
The Gift, Joel Edgerton's first feature as a director, is a taut psychological thriller with good acting and a lot of squirm-inducing suspense.
When we first meet Simon (Jason Bateman) and his wife, Robyn (Rebecca Hall), they have moved from Chicago to Los Angeles so Simon can start a new job. They find a nice house for themselves and their dog, Bojangles. One day, while shopping for new items for the house, they run into Gordo (Edgerton), someone Simon knew in high school and whom he hasn't seen since. Their talk is awkward until Simon and Rebecca can excuse themselves to leave.
Gordo, having overheard Simon give his address to the cashier for a delivery, starts leaving gifts on Simon and Rebecca's doorstep and making unannounced visits to their house when Simon's at work and Rebecca is home alone. At first, Gordo seems socially self-conscious, which triggers some sympathy in Rebecca, but as the gifts and visits increase, Simon becomes irritated and wants Gordo out of their lives. Rebecca is resistant, and also curious as to why Simon is so guarded about his past, especially his past with Gordo. It's a secret Rebecca wants to dig up and Simon wants to keep buried.
The build-up is slow and deliberate, working up to the reveal of the big secret with a series of other revelations that deepen the impact of Gordo's weird attachment to Simon and Rebecca. How strong is their marriage, really, if it can start fraying because of Gordo's gifts? Or is their bond strong enough to withstand Gordo's encroachment into their lives?
The film boasts a few jump scares, but is not a horror film. Rather, it relies on the dread that accumulates every time Gordo appears, dread that at times is almost unbearable.
The cast is excellent across the board, especially Bateman and Hall. Allison Tolman of TV's "Fargo" is well-cast as Rebecca's sympathetic neighbor, Lucy, with nerd favorites Busy Philipps ("Freaks and Geeks," "Cougar Town") and Wendell Pierce ("The Wire") also popping up in supporting roles.
The film loses its way a bit in the third act during the fall-out from the big secret, but the plot holes are forgivable because the rest of the film makes up for them, guided by Edgerton's confident direction and the cast's performances. Give yourself a present and check out The Gift in a theatre near you.