This week Viz Media debuted a few new manga series, one called Punch-Man from the creators of the hit manga and anime Death Note.  The other manga Yo-Kai Watch was inspired by a Nintendo 3DS game and Japanese folklore.  Here is a list of several mangas being released this month taken from a few press releases.
YO-KAI WATCH, Volumes 1 and 2 – Print $9.99 US/ $12.99 CAN each – Available now!
The manga is about a kid named Nate Adams who makes friends with supernatural creatures called Yo-kai.  The catch is he can only see them with the help of a special watch made specifically to spot Yo-kai.  If this sounds familiar, there is an anime series already airing on Disney XD.  The series was created by Noriyuki Konishi, who is known for mangas such as   Saiyuki Hiro Go-Kū Den!, Mushiking: King of the Beetles, and more.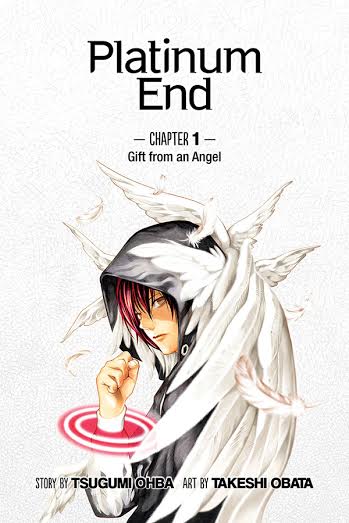 PLATINUM END Chapter 1 – DIGITAL MSRP: $0.99 (U.S. / CAN) · Available Now! Will be released monthly simultaneously in Japan and the US
A brand new series being offered as a digital exclusive! From the legendary duo that brought you DEATH NOTE and BAKUMAN comes a dark story of humans and angels. Mirai is a boy who has lost hope in the future. Can a fateful meeting with an angel turn his life around, or will he be plunged into further despair in Takeshi Obata and Tsugumi Ohba's newest series.  The graphic novel is available on shonenjump.viz.com, Comixology, the VIZ Manga app and VIZManga.com.
IDOL DREAMS, Vol. 1 · Rated 'T' for Teens ·- DIGITAL MSRP: $6.99 (U.S. / CAN) · Available Now!
Catch the debut of this new series by famed shojo manga creator Arina Tanemura! At age 31, office worker Chikage Deguchi feels she missed her chances at love and success. When word gets out that she's a virgin, Chikage is humiliated and wishes she could return to the time when she was still young and popular. She takes an experimental drug that changes her appearance back to when she was 15. Now Chikage is determined to pursue everything she missed out on all those years ago—including becoming a star!
NARUTO: KAKASHI'S STORY · Rated 'T' for Teens ·- DIGITAL MSRP: $10.99 (U.S. / CAN) · Available Now!
In this new fiction novel that also features artwork by NARUTO manga series creator Masashi Kishimoto, a year has passed since the Fourth Great Ninja War, and Kakashi's appointment as Hokage looms. But first he heads to the Land of Waves for a dangerous mission rescuing hostages from a top-secret airship. There he confronts a ninja whose heart is frozen by tragedy. Having lost both his friend's eye and his greatest abilities, can Kakashi protect anyone from his coldhearted foe? What is the true meaning of the Will of Fire gained in the distant heavens? Kakashi finds these answers and more as he enters a new ninja era.
ZYWORD (One-Shot) · Rated 'T' for Teens ·- DIGITAL MSRP: $4.99 (U.S. / CAN) · Available Nov. 10th
Tamayo Akiyama, a former member of CLAMP, has crafted a fantasy adventure that will leave readers spellbound! Welcome to Zyword, a world filled with sorcery. When Zyword's Araimel Kingdom is put under a spell, it's up to the two sole survivors to save the citizens before they perish in an eternal sleep!
EUREKA SEVEN: GRAVITY BOYS & LIFTING GIRL, Vol. 1 · Rated 'T' for Teens ·- DIGITAL MSRP: $4.99 (U.S. / CAN) · Available Nov. 17th
This is the story of young Ruri and Sumner, the characters from the Sony Playstation Eureka Seven video games, now featured in their own original manga!
—————–
Here are some promos Viz Media is offering throughout the month
Digital Manga Bundle Promos (Available All Month):
BAKUMAN · $69.00-  Vols. 1-20 plus special gift with purchase – OTTER NO. 9 one-shot manga
NISEKOI · $20.99 –  Vols. 1-5
ARATA THE LEGEND · Available bundle options:
Vols. 1-10 – $41.99
Vols. 1-15 – $54.99
Vols. 1-20 – $60.99
FOOD WARS!: SHOKUGEKI NO SOMA Bundle · $20.99 –  Vols. 1-5
JOJO'S BIZARRE ADVENTURE: PART 3 – STARDUST CRUSADERS – Available bundle options:
JOJO'S BIZARRE ADVENTURE: STARDUST CRUSADERS Vols. 1-8 – $32.99
JOJO'S BIZARRE ADVENTURE: STARDUST CRUSADERS Vols. 1-16 – $55.99
Be sure to check the weekly digital manga magazine, Weekly Shonun Jump by Viz Media to see more new series launches on shonenjump.viz.com.  One new series includes Buddy Strike starts on November 9th.