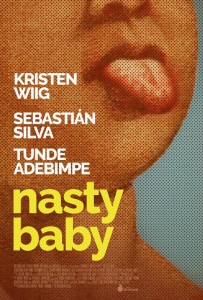 The new feature, Nasty Baby, is a curiosity. It starts off in an amiable, if meandering, direction, then takes a seriously wrong-headed turn in the final act. It's so wrong-headed that it completely derails the film and kills any good feeling the movie manages to convey in its early going.
Nasty Baby is the child of writer and director Sebastián Silva, whose previous feature, Crystal Fairy (2013) won the Directing Award at the Sundance Film Festival. The story centers around Freddy (Silva) and his partner, Mo (TV On The Radio's Tunde Adebimpe), who are trying to have a baby with their friend, Polly, as the surrogate. Both Freddy and Polly are desperate to have a child, while Mo is less sure, but also willing to do whatever Freddy wants. When it turns out that the reason the artificial insemination isn't working is due to Freddy's low sperm count, Freddy implores Mo to be the donor.
Freddy, who's an artist, has successfully pitched a video installation called "Nasty Baby" to a snooty gallery owner (Neal Huf). Freddy will film himself as a baby with a green screen behind him on which he'll project various images. However, as with the surrogacy plan, the video project morphs from Freddy's original idea into something bigger and more unruly.
In the background of all this is a growing confrontation with a neighbor who calls himself "The Bishop" (Reg E. Cathey in a thankless role) and may be mentally unstable. It's a strange, aggressive undercurrent to the otherwise pleasant and occasionally funny main story.
The derailing is all on Silva, even though he, like everyone else in the picture—including Alia Shawkat (Maeby Fünke from "Arrested Development") as Freddy's assistant, Wendy, and Mark Margolis (Hector Salamanca from "Breaking Bad") as Freddy and Mo's neighbor, Richard—give good performances. Wiig's desperation as Polly's biological clock counts down is believable and sympathetic, as is Adebimpe's hesitation to father a child he's not sure he wants. The parody of the art world is also sharp and biting (Freddy's vision turns out to be terrible, but the gallery owner's reaction is frankly worse).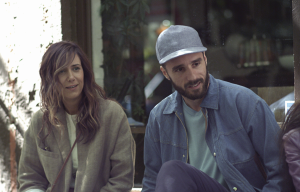 Any good will the film builds up, though, is demolished in the climax, which includes an act that while not completely out of the blue given the tension between The Bishop and the other people in the neighborhood, is not only heinous, but subsequently brushed off as if it had little to no consequence in any of the characters' lives. Instead of empathy, the audience is left feeling baffled and possibly repulsed.
It's too bad. Freddy, Mo, and Polly, while at times a little too wrapped up in their own heads to see what's going on outside themselves, are characters that are also fun to hang out with—at least, until things get bizarrely dark and out of control.
Nasty Baby is currently in theaters