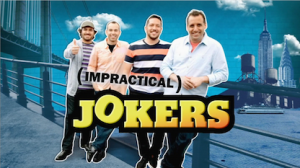 truTV's Impractical Jokers Invade San Diego with Fan Events
See full press release below:
Activities Include a "Hall of Impractical Jokers" Takeover and Massive Block Party in the Gaslamp
Look out San Diego, truTV's Impractical Jokers are heading to the Gaslamp District – and they're bringing some friends. truTV, along with Sal, Joe, Murr and Q – together known as The Tenderloins – will treat fans of the long-running series with great events and experiences like a three-day exhibition and massive block party steps from the San Diego Convention Center from Thursday, July 21 through Saturday, July 23. Building off of last year's popular Museum of Impractical History, the Hall of Impractical Jokers exhibit during Comic-Con International will give fans incomparable access to the show's most popular moments and artifacts. Plus, on Saturday, July 23, the party moves to The Park at Petco Park for the daylong, first-ever Impractical Jokers Block Party.
HALL OF IMPRACTICAL JOKERS
Thursday, July 21-Saturday, July 23 from 12:00-10:00 p.m. PT at Dick's Last Resort (Fifth Avenue between J Street and K Street)
Calling all Jokers fans: get an up close and personal look at some the most iconic artifacts and memorabilia from the show's illustrious history! The Hall of Impractical Jokers will take over Dick's Last Resort in San Diego's Gaslamp District from Thursday, July 21 through Saturday, July 23. There fans can immerse themselves in all things Impractical Jokers, plus play custom games like "Pin the Tail on the Ferret with Blackout Glasses" and "Pinball Punishment." Themed food and drinks will also be served during select hours including a "Scoopski Mashed Potato Bar."
Once inside the Hall, fans can enter the social media-charged "Santiago Sent Me" Giveaway. Attendees who capture pictures with designated activations and post them to Instagram, Facebook, Twitter, and/or Snapchat using #IJGiveaway will be eligible to take home Jokers branded items. The more platforms a picture is posted to, the better the prize won (while supplies last).
Plus, on Thursday, July 21 at 6:30 p.m. PT, join Sal, Joe, Murr and Q for a special live-streamed Q&A on truTV.com and screening of the new episode of Impractical Jokers airing on truTV that night. Once the episode ends, all are encouraged to stick around for a fan-tastic karaoke party!
IMPRACTICAL JOKERS BLOCK PARTY
Saturday, July 23 from 3:00-8:30 p.m. PT at The Park at Petco Park (Seventh Avenue and K Street)
On Saturday, July 23, join truTV and thousands of fans at the one-of-a-kind Block Party extravaganza celebrating all things Impractical Jokers. Unlike anything you've ever seen – unless, of course, you're a New Yorker who grew up going to neighborhood block parties and street fairs – this massive block party will give fans a chance to get up close and personal with some of the show's most exciting and iconic dares and punishments. Things like:
Pseudo Sumo: Trying their hand at sumo wrestling (Season 4; Episode 11)
Rodeo Clown: Riding a mechanical bull (Season 3; Episode 9)
Field of Screams: Navigating a corn maze with Benjamin the Cat (Season 3; Episode 3)
High Wire Hijinks: Walking a 20-foot tightrope (100th Episode Live Special)
There will be lots to do, including music from DJ Sid Vicious, food, an autograph signing with the Jokers from 4:00-5:00 p.m. and an exclusive sneak peek of a never-before-seen episode of Impractical Jokers starting at 8:00 p.m.
All activities are free and open to the public on a first come, first served basis.
New episodes from Impractical Jokers' fifth season return on Thursday, July 14 at 10:00 p.m. ET/PT with a special hour-long episode that drops the four long-time friends in London for Impractical Jokers: British Invasion. The special will be followed by the series premiere of Impractical Jokers: Inside Jokes at 11:00pm ET/PT which packs classic, fan-favorite episodes of the show with sharable pop-up facts throughout.