Today Nerdist and Geek & Sundry announced their full schedules for San Diego Comic-Con including panels at SDCC, offsite events and much, much more. Full details below from their press release.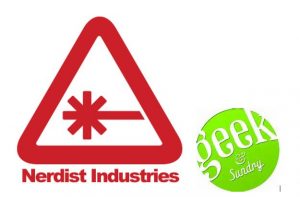 NERDIST AND GEEK & SUNDRY RETURN TO SAN DIEGO WITH CAMP CONIVAL
WEEKEND TO KICK OFF WITH EXCLUSIVE POWER RANGERS PARTY ON THURSDAY NIGHT
ACTIVATION OPEN TO THE PUBLIC AND WILL FEATURE EPIC PROGRAMMING LINEUP AND GAMES
Los Angeles, CA (July 13, 2016) – Legendary Digital Networks will once again head down to San Diego for a 4-day takeover of Petco Park for a third year for Camp Conival: a trip back in time to everything that you loved about summer camp. Headlined by Nerdist and Geek & Sundry, programming highlights include panels and interviews with some of the biggest names in entertainment.  Confirmed talent stopping by Camp Conival include: Luc Besson (Valerian and the City of a Thousand Planets), Misha Collins, Cara Delevigne (Valerian), Bryan Fuller (American Gods), Josh Holloway (Colony), Robert Kirkman (Outcast), Leonard Maltin (Maltin on Movies Podcast), Ian McShane (American Gods), Adam Savage, the cast of Marvel's Agents of SHIELD, Ash vs Evil Dead, MST3K, and many more!
Nerdist and Geek & Sundry will kick things off on Thursday night as the official hosts of the Lionsgate Party in celebration of the upcoming POWER RANGERS movie.  This invite-only VIP event will take place at Petco Park.
Best of all, the activation is open to the public allowing ALL attendees the opportunity to experience Camp Conival, which will feature returning favorite Nerdist laser tag, Geek & Sundry archery course and board game area, photo booth, beauty giveaways from Espionage Cosmetics and more! The activation will be open at Petco Park at the following times:
THURSDAY, JULY 21 and FRIDAY, JULY 22:  11 AM – 5 PM
SATURDAY, JULY 23 from 11 AM – 6 PM
SUNDAY, JULY 24 from 11 AM – 4 PM
For the most up to date schedule of Nerdist and Geek & Sundry Camp Conival activities and news, please stay tuned to www.nerdist.com and www.geekandsundry.com and follow us on Twitter @nerdist and @geekandsundry #conival.
Schedule of Camp Conival Events*
*Please note that the Main Stage and Meadows Stage are located on the second floor concourse at Petco Park.  Guest lineup is subject to change.
THURSDAY
11:15am Bizarre States Live (Meadows Stage)
12:40pm Cast of Preacher (Main Stage)
1:00pm Nerve – Dave Franco, Emma Roberts, Henry Joost, and Ariel Schulman (Main Stage)
1:15pm Colony – Josh Holloway, Sarah Wayne-Callies, Ryan Condal, Adrian Pasdar, Tory Kittles, and Peter Jacobson (Main Stage)
1:30pm Paul Cornell signing (Meadows Stage)
2:00pm Scorpion – Katharine McPhee, Eddie Kaye Thomas, Jadyn Wong, and Ari Stidham (Main Stage)
2:30pm Power Rangers – Becky G, Ludi Lin, Dacre Montgomery, Naomi Scott, RJ Cyler, and Dean Israelite (Main Stage)
3:00pm Valerian and the City of a Thousand Planets – Luc Besson, Cara Delevigne, and Dane DeHaan (Main Stage)
3:00pm Bizarre States meet & greet (Meadows Stage)
3:30pm Voice cast of Call of Duty (Main Stage)
4:15pm Wyonna Earp – Melanie Scrofano, Shamier Anderson, Tim Rozon, Dominique Provost-Chalkley, and Katherine Barrell (Main Stage)
FRIDAY
11:00am Dark Matter – Anthony Lemke, Jodelle Ferland, Melissa O'Neil, Alex Mallari Jr., and Melanie Liburd (Main Stage)
11:20am Rick & Morty – Dan Harmon, Justin Roiland, Ryan Ridley, Sarah Chalke, and Spencer Grammer (Main Stage)
11:30am Cavan Scott signing (Meadows Stage)
11:45am American Gods – Bryan Fuller, Michael Green, Ricky Whittle, Ian McShane, Pablo Schreiber, Yetide Badaki, and Bruce Langley (Main Stage)
12:15pm Firebrand – Jessica Chobot, Erika Lewis, and Claudia Aguirre (Meadows Stage)
1:00pm Genndy Tartakovsky (Main Stage)
1:00pm Firebrand signing (Meadows Stage)
1:25pm Geek & Sundry Twitch with Ivan Van Norman & guests (Main Stage)
2:00pm Cast of Fear the Walking Dead (Main Stage)
3:00pm Felicia Day Q&A (Main Stage)
3:30pm Revolution signing (Meadows Stage)
4:00pm Creators of Voltron: Legendary Defender (Main Stage)
4:15pm Maltin on Movies live with Doug Benson (Main Stage)
SATURDAY
11am The Woods – Adam Wingard, Simon Barrett, Keith Calder and Jessica Wu (Main Stage)
11:30am The Science of Star Trek with Kyle Hill, Adam Savage, Spyridon, and Diana Cowern (Main Stage)
11:30am Clod Read Radio Live (Meadows Stage)
12:15pm Legends of Tomorrow – Victor Garber, Brandon Routh, Arthur Darvill, Dominic Purcell, Franz Drameh, Caity Lotz, Nick Zano, Maisie Richardson-Sellers, Phil Klemmer, and Marc Guggenheim (Main Stage)
12:30pm Geek & Sundry's Critical Role (Main Stage)
1:30pm Outcast – Robert Kirkman, Chris Black, Patrick Fugit, Philip Glenister, Wrenn Schmidt, and Reg E. Cathey (Main Stage)
2:00pm Misha Collins (Main Stage)
2:00pm Geek & Sundry's Critical Role meet & greet (Meadows Stage)
3:00pm Cast and creators of Lucifer (Main Stage)
3:00pm Sam Maggs signing (Meadows Stage)
3:15 Sherlock – Steven Moffat, Mark Gatiss, Sue Vertue, and Amanda Abbington (Main Stage)
3:30pm Agents of SHIELD – Clark Gregg, Ming-Na Wen, Chloe Bennett, Henry Simmons, Elizabeth Henstridge, Iain De Caestecker, Maurissa Tancharoen, Jed Whedon, Jeff Bell, Jeph Loeb (Main Stage)
4:00pm MST3K – Joel Hodgson, Felicia Day, Jonah Ray, Hampton Yount and Baron Vaughn (Main Stage)
5:00pm Ash vs. Evil Dead – Bruce Campbell, Dana DeLorenzo, Ray Santiago, Lee Majors, Ted Raimi, Rob Tapert (Main Stage)
5:15pm Half Hour Happy Hour Live (Meadows Stage)
5:30pm Fangirling Live! – Alicia Lutes, Rachel Heine, and Sam Maggs (Main Stage)
SUNDAY
11:00am Secret Headquarters Live! – Dan Casey & guests (Main Stage)
11:30am Inkshares – Ryan Copple, Jeremy Thomas, Mordicai Knode, Zach Linville, and Dave Barrett (Main Stage)
1:00pm Fallout: Nuka Break (Main Stage)
2:00pm Marc Guggenheim signing (Meadows Stage)
With more surprises and guests still to be announced! For live updates, please visit http://nerdi.st/CampConival
Schedule of Official 2016 SDCC Nerdist and Geek & Sundry Panels
Geek & Sundry Panel
Thursday, 7/21/16, 12:00pm – 1:00pm, Room: Indigo Ballroom, Hilton San Diego Bayfront
Nerdist Panel
Thursday, 7/21/16, 1:00pm – 2:00pm, Room: Indigo Ballroom, Hilton San Diego Bayfront
Nerdist TV Panel
Thursday, 7/21/16, 5:30pm – 6:30pm, Room: 6A
Geek & Sundry's Live's Trivia Panel
Friday, 7/22/16, 7:30pm – 8:30pm, Room: 8
Nerdist News Live
Saturday, 7/23/16, 4:00pm – 5:00pm, Horton Grand
Geek & Sundry's Critical Role Cast Q&A
Saturday, 7/23/16, 7:30pm – 8:30pm, Room: 24ABC