Dark Horse comics announced a new mini-series coming this December. Dead Inside from writer John Arcudi and artist Toni Fejzula is set to debut issue 1 (of 5) this December. More information and cover art from their press release below.
Arcudi and Fejzula Lock Down New Series Dead Inside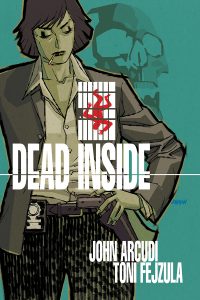 FOR IMMEDIATE RELEASE: MILWAUKIE, OR—This winter Dark Horse Comics is set to release Dead Inside, a brand-new creator-owned series from acclaimed writer John Arcudi (Rumble, The Creep, B.P.R.D.) and up-and-coming artist Toni Fejzula (Cthulhu, Lobster Johnson, Veil).
"It's not often that I get to write crime fiction, because I worry I don't have anything to add to the genre. This time I feel like I do. The more I read about jail crimes investigations, the more I knew I had to tell this story," said Arcudi.
The Jail Crimes Division of the Sheriff's Office in Mariposa County investigates crimes committed inside county jails. With a limited number of suspects who can't escape, these are usually easy cases to solve—but not this one. As Detective Linda Caruso gets closer to the heart of the case, she discovers uncomfortable truths about her friends, her job, and herself.
With stunning covers by Dave Johnson, Dead Inside is perfect for fans of crime or prison television, such asOrange Is the New Black, American Crime Story, or Making a Murderer. With Dead Inside, Arcudi offers a fresh perspective on the ever-popular crime genre.
Dead Inside #1 (of 5) is in stores December 21, 2016. Preorder your copy today at your local comic shop!