Viz Media announced recently that for the first time the manga series BLEACH will be available on Blu-Ray. More information and cover for the Blu-ray set below courtesy of their press release.
VIZ MEDIA BEGINS HOME MEDIA RELEASE OF BLEACH ANIME SERIES FOR THE FIRST TIME ON BLU-RAY
Complete Uncut First Set Of The Acclaimed Paranormal Action Adventure Based On The Smash Hit Manga Series Debuts This Summer
San Francisco, CA, July 29, 2016 – VIZ Media, LLC (VIZ Media), a premier company in the field of publishing, animation distribution, and global entertainment licensing, unleashes the tense anime action drama of BLEACH on Blu-ray for the first time with the home media release of Set 1.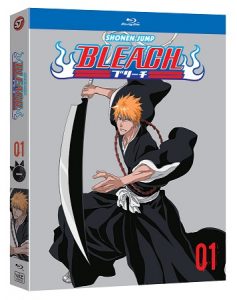 Now available, BLEACH Set 1 presents the complete, uncut first 27 episodes of the popular series on 4 Blu-ray discs, and carries an MSRP of $54.97 U.S. / $63.99 CAN. Episodes are available with dialogue selections for dubbed English as well as subtitled, Japanese 2.0 audio, with episodes presented in their original 4:3 .
In the BLEACH anime series, for as long as he can remember, Ichigo Kurosaki has been able to see ghosts. But when he meets Rukia, a Soul Reaper who battles evil spirits known as Hollows, his life is changed forever. Now, with a newfound wealth of spiritual energy, Ichigo discovers his true calling – to protect the world of the living and the dead as a Substitute Soul Reaper. When Rukia is taken away to face the ruthless justice of the Soul Society, Ichigo and his friends must cross over and do battle in the spirit world…
"Fans have eagerly anticipated the release of BLEACH on Blu-ray, and this summer we invite them to expand their personal anime collections with the release of the first set of this riveting series," says Charlene Ingram, Senior Marketing Manager, Animation.
The BLEACH animated films and TV series (distributed in North America by VIZ Media, rated 'TV-14') are based on a smash hit manga series created by Tite Kubo (also published in North America by VIZ Media, rated 'T' for Teens).
For more information on BLEACH manga and anime titles published by VIZ Media, please visit www.viz.com.