Combining elements of the traditional Jewish legend of the dybbuk, a malicious "clinging ghost," with elements of Poland's own past in the Holocaust, Demon, director Marcin Wrona's final work, is an effective ghost story, both elegiac and darkly comic at the same time.
Known internationally as The Dybbuk, the joint Israeli-Polish production is finally getting a wider U.S. release following its exhibition in a string of film festivals late last year, including the 2015 Toronto International Film Festival.
Demon is very loosely based on Piotr Rowicki's play, The Clinging; Wrona and his co-writer Pawel Maslona kept the names of the characters, but changed most everything else. The story concerns Peter (Itay Tiran), an Englishman living with his Polish girlfriend, Żaneta (Agnieszka Zulewska); they are to be married and her family has gifted them with her deceased grandfather's now-dilapidated farmhouse.  Peter—called "Piotr" by his future bride and "Python" by his friend and future brother-in-law, Jasny (Tomasz Schuchardt)—is working on rehabilitating the house with Jasny and one of their mutual friends, Ronaldo (Tomasz Ziętek), who also appears to be in love with Żaneta. It's an interesting dynamic that mostly functions as comic relief as the increasingly bizarre happenings unfold.
Shot by cinematographer Pawel Flis to resemble old photographs, the film leans heavily on an eerie atmosphere to keep the audience ill at ease. Demon also wastes no time diving into its weird and unsettling tone; our first exposure to Peter comes when he sees a screaming woman being either baptized or possibly exorcised in the water while he is taking a ferry to Żaneta's home town.
The day before his wedding, Peter accidentally backs his "digger" into a tree, which falls over, exposing a skeleton buried below. He quickly reburies it, but strange noises later bring him back outside, where it is raining heavily and where he is seemingly sucked into the soil with the bones.
He's found the next day sleeping in his car by Jasny and Ronaldo, who have come to help him prepare for the big, traditional Polish wedding Jasny's father, Zygmunt (Andrzej Grabowski), is throwing. Peter quickly begins to feel out of sorts as the alcohol-soaked wedding kicks into high gear while a fierce storm threatens to upend the entire spectacle.
The wedding is alternately played for laughs and pathos. When one of the old teachers of the town, Syzmon Wentz (Włodzimierz Press), is called upon to deliver a speech, he drifts off into speaking of the Holocaust, and is quickly but gently silenced, both a sad but blackly humorous commentary on Poland's history of anti-Semitism.
The film entwines that history with the Nazism that overtook Poland and with Polish national pride, which deepens the film's story, as well as makes the proceedings more tragic as things spin wildly out of control for Peter, Żaneta, and everyone in the barn at the reception.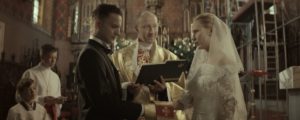 Żaneta, at first oblivious to the changes in Peter, soon becomes concerned. For his part, Peter starts seeing phantoms, gets random nosebleeds, and seems to get dirtier as the possession takes further hold. After being informed of the skeleton and the possibility that Peter may be possessed, Zygmunt begins covering it up, mostly by ensuring his guests get as drunk as humanly possible.
Under Wrona's direction, the cast of Demon shines, especially Tiran, who uses his physicality to portray Peter's possession without need of any CGI or gross special effects to augment his acting. Zulewska does fine work as the increasingly upset Żaneta, who can't understand what is happening to her fiancé, but is willing to try to get him the help he needs while everyone else around her fails both her and Peter, including an ineffectual preacher (Cezary Kosiński) and the town's resident atheist, a doctor (Adam Woronowicz) who proclaims his sobriety while sneaking slugs of vodka. Both function as comic relief but also seem to highlight the failures of some Polish people to deal with the horrors of the Holocaust, no matter how many years have passed.
Grabowski also makes a strong impression as Zygmunt, whose anger leads him to deny that anything bad is happening while simultaneously putting the blame on others for Żaneta's wedding woes and for Peter's behavior, later trying to convince everyone that nothing out of the ordinary occurred at all, yet another signifier of how Poland treats the worst parts of its past.
Wrona relies on atmosphere and sound to suggest the malevolence at work without feeling the need for loud musical stingers or telegraphing any scares. The darkish, brown tones of the film, combined with the thumping music of the wedding band and the sound of the incessant rain, adds to the feeling of unease throughout the film. Besides Wrona, credit goes to Flis for the cinematography, to Tomasz Sikora for the sound, and to Krzysztof Penderecki and Marcin Macuk for the music.
Demon does more than tell a simply ghost story; it lays bare the fictions people tell themselves in order to deny any responsibility for past misdeeds. According to Demon's Executive Producer Olga Szymanska (who is also Wrona's widow), Demon is the third part of a trilogy that includes My Flesh, My Blood (2009) and The Christening (2010), which were both well-received when they were released. Demon, despite its subject matter, stands as a lovely tribute to Wrona's talent.
Demon opens Friday, September 9, 2016 in Los Angeles and New York. It is presented in English, Polish, and Yiddish, with English subtitles. The Los Angeles screenings at the Nuart Theatre will have a Q&A with Olga Syzmanska as follows: Friday, September 9, 7:30pm show w/Q&A, 9:55pm show w/Intro, Moderator: Susan King (former writer at the Los Angeles Times); Saturday, September 10, 7:30pm show w/Q&A, 9:45pm show w/Intro,  Moderator: Film Critic Debbie Lynn Elias