DKE Toys announced their first set of exclusives for New York Comic Con which takes place October 6-9, 2016 at the Javits Center in New York City. This story will be updated as more are announced. More info and pictures below courtesy of DKE Toys.

DKE Toys NYCC 2016 Exclusives
HipHop Wars: HipHop Trooper by Special Ed Toys
Special Ed is back with the new HipHop Wars: HipHop Trooper. Each figure is a hand painted and customized 3.75″ vintage figure on custom designed card back. Comes with mail away coupon for the Def Star Thumper boom box. Each figure is signed and numbered out of 50 figures worldwide by Special Ed and the Hip Hop Trooper. $75 each
"From bootleg toys to terrible "art" of dubious quality, there is no type of "artistic" medium I won't shamelessly exploit in my mission to bring a little bit of terribleness into collector's homes far and wide!" – Special Ed Toys
THE HIP HOP TROOPER GREW UP ON THE DEF STAR LISTENING TO RUN DMC, LL COOL J, BEASTIE BOYS, KURTIS BLOW, GRANDMASTER FLASH & MANY MORE. TRADING HIS BLASTER FOR A FRESH PAIR OF KICKS AND A BOOMBOX HE THEN FLEW DOWN TO EARTH! TO SAVE HIP HOP!
www.hiphoptrooper.com
instagram @hiphoptrooper
www.facebook.com/hiphoptrooper
===============================================================================
Darth Trump by Timebandits x Special Ed Toys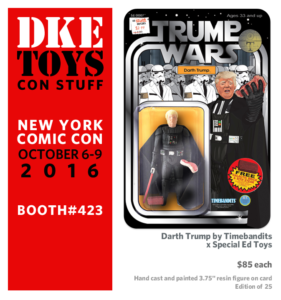 What needs to be said about this figure. In a time of political turmoil a dark force rises to prominence. Will he succeed in taking power? Maybe his steak will protect him? Hand cast and painted 3.75 inch custom resin figure on card. Only 25 made. $85. These sell out opening day for sure.
TIMEBANDITS
http://www.timebanditswatches.com
http://www.timebanditstoys.com
Special Ed Toys
www.specialedtoys.com
Carlos Espinoza
Illustration & Design by Mocjoes
Instagram @moctoys
David Arshawsky
Sculptor
Instagram @turtlemilkstudios
Todd Action
Toy Customizer/Painter
Instagram @topo1622
===============================================================================
Wookie Hash Pipe: Luce Skytoker by Jim Mahfood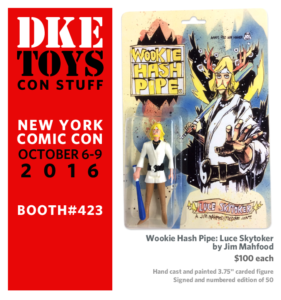 A follow up to SDCC's Dose Vapors figure based on Jim Mahfood's Wookie Hash Pipe universe. This edition of 50 figures is hand cast and painted and is signed and numbered by Jim. The back of the card has the follow up installment to the Wookie Hash Pipe comix saga.
Jim Mahfood aka Food One has been working as a freelance artist since 1997, amassing an impressive cult following across the globe. Highlights of his career include art chores on Kevin Smith's Clerks comics, his creator-owned titles Grrl Scouts, Los Angeles Ink Stains, and Carl The Cat That Makes Peanut Butter Sandwiches. Recent projects include illustrating the Everybody Loves Tank Girl series and Miami Vice: Remix. Jim is currently working on his new full-color Grrl Scouts comic book series that will debut from Image Comics in early 2017!
https://twitter.com/jimmahfood
http://www.youtube.com/user/JimMahfood
http://thebeatbeesessions.libsyn.com/
===============================================================================
Hobo Fett by Manly Art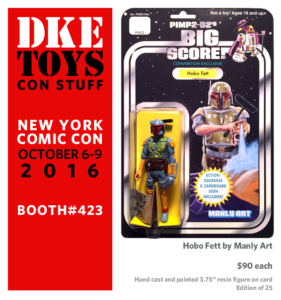 Manly Art is at it again this time with Hobo Fett as a part of his ever expanding Pimp2D-2's Big Score action figure line. Each figure is a hand cast and painted 3.75″ resin figure. Now when Pimp2D-2 and C-3P-Ho are stopped at a red light in their Pimp Speeder, Hobo Fett can wash their windshield. I wonder if they tip?
Only 25 pcs of these babies available. $90.
Jason Chalker (aka Manly Art) is a Dallas based illustrator and toy maker. He has done illustration work for Upper Deck and Topps on brands such as Marvel, Mars Attacks and Star Wars. His Pimp2-D2 action figure line has managed to find its way into the collection at Rancho Obi-Wan and the homes of collectors around the world.
www.manlyart.com
http://manlyart.blogspot.com
http://manlyart.bigcartel.com
https://www.facebook.com/themanlyart
Instagram @manlyart
https://plus.google.com/+Manlyart1
===============================================================================
Jedi Master Yoga by Jedi Master Jay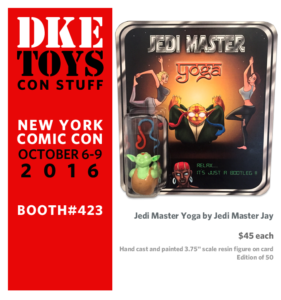 DKE is proud to be working with Jedi Master Jay for the first time. There are many of his figures already in our collection. It was the Black Power Droid that initially brought him to our attention. Jedi Master Yoga is a hand cast and painted 3.75″ scale resin figure on card. Each one comes with a Yoga force serpent accessory. While the edition is 50 pcs only about 30 will make it to the show in time for NYC this year. $45 each. Ohmmmmmmmmmmmmm….
Hailing from Burncity's Bootleg Bay Jedi Master Jay is an Australian bootlegger of Star Wars toys.
Jedi jumped on the Star Wars hipster band wagon of collecting Star Wars bootlegs, shunning the Disney / Lucas franchise of products. He then took the next step of starting to make his own toys. Not having the skills or patience to make 'designer toys', he took the more degenerate path of a toy 'bootlegger' Applying the same sample, remix, cut n paste principles picked up from years of DJing, Jedi's bootlegs sometimes convey a message but more often than not they're just for shits n giggles. So relax it's just a fucking bootleg.
Instagram @jedi_master_jay
biterbootlegs.bigcartel.com
===============================================================================
2 items from RYCA!
Reservoir Troopers by RYCA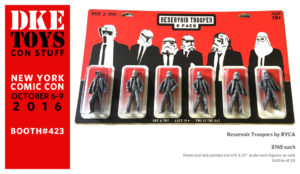 Wow what a set!!! 6 figures for $165 based on the sold out print edition of the same name. Each card is a multi color silk screen with 6 hand cast and painted 3.75″ figures. Need we say more. Only 20 of these signed and numbered babies available. WTF!!!
Ryan Callanan a.k.a RYCA has long since been one of the most sought after artists at artrepublic. He burst onto the scene back in 2006 with his Star Wars inspired print, Reservoir Troopers (red) that sold out at in astonishingly quick time. In May of the same year thieves broke into the gallery and stole the same piece, believing it to be a Banksy. The artist told us at the time that he was quite chuffed with the mistake. He graduated from art school in 2002 and was inspired to create his first print, Ona Islam after visiting the acclaimed London exhibition of Banksy works, 'Santa's Ghetto' in 2006. Other sources of inspiration include cult classics, the Star Wars franchise, Pop Art, and the Renaissance. uDrawing inspiration for his career as a 3D sign writer, RYCA incorporates a wide use of materials including resin and glass into his sculptural pieces. With his in-depth knowledge of materials and craftsmanship he is currently working on new projects with hip-hop song lyrics alongside numerous public commissions. RYCA made headlines when he realized his 'Acid Cup', a handcrafted replicate of the World Cup trophy, to coincide with the 2014 tournament in Brazil. Big Beat DJ and Brighton hero Fatboy Slim loved RYCA's sculpture so much he took one on tour with him as he played a host of huge gigs around the country. He has exhibited worldwide and enjoyed a number of highly successful solo shows, also collaborating with a number of well respected artists including Ben Eine, David Walker and Stik.
===============================================================================
Mavi Krom Uzay by RYCA
The conversation went like this: "Hey Ryan can you send me one of those blue Uzay figures I saw online the other day?" Reply: "I am sending you a bunch of them with some other chase figures included. Oh yeah and you can price them at $45 each." WTF x2!!! Hand cast and painted 3.75″ resin figures on silk screened card back.
Figure is based on the original bootleg "Uzay" Turkish toys …. The most famous being the blue stars, a blue Snow Trooper. Mavi Krom Uzay is a Turkish translation of "blue chrome stars".
Bio and social media above.
===============================================================================
2 items from Killer Bootlegs!
Ewoking Dead lapel pin by Killer Bootlegs
Killer Bootlegs has transformed his classic figure into a classic lapel pin. What more is there to say? $15 each and comes on oversized card back to simulate the action figure feel.
https://twitter.com/KillerBootlegs
Facebook – Peter Wheatstraw Goral 
Born in the 80's, Killer Bootlegs artist Peter Goral's childhood was saturated with action figures, cartoons, and classic movies. When he was 4 years old, his father showed him a bootleg copy of The Empire Strikes Back. Little did he know that this would start Peter on the path to being at the forefront of the bootleg toy movement. Today, Peter's artwork is highly sought after by collectors and has been in galleries worldwide. He has inspired and mentored countless other resin artists to follow in his footsteps. What started as a hobby collecting toys has grown into a full-time career for Peter, letting him do what he loves best every day, play with toys.
===============================================================================
Killer lapel pin by Killer Bootlegs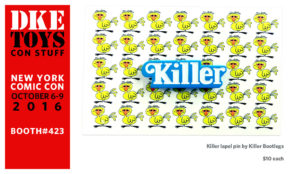 Killer Bootlegs iconic logo using the Killer font now an iconic lapel pin. $10 each
Bio and social media above.
===============================================================================
R2-Lean Too by Dollar $lice Bootlegs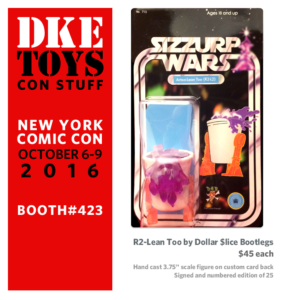 For decades Dollar $lice Bootlegs has been making his own weird art but now he has completely sold out and debased himself by using overt pop culture references in his work. But I guess if you think about it there is still a drug theme in there so it's ok.
Hand cast 3.75″ scale figure on custom card back. Signed and numbered edition of 25 $45
Instagram @dollar_slice_bootlegs
===============================================================================
Wars Not Make One Great by Free Humanity $100 tax included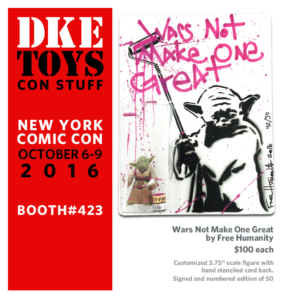 Famed street artist Free Humanity has hand customized each 3.75″ scale figure and added a paint bucket and roller. More importantly each card back has been hand stenciled, splattered and signed and numbered out of 50 pieces. This is the second and final edition in dark pink. The previous edition sold out earlier this year at SDCC. A Free Humanity stencil on a canvas would be at least 10 times as much money in a gallery. These will not last long.
Free Humanity Street Artist/Public Artist. Established 2009. Los Angeles. Free Humanity is an internationally recognized artist that has focused on political situations and notable figures who have had a positive impact on the world. Working his way from small street pieces to large scale murals all over the country. Free Humanity art can be seen on the streets of many cities world wide ranging from London, Paris, Mexico City, New York City, Miami, San Francisco, Los Angeles with his Signature Heart Style.