Pixel Toys today released a new trailer for their VR zombie shooter video game Drop Dead. More details including pictures, trailer and information below courtesy of their press release.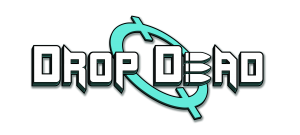 el Toys has released a new gameplay trailer for its upcoming VR zombie-shooter, Drop Dead, showing off the immersive intensity of staying alive against the monstrous hordes of the undead. The studio also announced that Drop Dead will feature real-time multiplayer for up to four players simultaneously when it arrives on Oct. 26 for Samsung Gear VR Powered by Oculus.
Drop Dead is a first-person VR shooter that blends light horror, humor and action into a thrilling adventure for both casual and hardcore players. At launch, the game will include 13 single-player missions, delivering highly detailed 3D graphics and character models with rich, interactive environments for an arcade experience unlike anything else on Gear VR. Pixel Toys is planning to expand this offering even further with two additional chapters provided as free updates later this year.
Drop Dead will launch worldwide on Gear VR for $9.99 on Oct. 26, just in time for Halloween. Pixel Toys is also actively developing the game for Oculus Rift in the future.