Our friends at Special Ed Toys today released a special, very limited figure for Halloween, featuring a 'Thriller' of a figure. More details and pictures below courtesy of their press release.
Will you be able to resist the Evil of Thriller Night this Halloween? No?
Too bad cause this Zombie Dance King is coming to terrorize y'alls neighborhood regardless! "The Evil of The Thriller Night" (with Glow In The Dark Zombie Michael action) is a thrilling release brought to you by the ghoulishly untalented Special Ed Toys (https://www.instagram.com/specialedtoys)!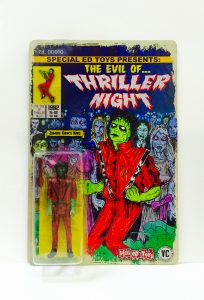 This hand painted 3.75″ resin bootleg non-action figure comes carded on a custom action figure cardback with comic book style artwork by Cory Holiday (https://www.instagram.com/vileconsumption) and the original figure sculpt by the eerily talented George Gaspar (https://www.instagram.com/couchgrouch)!
This limited edition run of only 31 hand signed and numbered pieces is releasing Halloween day (10/31) at 12pm PST (3pm EST) through the Special Ed Toys shop www.specialedtoys.com for a mere $65 with free shipping included (within the U.S.)! So set your alarm clocks and get ready to dance with the original Zombie Dance King himself before he moonwalks away forever!