With WonderCon 2017 just over 2 weeks away, the programming for it has already started to be announced. Today it was announced that the World Premiere of Teen Titans: The Judas Contract would take place exclusively there. All information and pictures below courtesy of their press release.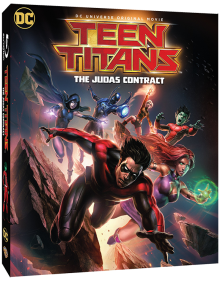 Warner Bros. Home Entertainment continues its annual WonderCon tradition with the premiere of Teen Titans: The Judas Contract, the next DC Universe Original Movie, on the evening of Friday, March 31, 2017 in the Arena of the Anaheim Convention Center.
Teen Titans: The Judas Contract will screen at 6:00 PM in the Arena, followed by a panel discussion featuring Sean Maher (Firefly/Serenity, Batman: Bad Blood), the voice of Nightwing; Taissa Farmiga (American Horror Story) as Raven; Jake T. Austin (Wizards of Waverly Place, The Fosters) as Blue Beetle; Brandon Soo Hoo (Tropic Thunder, From Dusk Til Dawn: The Series) as Beast Boy; Kari Wahlgren (Phineas and Ferb, Legion of Superheroes) as Starfire; and Stuart Allan (Batman vs. Robin, Batman: Bad Blood) as Robin/Damian; plus director Sam Liu (Batman: The Killing Joke), supervising producer James Tucker (Batman Bad Blood, Batman: Return of the Caped Crusaders) and character designer Phil Bourassa (Justice League Dark, Young Justice). Additional panelists will be announced as confirmed.
Inspired by the 1984 DC story arc from Marv Wolfman and George Pérez, Teen Titans: The Judas Contract finds the Teen Titans—Starfire, Beast Boy, Raven, Blue Beetle, Robin and the just-returned Nightwing—working as a cohesive team in their never-ending battle against evil. But their newest teammate, the mysterious and powerful Terra (voiced by Christina Ricci), may be altering that dynamic. Meanwhile, an ancient evil, Brother Blood (Gregg Henry), has awakened, and familiar foe Deathstroke (the late Miguel Ferrer) is lurking in the shadows – both waiting to pounce. Ultimately, the Teen Titans will need to battle their enemies and their own doubts to unite and overcome the malicious forces around them in this twisting tale of intrigue, adventure and deception.
An encore presentation of Teen Titans: The Judas Contract (without an accompanying panel) is slated for Sunday, April 2 at 3:15 PM in the Arena.
Stay tuned for our complete WCA 2017 Programming Schedule on Friday, 3/17!