Emerald City Comic Con is a little over a month away, and we are excited as this will be the first time The Nerd Element is visiting the convention. As the press releases roll out we will be bringing them to you. For all of you, beer drinkers out there ECCC has announced its official beer of the con! See press release below. Will you be attending ECCC? Let us know in the comments below!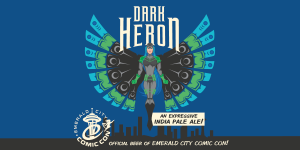 REEDPOP AND FREMONT BREWING UNVEIL NEW 2018 DARK HERON IPA, CRAFTED AS THE OFFICIAL BEER OF EMERALD CITY COMIC CON, AND KICK OFF THE LEAGUE OF LIBATIONS IN THE BEER GARDEN AT ECCC
2018 Dark Heron IPA Features a New Design by Local Seattle Artist & is Available on Draft and in 22oz Bottles This February
NORWALK, CT – January 18, 2018 – ReedPOP, the world's leading producer of pop culture events, and Fremont Brewing of Seattle, Washington today announced they are bringing back Dark Heron, an exclusive brew created as the official beer of Emerald City Comic Con 2018. In the third year of the partnership, this year's Dark Heron will feature new artwork created by local Seattle artist Jeffrey Veregge, who drew inspiration from his Native American roots and his training in the art of Salish formline design.
"This year's Dark Heron is a loud, expressive IPA brewed with Strata, El Dorado, Comet, Citra, and Centennial hops," says Matt Lincecum, founder and owner of Fremont Brewing. "Golden-amber in color, Dark Heron IPA is bursting with citrus, tropical, floral, and stone fruit notes."
"We're really excited to be partnering again with Fremont for the official beer of Emerald City Comic Con," said Lance Fensterman, Senior Vice President, ReedPOP. "Both Fremont and local Seattle artists collaborating on this year's Dark Heron allows for the beer to embody everything that characterizes ECCC, the uniqueness of the show and the fans that attend year in and year out."
ECCC and Fremont will launch this year's Dark Heron with the official beer release at the Fremont Brewing Urban Beer Garden on February 1, followed by a "Brews & Board Games" event at Mox Boarding House on February 8. As in the past two years of partnership with ReedPOP, Fremont Brewing will make Dark Heron available on draft at regional bars and restaurants and in 22 ounce bottles at most major stores.
In addition to the Dark Heron collaboration, ECCC and Fremont Brewing have brought together several west coast breweries and cideries to create the League of Libations Presented by Fremont Brewing,conveniently located in the Beer Garden on Level 1 of the Washington State Convention Center. Their mission is to bring some of the best of the West Coast's independent craft beers and ciders to ECCC. Participating breweries and cideries include Firestone Walker Brewing Company from California, Crux Fermentation Project from Oregon, and Seattle Cider Company, which will all be on tap in the Beer Garden during all four days of the show. For the first time this year, ECCC will also be curating special events in the Beer Garden each day, including trivia and fan meetups for beer enthusiasts.
"Fremont is proud to reunite with ReedPOP for another ECCC beer because they are unafraid to be themselves; innovative, passionate, and kinda nerdy…just like us!" says Lincecum.
Starting in 2003, Emerald City Comic Con has become the largest pop culture and comic convention in the Pacific Northwest attracting over 91,000 fans last year. Emerald City Comic Con tickets are available at EmeraldCityComicCon.com. For the latest news, visit ECCC's social media pages (Facebook, Twitter, and Instagram).
---
ABOUT REEDPOP:
ReedPOP is a boutique group within Reed Exhibitions, the world's leading event organizer. ReedPOP is devoted exclusively to organizing and managing events, launching and acquiring new shows, and working with premium brands in the pop culture world to deliver once in a lifetime experiences for fans everywhere. ReedPOP is dedicated to facilitating celebrations of popular culture around the globe that transcend ordinary events by providing unique access and dynamic personal experiences. ReedPOP is proud to be a part of a portfolio of events that include New York Comic Con (NYCC), Chicago Comic & Entertainment Expo (C2E2), Penny Arcade Expo (PAX) West, East, South, Australia and Unplugged, Emerald City Comic Con (ECCC), BookCon, BookExpo, Keystone Comic Con, Oz Comic-Con, Comic Con India, Comic Con Paris, Comic Con Seoul, Star Wars Celebration, TwitchCon, ComplexCon and more. The staff at ReedPOP is a fan-based group of professionals uniquely qualified to serve those with whom they share a common passion. (www.reedpop.com)
ABOUT FREMONT BREWING
Fremont Brewing is a family-owned craft brewery founded in 2009 to brew artisan beers made with the best local ingredients available. Fremont Brewing is now the fastest-growing brewery in Washington and its Interurban IPA is Washington's leading craft beer. Other beers include Lush IPA, Universale Pale Ale, Summer Ale, and cult classics B-Bomb and Cowiche Canyon Fresh Hop Ale. Their beer has won numerous awards such as 3 Silver medals at the Great American Beer Festival, the Gold medal in the 2016 Best of Craft Beer Awards, and Rate Beer's 2015 Best Strong Ale in the World and Best Beer in Washington and is distributed in kegs, cans, and 22 oz. bottles throughout WA, OR, ID, AK, CO, Southern California, and Japan. It can also be enjoyed every day at their kid- and dog-friendly Urban Beer Garden in Seattle's Fremont neighborhood. In addition to its reputation for consistent quality and innovation, Fremont Brewing is a recognized leader in sustainable brewing operations and community engagement. Because Beer Matters! (www.fremontbrewing.com)