Awesome Con, taking place next weekend at the Washington Convention Center in DC, will not only be giving us a plethora of media guests, Future Con for the science and tech geeks, and Awesome Con Jr for the family, the convention will also be celebrating the 80th Anniversary of Superman!  Check out the press release from earlier this week below for more info.  There is still time to get tickets! I've enjoyed myself every year!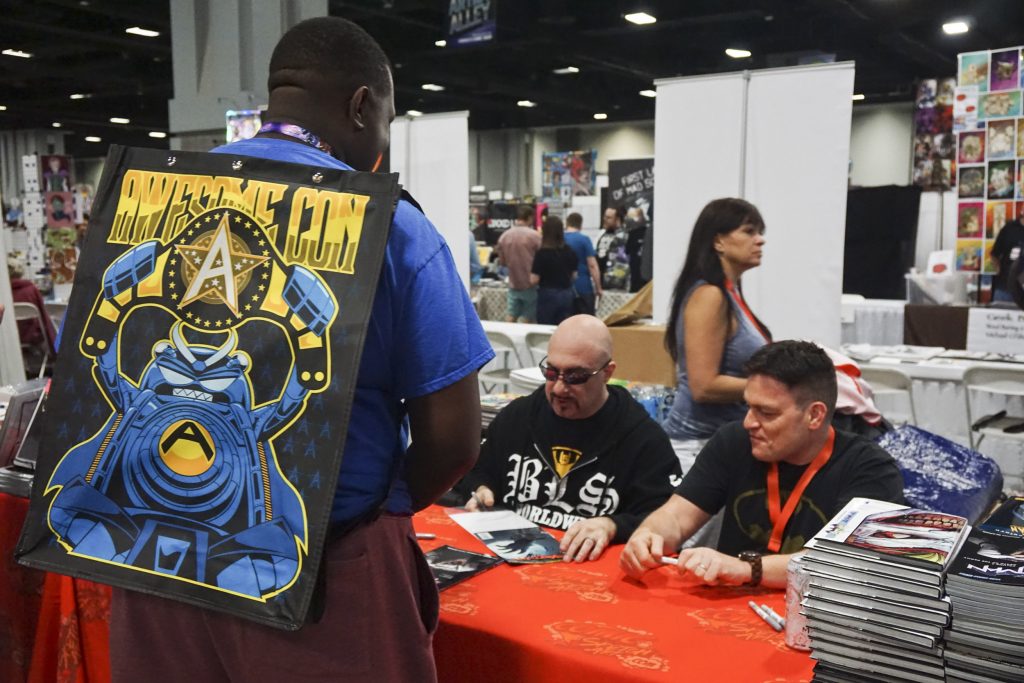 Awesome Con 2018 to Celebrate the 80th Anniversary of Superman with All Star Line-up of Comic Talent
Washington, D.C. (March 21, 2018) – Top illustrators, writers, and celebrities in the comics world will unite at Mid-Atlantic pop culture convention Awesome Con presented by LeftField Media, taking over Washington, D.C.'s Walter E. Washington Convention Center fromMarch 30-April 1, 2018. Comics powerhouse DC Entertainment and other renowned publishers will present special programming like industry insider and celebrity-driven panels, share exclusive announcements, debut designs, and more at the show. Awesome Con is proud to mark its sixth year by working with comic book artist Patrick Zircher on the official show poster and original art in the con's program guide, distributed to all show attendees.
Show attendees can look forward to programming celebrating eight decades of Superman, marking the icon's 80th anniversary since debuting in April 1938 from DC. Fans will be able to attend events and interact with special guests Tom Welling and Michael Rosenbaum, who played Clark Kent and Lex Luthor in beloved television series "Smallville," during the weekend. Kids attending Awesome Con will also receive special keepsake badges featuring official Superman artwork from acclaimed artist and DC Publisher Jim Lee specially commemorating the weekend. Creators from renowned publishers like DC will meet-and-greet with fans throughout the weekend at booths on the Awesome Con show floor, making it easier than ever to meet the makers behind some of the most beloved characters in pop culture.
Comic fans will love events like Past, Present & Future: The 80th Anniversary of Superman, a panel bringing together DC artist Greg Capullo and writer Scott Snyder and comic book artist and writer Dan Jurgens, alongside Tom Welling and Michael Rosenbaum to retrace the iconic character's history and discuss what's next for the Man of Steel.
Attendees can also reserve tickets to special limited-access events during Awesome Con weekend to closely engage with the industry's most celebrated creators. A DC Writer Panel and Meet & Greet on Friday, March 30 brings celebrated writers and artists Tom King, Frank Tieri, Joshua Williamson, Sam Humphries, Matthew Rosenberg, and James Tynion IV together for an intimate hour-long Q&A with attendees. Tickets for this special experience are available for $100 at www.awesomecon.com/tickets, and include an autographed variant comic cover featuring each guest's work, a photo opp with all the guests, and up to five autographs from each guest. Attendees must also have a Friday day pass or Weekend pass to Awesome Con.
The creative minds behind Batman comic miniseries "Dark Nights: Metal" come together at Awesome Con for a Batman Metal Q&A and Meet & Greet on Saturday, March 31. Artist Greg Capullo, writer Scott Snyder, and inker Jonathan Glapion host a private one-hour Q&A with attendees, who will each receive a color Greg Capullo Batman print, a black-and-white Greg Capullo Batman print, and an inked Batman variant comic book cover by Jonathan Glapion. The iconic trio of guests will sign the prints and comic cover along with up to five items per attendee. Tickets are available for $100 at www.awesomecon.com/tickets; attendees must also have a Saturday day pass or Awesome Con Weekend pass.
Special Guests
Comic Guests
Scott Snyder (Superman Unchained, American Vampire, Batman, Swamp Thing, Voodoo Heart)
Greg Capullo (Dark Nights: Metal, Batman, Reborn, X-Force, Quasar, The Creech)
Sean Gordon Murphy (Batman: White Knight, Hellblazer: City of Demons, Punk Rock Jesus, Shaun of the Dead, Teen Titans, The Wake, Tokyo Ghost)
Tom King (A Once Crowded Sky, Batman, The Sheriff of Babylon, The Vision)
Clay Mann (Batman, Batman Eternal, Gambit, X-Men)
James Tynion IV ((DC's Detective Comics, Batman, Teenage Mutant Turtles, The Backstagers, Red Hood and the Outlaws, Constantine: The Hellblazer)
Josh Williamson (Skybound, Flash Rebirth)
Frank Tieri (Wolverine, Ultimate Spider-Man, Marvel vs Capcom 3, Ultimate Marvel vs Capcom 3)
Sam Humphries (Nightwing)
Matthew Rosenberg (4 Kids Walk Into a Bar, We Can Never Go Home, The Archies)
Jonathan Glapion (Superman, Batman, Curse of the Spawn, Elektra: The Hand) Entertainment Guests
Stephen Amell (Arrow)
John Barrowman (Arrow)
Tom Welling (Smallville)
Michael Rosenbaum (Smallville)
Cress Williams (Black Lightning)
Will Friedle (Batman Beyond)
Phill LaMarr (Justice League Unlimited)
Awesome Con runs from Friday, March 30 until Sunday, April 1 in the Walter E. Washington Convention Center in Washington, D.C. More information about Awesome Con and tickets are available at www.awesomecon.com.
About Awesome Con
Awesome Con is the biggest annual comic and pop culture convention in Washington, D.C., having welcomed over 71,000 attendees in 2017. Awesome Con celebrates all aspects of geekdom and pop culture, with a wide assortment of engaging events, comic books, collectibles, toys, games, original art, cosplay and more. Awesome Con is presented in partnership with LeftField Media, an event organization company developed by the founder of New York Comic Con. Learn more at www.awesomecon.com.
About LeftField Media
LeftField Media, LLC is an events company focused on developing face-to-face events in a range of communities rooted in contemporary culture and shared passion. LeftField was formed in 2014 by Greg Topalian (President, LeftField Media) and is now owned by Topalian and Clarion Events Ltd. With a keen sense of the evolving needs of businesses and their consumers, as well as new opportunities created by change, LeftField takes a clean slate approach to its work. LeftField's portfolio includes Play Fair (playfairny.com), a family-focused celebration of toys and play built with the Toy Industry Association; Awesome Con (awesomecon.com), Washington D.C.'s Comic Con; Rose City Comic Con (rosecitycomiccon.com), in Portland, O.R.; Anime NYC (animenyc.com), a Japanese pop culture festival presented by Crunchyroll; and the Classic Auto Show (theclassicautoshow.com), a vintage auto show launched in Los Angeles. LeftField Media is headquartered in historic Trumbull, C.T. (leftfieldmedia.com).