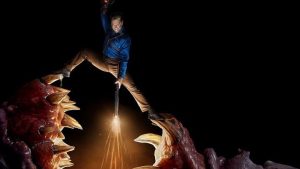 As I mentioned in my last recap, Ash Vs. Evil Dead was on the bubble at Starz. Today, the bubble popped, as Starz has officially canceled the show. Sorry, fellow screwheads.
The show has been plagued by declining ratings this season, which saw it move from its former home on Fridays to Sundays against the AMC juggernaut, The Walking Dead (though that show has had declining ratings as well). As reported by Variety and other media, Ash Vs. Evil Dead dipped to a 0.08 rating in the adults 18-49 metric, which translates to 177,000 viewers per episode. By contrast, the season 8 finale of The Walking Dead had 8 million viewers.
Adding to Ash Vs. Evil Dead's struggles were some behind-the-scenes drama last season with the exit of showrunner Craig DiGregorio, and it being "the most illegally downloaded show" out there (this according to a comment during a fan Q&A in October 2017 from star Bruce Campbell).
Campbell has released the following statement: "Ash vs. Evil Dead has been the ride of a lifetime. Ash Williams was the role of a lifetime. It was an honor to reunite with Evil Dead partners Rob Tapert and Sam Raimi to give our tireless fans another taste of the outrageous horror/comedy they demanded. I will always be grateful to Starz for the opportunity to revisit the franchise that launched our careers."
Starz's Carmi Zlotnik, President of Programming, also released a statement regarding the show: "Ash vs. Evil Dead has taken audiences on a wild ride for three seasons thanks to the fantastic performances and creative efforts of Sam, Bruce, Rob and the entire cast and crew. We are proud to send the show out with a bang…and a splat."
Fans of the show have been campaigning since the premiere date, which had been in October the first two seasons, was pushed to February 25, 2018 for this now-final season. The hashtag #bringbackboomstick was used on Twitter, Facebook, and Instagram as a way to get Starz to see how passionate the fanbase is, and also directed at Netflix and Hulu to pick up the show should it get canceled by Starz. Interested fans can follow @AshSeason4 on Twitter to join the still-going campaign.
The Nerd Element will bring you my last two recaps for the final episodes, to air April 22 and April 29, 2018, respectively. Both Campbell and Dana DeLorenzo, who plays Kelly, have also Tweeted and/or posted statements on Facebook about this decidedly un-groovy news: