As Comic Con International: San Diego (SDCC) draws closer (Thursday July 19-Sunday, July 22), various announcements are already popping up on social media of mixers/parties and off-site events. Here are some that have caught our eye.  Please note that this will not be a complete list, just the ones we are interested in.  This article will be updated as we know more information.  What are you most looking forward to this year at the con? Sound off below in the comments!
Mixers/Parties
D23 Member Mixer
Purpose: Celebrate the 25th anniversary of Nightmare Before Christmas
When: Saturday, July 21, 2018 4-6 pm, Check in at 3:45 pm (no earlier)
Where: House of Blues in San Diego in a reserved area
Tickets: Starting June 25 using this link: D23 Mixer
More Deets:
D23 Gold Members may reserve a ticket for themselves and one (1) guest; D23 Gold Family Members may reserve tickets for themselves and up to three (3) guests.
D23 Members will be required to provide their membership number when reserving tickets. D23 Members who do not bring their membership card and tickets will not be admitted to the event.
Ticketed Members and guests who do not attend the event forfeit their place as well as all experiences, benefits, and gifts associated with the event. D23 Members must be present or guests will not gain admittance to event. Failure to attend may affect your opportunity to access such experiences in the future.
All D23 Events are subject to change without notice. There are no cancellations or refunds, and tickets are not transferable.
Site with more information:  https://d23.com/d23-event/d23-member-mixer-san-diego/?share_token=83a559a335 
Off-site Events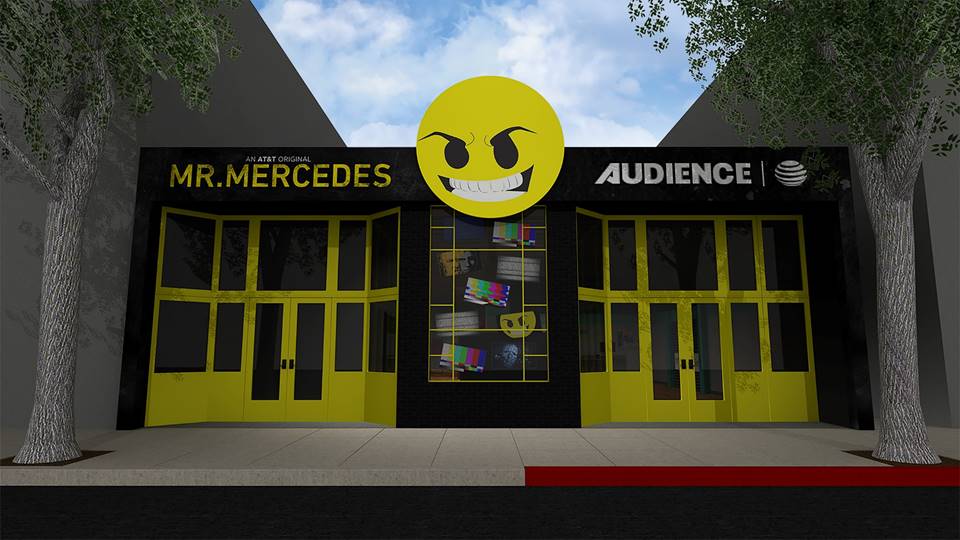 "Mr Mercedes Immersive Experience"
Dates: Thursday, July 19 – Saturday, July 21
Location: 643 G St, San Diego, CA 92101
Times:   10 a.m. – 6 p.m. PT, daily
Fans who pre-register for the "Mr. Mercedes Immersive Experience" at att.com/MrMercedesSDCC will receive a commemorative pin and chance to get a fast pass.
The "Mr. Mercedes Immersive Experience" will include:
Augmented Reality Adventure Game – Download the app to embark on an AR-driven investigation helping Detective Bill Hodges crack the case and claim a reward if you succeed.
Virtual Reality Escape Room Game – Be fully immersed in a virtual escape room inside Brady's lair. Escape before time runs out or you're trapped forever!
Recreating the Physical World of "Mr. Mercedes" – The show's set designers are recreating Finders Keepers, Mercy General Hospital and Brady's lair using actual props.
Bringing Brady to Life Through Projection Mapping – 3-D light projection will creepily bring Brady to life in his hospital bed. Is he in a coma or did you just see him move?
Lenticular Photo Experience – This photo op will transform the participant's face into Brady's along with a socially shareable GIF.
Private Screening Room – Media, VIP and lucky fans will get the chance to watch a sneak peek of season 2.
Stay tuned here as more announcements get made.