Last season on Mr. Mercedes, the AT&T original series which airs on the Audience network, Det. Bill Hodges (Brendan Gleeson) finally proved that the deranged Brady Hartsfield (Harry Treadaway) was the "Mr. Mercedes" killer.
The show, based on the first novel in the Bill Hodges trilogy by Stephen King (who is having quite a grand moment with all the adaptations of his works currently in production or already airing), returns August 22, 2018 for a second season. The season will deal with the aftermath of Hartsfield's actions that have left him in a coma, his "friend" Lou Linklatter (Breeda Wool) recovering from being stabbed by him, and Hodges being vindicated that his determination to catch the real Mercedes killer paid off.
At San Diego Comic-Con 2018, returning showrunner Jack Bender, as well as returning cast members Wool and Justine Lupe (who plays Holly Gibney), participated in separate roundtable interviews along with two new cast additions, Jack Huston as Dr. Felix Babineau and Maximiliano Hernández as Assistant District Attorney Antonio Montez (a character created specifically for the show).
The second season encompasses parts of the remaining two novels, Finders Keepers and End of Watch, says Bender, because several returning characters don't show up until later in the second book.
"The big trick with Season Two was Season One; we basically had the architecture of Stephen's first book, Mr. Mercedes, which even though we changed specifics in it, we followed the arc,"
he said, adding that "in his brilliant second book, Finders Keepers, he starts with other characters, and Hodges and all our characters don't come into the show for 250 pages."
"We realized that wasn't going to work," he noted, "and we had to bring up some of the third book, End of Watch, and go our own way with some of it. Because of how Brady Hartsfield is left at the end of last season, we had to invent and figure out with Steve [King] some of the seeds that are in Stephen's book where Brady Hartsfield is and how he is able to continue to spread his evil shit on people around him in the world. And that's part of the challenge because it deals with the brain and the power of the brain and things we all know so little about," he added.
A continuing challenge, according to Bender, is adapting the narration aspects of King's work to the small screen. "In the first book, there's a lot of Brady narrating it," he said, adding that "King is a genius at writing twisted, wounded characters and how they see the world and what they say about it. You really get a glimpse of who this guy Brady is, you know, anti-everybody. He thinks everybody's a low life."
"I didn't want to do [voiceover] narration because I felt it would be too easy," Bender said. "So both with good writing and the brilliant performance of Harry Treadway and the use of music and a few other things, I think we were able to create that guy and tell the story of that guy without relying on" King's narration technique.
Bender also noted that King "writes very internal books, and I imagine sometimes that's difficult to make visual. [I]t is a challenge. But I think that we made it an asset."
One of the themes tackled in the television adaptation in season one was that of cyberbullying, which Hartsfield sadly excels at. Because Hartsfield hates everyone and is racist on top of that, The Nerd Element asked if any of the new season would reflect the current discourse about racism in the U.S.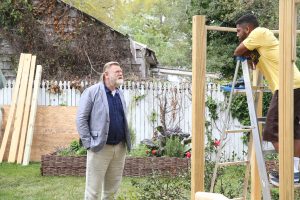 "When Stephen wrote it in 2009 or whatever," Bender began, "it was based on something he heard about on the newspaper in the Midwest that didn't even make the national news. Once it became the modus operandi for terrorists around the world after," he continued, "my objective as a director was to make it as real as possible—not to embellish it, not to have sexy action music over the opening, not to do Sam Peckinpah slow-motion to glorify any of the action—I wanted it just to be in your face and what it would really be like to be in one of those horrific events."
"One of the things we all talked about that is important is the repercussions of those kinds of ripples," he said, adding that "when you do evil as Brady Hartsfield [has], it touches many, many lives and destroys many lives. [W]e felt it was important in the second season, as much as possible, to dwell on or hit some of those points of people who were affected by it."
However, the current political climate didn't factor into the new episodes. "On a political spectrum," Bender said, "as much as I would love to have it stand up and wave that flag, which I think desperately needs waving, I probably can't claim that our show does that. Maybe on the humanistic level because it is about dignity; it's about how does everyone have dignity, how do you not take it away from somebody."
"When Lou Linklatter gets stabbed and betrayed by her friend," he added, Hartsfield "robs her of her life, essentially. She keeps living, but a part of her is destroyed by him and that happens all the time in our world, not just through violence." Bender stated, though, that perhaps "on a characterological level and subtext, I hope it deals with that, but it probably on a plot level doesn't."
Please click the link to read excerpts of the roundtables with Lupe, Wool, Huston, and Hernández: [button color="red" size="medium" link="http://www.thenerdelement.com/2018/08/22/mr-mercedes-part-two-actor-roundtables-at-sdcc-2018/" icon="" target="true"]Mr. Mercedes, Part Two[/button]