Emily in Paris is a new romantic comedy series from Netflix. This is a non-spoiler review of the first season. Synopsis of the show is below:
Emily, an ambitious twenty-something marketing executive from Chicago, unexpect­edly lands her dream job in Paris when her company acquires a French luxury marketing company — and she is tasked with revamping their social media strategy. Emily's new life in Paris is filled with intoxicating adventures and surprising challenges as she juggles winning over her work colleagues, making friends, and navigating new romances.
Emily in Paris is created by Darren Star who is best known for Sex and the City and Younger.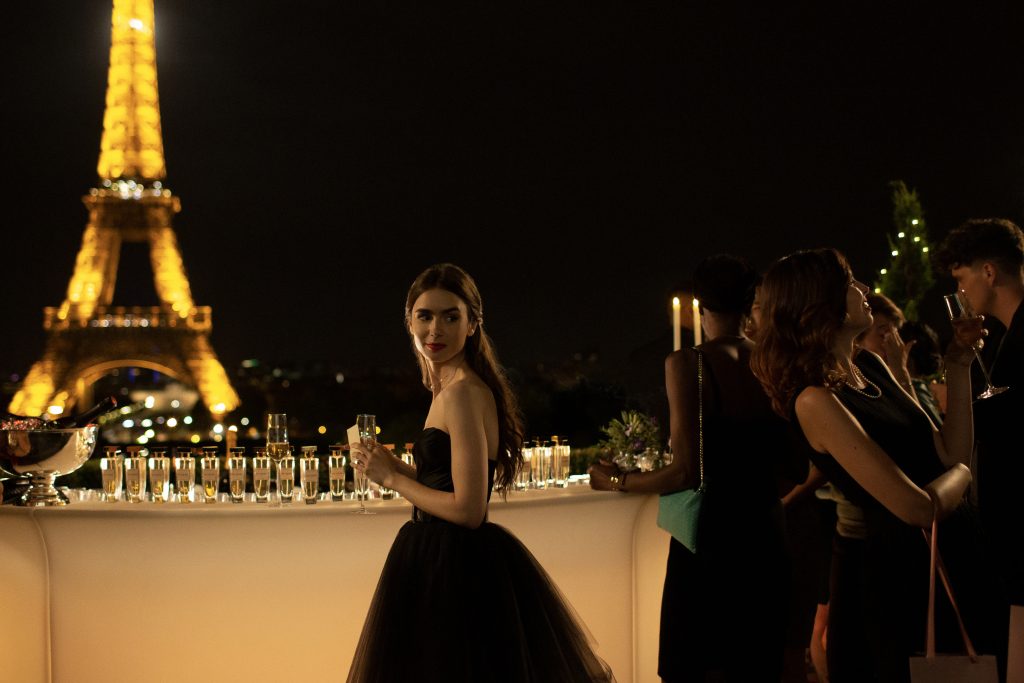 The first season consists of ten episodes, each approximately thirty minutes in length. The show wastes no time in getting the titular Emily to Paris, it moves a little too quickly. In the first three minutes, we are introduced to Emily's boss Madeline (Kate Walsh), find out Madeline is going to Paris, meet Emily's boyfriend, find out Madeline is no longer going to Paris because she's pregnant so Emily is going instead.
It is a lot in a very short period of time, it would have benefitted from a slightly longer build up to getting Emily from Chicago to Paris. Having it start with disjointed, short scenes makes the acting seem a little stiff. There's no deep material for the actors to connect with. This is a problem at several points in the season, no more so than in the opening episode, which isn't the best intro to the show.
Emily in Paris was filmed in Paris and the nearby Loire Valley. The writers went out to Paris with the rest of the crew and wrote the show while they were there. This allowed them to put their experiences of being an American abroad into the script. There are positives to doing this but it also felt that a lot of the differences between France and the US were forced into the script, it didn't always feel natural and often was irrelevant.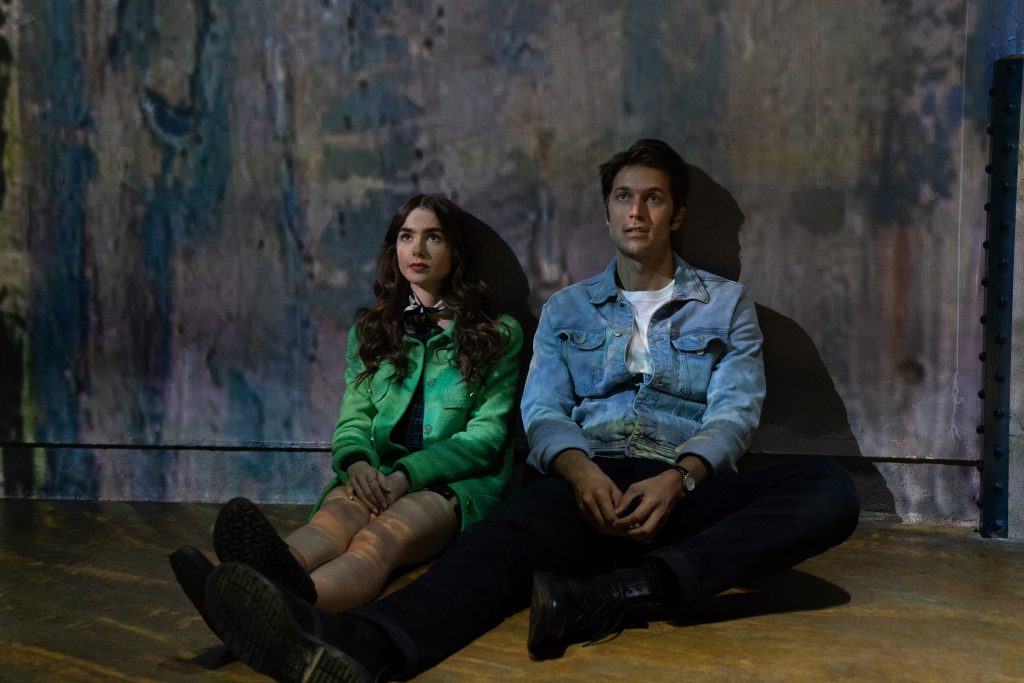 Darren Star wanted to make this show as he loves Paris and spent time there when he was younger, he can relate to Emily's fish out of water. I'm not French but if I was, I might be slightly offended by some of the stereotypes on show. The writing of the jokes around the cultural differences is lazy and really comes off as negative towards the French. I don't think it was intended that way but nevertheless, that's the end result.
It is often said in the show that the French are rude people and very standoffish, yet Emily manages to make friends very easily, with the French characters starting conversations with her. It doesn't make sense when the two things are put side by side. The jokes have to work with the storyline. And the jokes should be funny. A repeated joke about the fact in France the first floor of a building is called the ground floor, then it goes first, second etc. is just bad.
Perhaps predictably in a rom-com series, everyone is very keen on Emily having sex with any man. I felt it was a little heavy handed at times. Emily isn't interested early on in the season yet everyone keeps mentioning that she just needs to have sex. This is concurrent with a "sexy or sexist" marketing storyline and it just felt a little clumsy in its writing. Emily in Paris is trying to be completely light and fluffy but then brings up a fairly important issue in the male gaze, and brushes it aside not dealing with it well.
Every man Emily meets in Paris hits on her. The show says that political correctness isn't a thing in France unlike in the States, maybe it isn't. But Emily in Paris makes it seem like every man in France is a creep and that is a little unfair. Personally, I'd rather them skip over these topics surrounding the male gaze than deal with them poorly.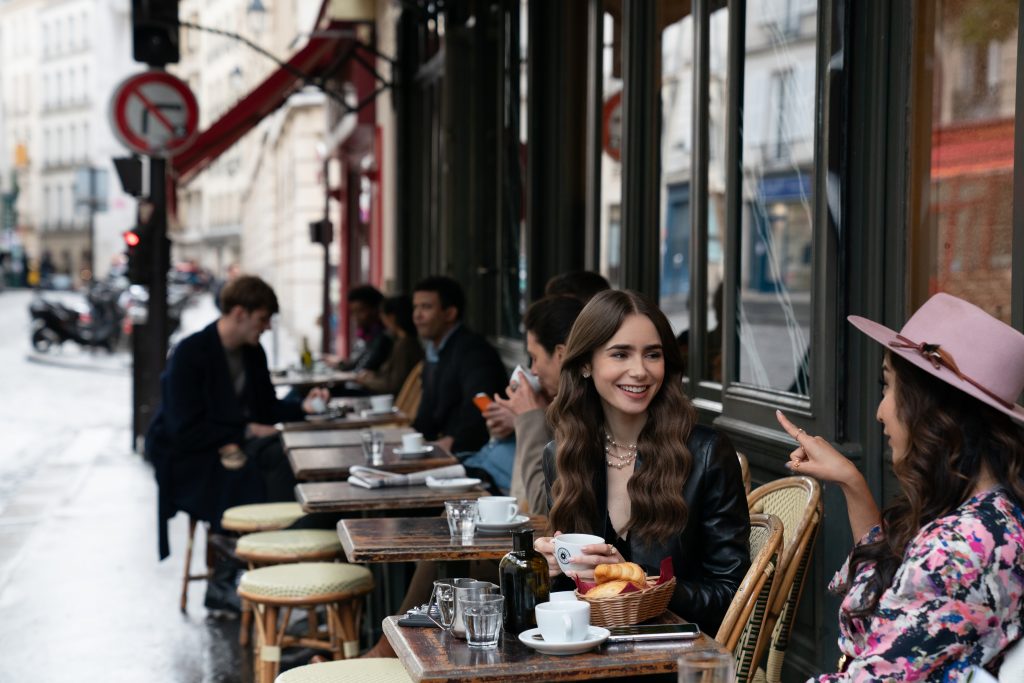 Lily Collins (Mirror Mirror, To the Bone) is very convincing as the upbeat and positive Emily. She is well cast in the lead role but her comedic delivery isn't perfect. At times she seems a little stiff delivering the lines but it's more to do with the script than her. Overall, a good choice as the lead.
Ashley Park (Tales of the City, Broadway's Mean Girls) is Mindy, an au pair Emily meets in the park and strikes up an instant friendship with. Park is great and Mindy is the most likeable character in the show.
Philippine Leroy-Beaulieu (Three Men and a Cradle, Natalia) is an experienced French actress and brings a lot of sass and jealousy to the role of Sylvie, Emily's boss at the French marketing firm Savoir. These two supporting actors are the only two that really stood out, a lot of the other supporting characters aren't particularly well developed.
The music in Emily in Paris is very stereotypically French, a little too obvious much like the rest of the show. The cinematography is simple but nice and takes full advantage of picturesque Paris.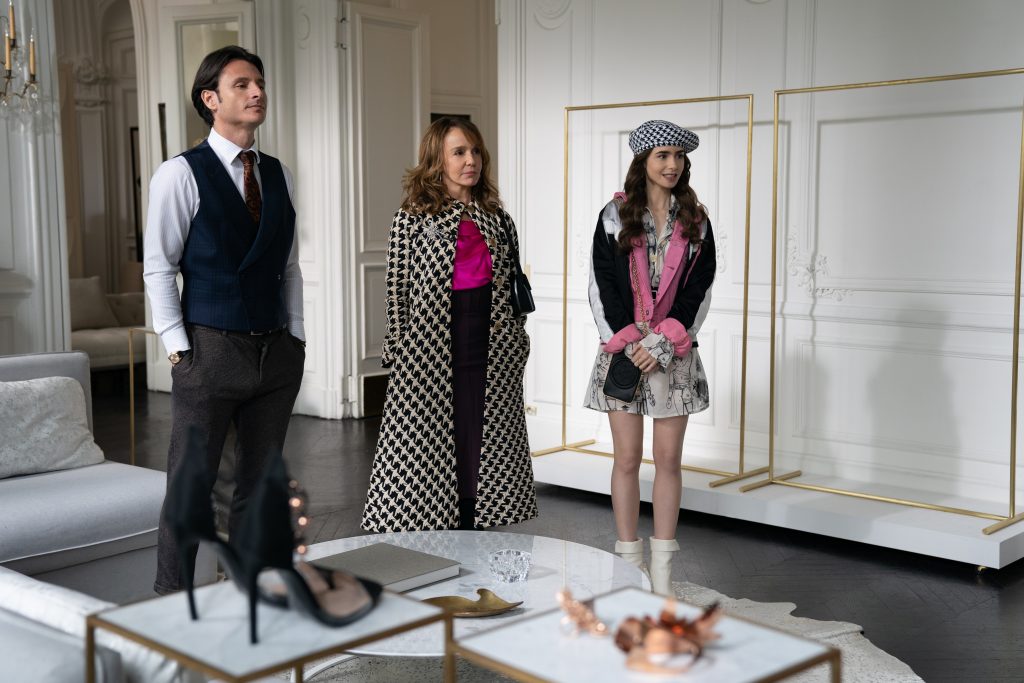 Emily in Paris is fashion heavy; the costumes are designed by Marylin Fitoussi (Taken 2, Valerian and the City of a Thousand Planets) with Patricia Field (Sex and the City, The Devil Wears Prada) consulting. The fashion is ridiculous and full of labels, which is a perfect fit for the show. I had no idea bucket hats were fashionable but apparently, they are.
The show doesn't hide its links to Sex and the City and it is very much in the same vein as Darren Star's previous credits, but Emily in Paris is a little tamer. It would have benefitted from pushing the envelope a little further at times.
Emily in Paris is what a lot of people want right now, simple light entertainment. However, I would have liked a little more substance. The season finale sets it up for a second season, it seems like Netflix is pushing the show so it stands a decent chance of another run. It's not terrible, it's not great, it's just very ok. If you're into romantic comedies, you'll probably find this good enough to pass the time. If this isn't your favourite genre than maybe skip it.
Emily in Paris is released globally on Netflix on October 2.