By: Désirée I. Guzzetta
Godzilla vs. Kong, the final installment of Warner Bros. / Legendary Entertainment's Monsterverse, is here and it's a doozy.
The film carries on the grand tradition of paying as little attention to full human character development as several of the other Godzilla franchise movies do, though in this case, that's a feature, not a bug. The primary reason to see Godzilla vs. Kong is to watch the two behemoths duke it out with just enough plot in between the big set-pieces. Spend too much time on the human beings running around and risk the wrath of the fans who will say there's not enough Godzilla in their Godzilla picture.
(In fact, though, there's not as much Godzilla in this Monsterverse finale as Kong, who only had Kong: Skull Island to himself versus the Big G getting two pictures dedicated to him, 2014's Godzilla and 2019's Godzilla: King of the Monsters. Sure, it's a minor nitpick, but I'm nitpicking it anyway.)

Now that my petty grievance is out of the way, let's get to the story: Godzilla vs. Kong picks up three years after KOTM. The Titans, having declared fealty to Godzilla after the defeat of King Ghidorah, have gone off the grid. In human plot one, Monarch is maintaining surveillance of Kong over on Skull Island, where Dr. Ilene Andrews (Rebecca Hall) monitors the now-full-grown ape with the help of Jia (Kaylee Hottle), an Iwi child who was orphaned when a large storm wiped out the rest of her tribe. Jia, who is deaf, is also watched over by Kong; the two have a special bond that's very touching.
Meanwhile, in human plots 2 and 3, Nathan Lind (Alexander Skarsgård), a proponent of the Hollow Earth theory mentioned in KOTM, comes to the attention of Walter Simmons (Demián Bichir), the head of Apex Cybernetics. Simmons is up to something that gets Godzilla's hackles up and puts the kaiju on the attack.
In human plot 4, Bernie Hayes (Brian Tyree Henry), who hosts a conspiracy podcast centered on the Titans, is investigating Apex. Once Godzilla attacks, Madison Russell (Millie Bobbie Brown, reprising her role from KOTM) seeks out Bernie to figure out what set Godzilla off. Someone has to protect him, given all the attention lavished on Kong (I am not bitter, I swear!).
All of this leads to several bouts of monster-bashing bedlam as Godzilla and Kong finally intersect. Do they fight? Do they ever! They punch, bite, smack, and wrestle one another in the water and on land. They destroy countless buildings and stomp on cars (and probably people). They roar in each other's faces. It's glorious.
Despite all the human activity, the film is very fast-paced, and the monster mashes are exhilarating, especially the neon-soaked fight in Hong Kong. Both Godzilla and Kong are expert brawlers, and their fight for supremacy of the post-Ghidorah world is the sort of spectacle summer (or in this case, spring) blockbusters excel at.
A lot of the credit for the expert pacing goes to director Adam Wingard, whose previous works include the superb horror films You're Next (2011) and The Guest (2014). Wingard does a great job of propelling the story forward despite the many threads laid out in the screenplay by Eric Pearson and Max Borenstein from a story by Terry Rossio and Michael Dougherty & Zach Shields. Yes, that's a lot of names, and could be the reason the human element feels so thin, but Borenstein did the screenplay for the 2014 Godzilla and is one of the writers credited on the screenplay for Skull Island, so he understands these versions of Gojira and Kong very well. Dougherty also directed KOTM, so he's no slouch in the Goji department, either. Both beasties command the screen and have personality galore.
The actors all seem to know what kind of film they're in as well. Of the main cast, Hall, Hottle, and Henry are a joy to watch whenever they appear. Hall and Hottle have an endearing chemistry, and Henry is both funny and relatable as a man driven to uncover whatever tomfoolery Apex is planning.
Bichir appears to be having fun, too, as the cartoonish villain, Simmons, who may as well be twirling his moustache for all the subtlety he lacks whenever he speaks. Bichir chewing scenery makes a lot of the human silliness worthwhile.
But the main attraction in a film titled Godzilla vs. Kong is the epic battle of the two Titans. The CGI work here is stellar, as both creatures have a heft and solidness that makes their blows against each other land hard. While the movie does look fine on HBO Max, in IMAX, it's stunning, especially the Hong Kong scenes. There's also a part where Wingard pushes into a close-up of a very pissed-off Goji that had me literally sinking back into my seat in fear—that's how good the CGI is.
Godzilla vs. Kong is loud, goofy fun, full of mayhem and destruction and two cinematic icons beating the heck out of each other. Unfortunately, there's no after-credits scene, as Legendary's contract to use the Toho kaiju has ended, but if Toho wanted to let them do another Godzilla film, there's plenty of openings for more story (Kong is owned by Universal Pictures and could conceivably be licensed out to WB / Legendary again). If you want to have a blast of a time, Godzilla vs. Kong should be number one on your list. It's definitely tops on mine.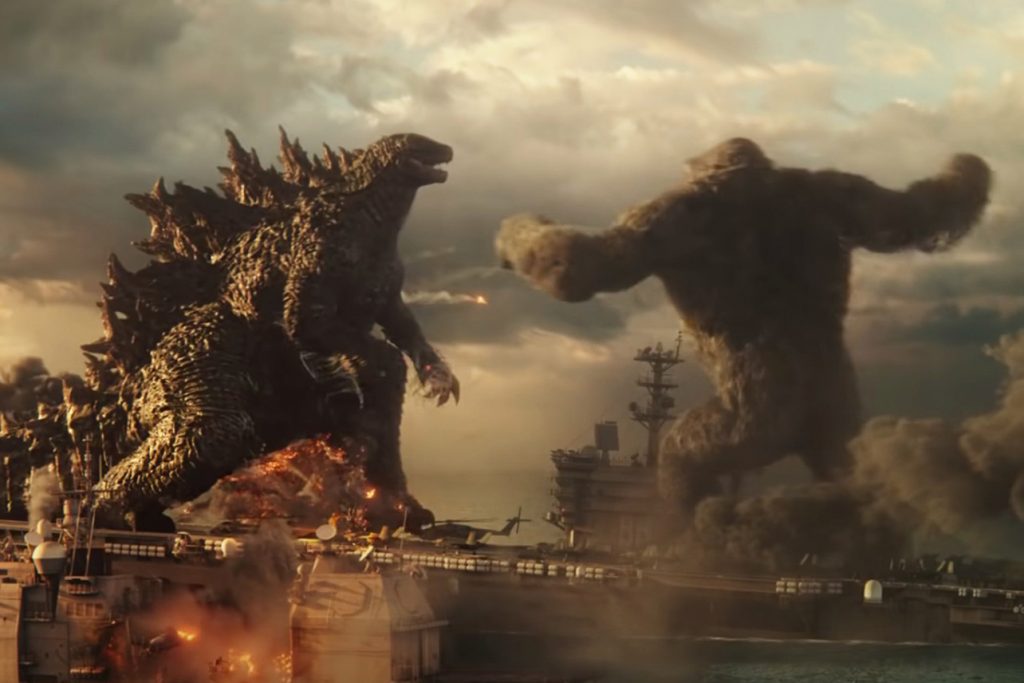 *all pictures are property of Warner Bros and Legendary