An Exclusive 200-print limited issue of Glarien, with exclusive cover by Liana Kangas, will be available
JULY 9, 2022, (SEATTLE, WA) — Charlie Stickney, celebrated author and creator of White Ash and Co-Publisher Scout Comics, will be in attendance at San Diego Comic-Con 2022 (July 21-24)! Panels, exclusives, and signings are available with White Ash co-creator and artist Conor Hughes at Small Press table L-10 and Scout Comics booth #2615, with artist Mick Beyers (Hollow) dropping in as well. Charlie will be also signing copies of The Adept at the Immortal Studios booth (#2102) Friday, from 1pm-2pm.
 
Available only at SDCC is the exclusive 200 print limited, issue of Glarien: Truth in the Shadows, featuring a never-before-seen issue that features an exclusive cover by Liana Kangas (Star Wars Tales, Canto).  Standard print at 125 copies and an ultra-limited spot foil at 75 copies. There will be a signing with Liana at the L-10 table, Friday, July 22 from 3-4pm, and Saturday, July 23 from 11-12pm.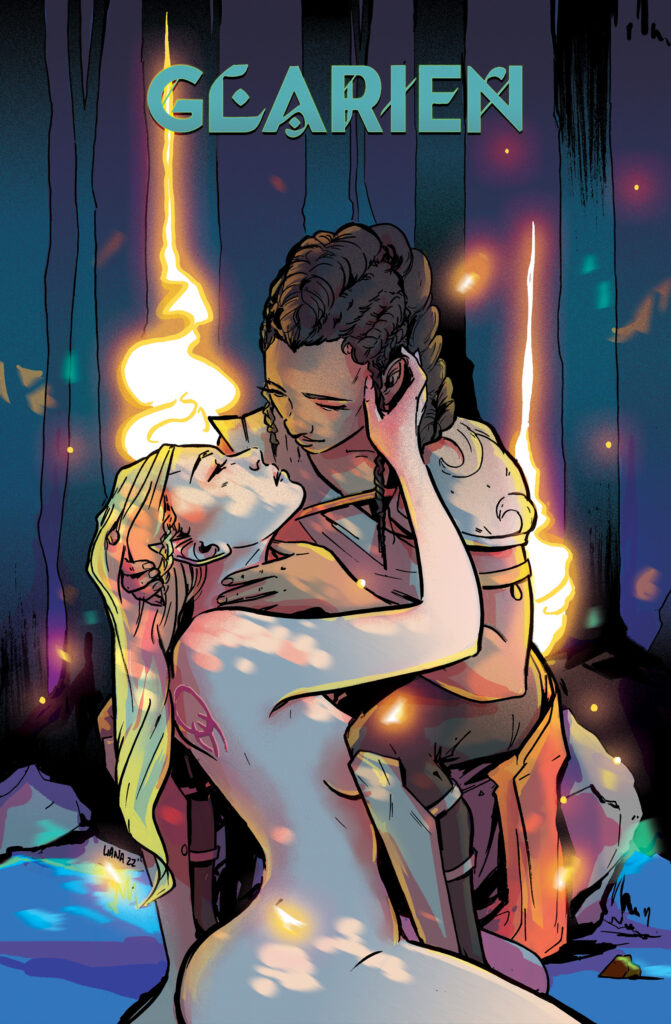 Exclusive SDCC Panels
The Post-Pandemic Publishing Landscape
The comic book industry changed violently and spectacularly amid the COVID 19 pandemic and the publishing game will never be the same. This diverse panel of creators will discuss the difficulties they're currently facing trying to get their work published/into readers hands. Come learn how to submit your work to publishers and position your work in today's complicated marketplace! Panelists include David Booher (Canto, Killer Queens), Ashley V. Robinson (Jupiter Jet), David Avallone (Elvira), & David Pepose (Savage Avengers).
Day: Friday, July 22
Time: 7:30 PM – 8:30 PM
Room: 26AB
Immortal Studios: Birth of a Storyverse
Fans of wuxia, martial arts fantasy and comics, rejoice! This is your chance to get in on the ground floor of the Immortal "Storyverse" that is bringing together all the wide-ranging influences of this timeless Asian genre in an interconnected universe for the first time. Join Peter Shiao (Founder and CEO), Hank Kanalz (Head of Publishing), Brian Cunningham (Editor, and more, for an in-depth introduction that promises to awaken the hero in everyone through Wuxia. Don't miss your opportunity to witness history! Panel will include special commemorative gifts exclusively for attendees!
Day: Saturday, July 23
Time: 1:30 – 2:30 PM
Room: 24ABC 
Making Your First Comic: The Good, The Bad & The Business Side
Join brand new comic creators and 2020 Script2Comic Prize Winners Hedwig Hale (She Bites), Frank J. Kim (The West Moon Chronicle), Josh Eieserike (Charm City), Anastazja David (Eternus) and Joey Capuana (Trance) as they discuss the process of making their first titles with Scout Comics' President James Haick, Scout Comics' Chief Creative Officer Don Handfield (Unikorn, Eternus), Scout Comics' Co-Publisher Charlie Stickney (White Ash), and Scout Comics' Creative Executive Jordan Moore.
Day: Saturday, July 23
Time: 4:00PM – 5:00PM 
Room: 9
A Creator's Guide to Indie Comics
Prolific Independent Comic Creators David Booher (Canto), Matt Hawkins (President/COO Top Cow), Blake Northcott (Everglade Angels), Charlie Stickney (co-publisher Scout Comics), 2022 Eisner Nominee David F. Walker (Bitter Root), and 2022 Eisner Nominee Barbra Dillon (editor; Fanbase Press) go Behind The Booth to discuss breaking in, staying in and everything in between. Followed by a Q&A session moderated by Terry Mayo (The Wicked Righteous).
Day: Saturday, July 23
Time: 5:30PM-6:30PM
Room: 26AB