Produced and moderated by Chandler Poling & Chris Riley of X-Reads Podcast – the panel features talent from across the X-Men Universe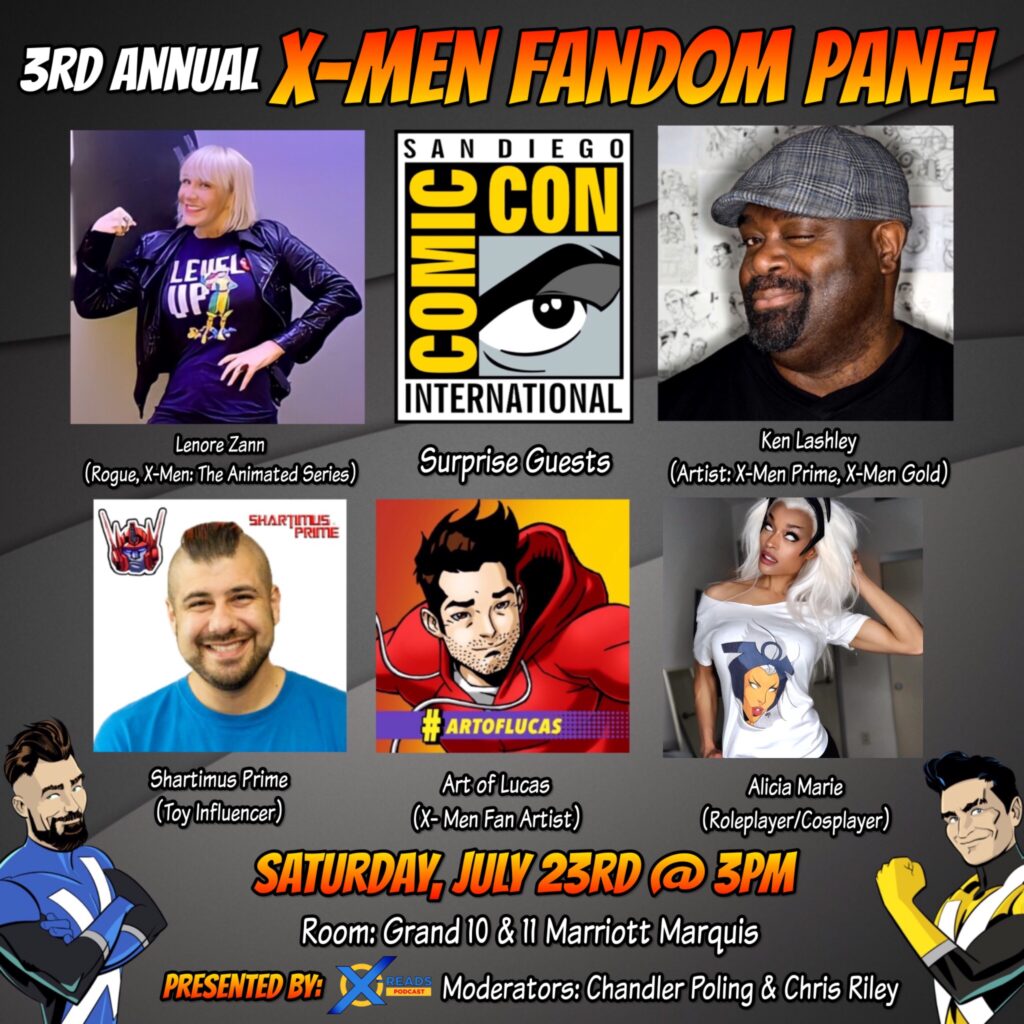 "You look as nervous as a long-tailed cat in a room full of rocking chairs…" This iconic line delivered by Lenore Zann, the voice of Rogue from X-Men: The Animated Series is one of many stand-out moments in her role as everyone's favorite southern belle mutant. Lenore will reprise her role as Rogue in the new X-Men '97 animated series on Disney + coming 2023.
She is joined on the panel by Marvel artist Ken Lashley (X-Men Prime, X-Men Gold), toy influencer and Marvel Legends reviewer Shartimus Prime (aka Russ Akin), popular X-Men fan artist Art of Lucas, and roleplayer/cosplayer Alicia Marie (@aliciamariebody) known across the world for her portrayal of Storm.
Audience members will receive an SDCC Exclusive print by X-Men: The Animated Series director and character artist Larry Houston.
"We started bringing the X-Men fandom community together after we launched our podcast back in 2019. San Diego Comic-Con has been an incredible support to our drive and determination to celebrate Marvel's mutants," says Chandler Poling, co-host and producer of X-Reads: An X-Men Experience.
Previous X-Men Fandom panels have featured talent such as actors Shawn Ashmore (Iceman, X-Men), Emma Dumont (Polaris, The Gifted), & Finola Hughes (Emma Frost, Generation X), writers Gerry Duggan (X-Men) & Leah Williams (X-Factor), legendary artist Bill Sienkiewicz (The New Mutants), and many more.
WHO: Lenore Zann, Ken Lashley, Shartimus Prime, Art of Lucas, Alicia Marie
WHAT: The X-Men Fandom Panel presented by X-Reads Podcast
WHEN: Saturday July 23rd at 3:00-4:00PM PT
WHERE: Room Gran 10 & 11, Marriott Marquis (next door to the convention center
ABOUT X-READS PODCAST:
Chandler Poling & Chris Riley have been friends for well over a decade and share a fondness for the X-Men, but also have things to say about them. Together they read through past issues of Uncanny X-Men, The New Mutants, X-Men, and more, recapping the storyline so listeners can follow along, while interjecting comments and opinions on the outfits, the questionable dialog, the often-odd advertising moments, often accompanied by celebrity guests. That is what X-Reads is all about. A strong read. The library is open.
Past podcast guests include Bill Sienkiewicz, Fabian Nicieza, Ann Nocenti, Casper van Dien, Kari Wahlgren, Karen David, Bryan Konietzko, Steve Orlando, Leah Williams, David Nakayama, Rod Reis, Cal Dodd, and Lenore Zann. X-Reads Podcast was launched in July of 2019. New Episodes publish every first and third Wednesday of the month. Find us on social media @xreadspodcast.