Special Preview issue available at Thunder x Scout San Diego Comic-Con Booth #2615

JULY 14, 2022, (SEATTLE, WA) — Mix a scoop of Soccer Mom, a teaspoon of MILF, and a dash of Martha Stewart, then fold in a whole can of Whoop-A**, and you get Don't F With Karen, the all-new sardonic horror/comedy comics series, created and written by Joel David Moore (Avatar 2: The Way of the Water) and writer and producer Mike Capes (The Invisible Raptor, The Hacks Of Life). Art by Rui Silvera, colors by Verónica R. López, and letters by DC Hopkins.
Don't F With Karen is the latest release from Thunder Comics (Eternus), which partners with top creatives to launch and finance comics, to be published by Scout Comics. Two exclusive ashcans with art from Lucas Culshaw and Rui Silvera will be available at San Diego Comic-Con International (July 21 – 24) at Scout Comics booth #2615 where Joel David Moore and Mike Capes will be signing in person Friday and Saturday 12pm – 1pm. 
Karen Campbell is a soccer mom who isn't afraid to wield everyday household objects as a monster-killing weapon. She is a descendant from a secret lineage of women who have been passed down the CURSED AMULET – a shard from a powerful crystal that grants the bearer power over horrible monsters that can only be seen by children.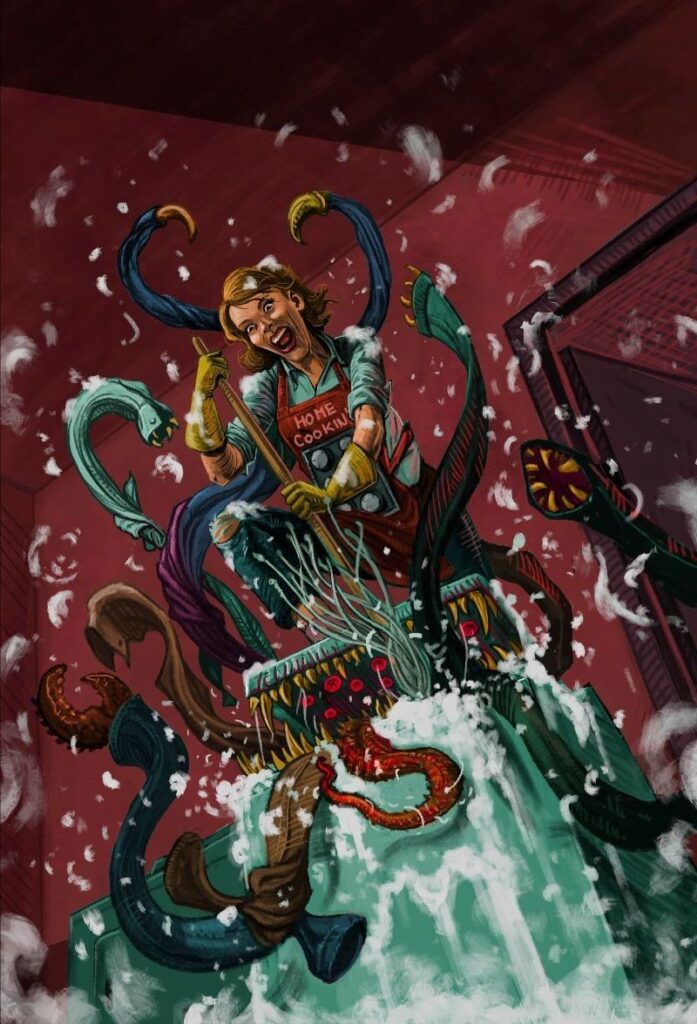 "We're thrilled to bring our new hero Karen to life collaborating with the incredible team at Thunder and Scout Comics," said creators Joel David Moore and Mike Capes. "Don't F With Karen is a story about a single mom that begins her hero's journey late in life to battle children's biggest fears. We started this project to honor the strong women in our lives that have always protected and guided us…our moms. The true bad asses you don't F with."
"We couldn't be more excited about Don't F With Karen," said Thunder Comics co-Founder, Tim Zajaros. "Joel and Mike are incredibly talented creators, and when they pitched us the idea, we knew we had something special.  It's fun, it's scary, it's smart, it's nostalgic. It's GHOSTBUSTERS meets GREMLINS with a badass mom leading the charge. We can't wait to share what they've created!"
Additionally, don't miss Joel David Moore on Thursday, July 21, on the panel, Andy Serkis, Scout Comics & Thunder Present 2022 Comic Slate, from 5pm – 6pm in room 32AB.