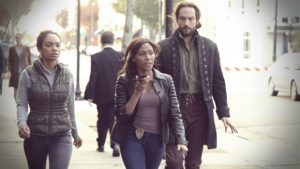 The two hour season finale of Sleepy Hollow definitely left you hanging! There were several emotional scenes coupled with suspense in these episodes, especially the last 15 minutes! Let's just say that it was one family reunion I didn't see coming!
The writers have provided several twists throughout the season and I am very glad that it was renewed very early for Season 2! There may be some spoilers below, but I did try not to reveal the big ones.
Tom Mison plays the perfect Ichabod Crane, affectionately known as Icky to some fans. Ichabod is thrust into present day after dying in a battle from the Revolutionary War. In the season pilot, none of the police believed that he came from the past and there was a headless horseman about. Lt Abbie Mills, played by Nikki Beharie, gives him the benefit of the doubt, especially after seeing her boss and mentor, Sheriff August Corbin, get his head chopped off.
They soon figure out that their meeting is not a coincidence. It turns out that Icabod was working secretly with General George Washington to stop the apocalypse. He was awaken in the future to continue that task. Through their investigations they also learn that the headless horseman is one of the four horseman mentioned in the bible. Ichabod and Abbie also realize they are the witnesseses prophesied to try to stop the apocalypse from occurring. A demon named Moloch is trying to bring out each of the four horseman into the world.
Throughout the season you see Abby and Ichabod develop a friendship that creates a loyal bond between the two of them. While you see that develop, you also discover more about Abby and Ichabod as people, for example that Ichabod is married to Katrina Crane who is stuck in between worlds. Katia Winter plays the secretive Mrs. Crane so well, you still are not sure what she is really up to by the end of the season. She is not only a witch, but her secrets have serious consequences which we see in the season finale.
We also learn more about Abby in the fact that as a young teenager, she encountered Moloch as well as her sister Jenny, played by Lyndie Greenwood. What happened after their ordeal created a huge rift between them which you slowly see mend as the season progresses. Greenwood and Beharie bring grittiness and vulnerability to their characters. I definitely enjoyed seeing the family dynamic between them. Abby trying to make up for her mistakes, with the help of Icabod as well as Jenny trying to build trust with her sister again has created some emotional scenes that were acted very well by both Beharie and Greenwood.
Orlando Jones plays Captain Frank Irving, who replaces Sheriff Corbin in the precinct. As someone who is trying to stay grounded in reality, he also sees that what Abby and Ichabod uncover is real enough for them to have free reign. Capt Irving, courtesy of Moloch, is in a situation I hope gets resolved in the second season. This man should not have had to make the sacrifice he made. I have a feeling that Moloch did that on purpose because Irving may have a bigger role to play than we realize. I do remember during the first part of the season I wasn't sure which side Irving was on, but I am glad he's on the side of good for the time being.
On a side note, I am glad that we still got to see Sheriff Corbin, played by Clancy Brown, over the course of the season both as a ghost and in flashbacks. It was also great seeing John Cho who played Officer Brooks. I looked forward to his scenes as I liked his story arc and his poor body when through several changes!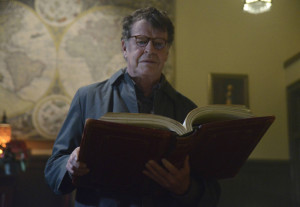 John Noble plays sin eater Henry who helps out Ichabod and Abby with both the headless horseman and Moloch. What I didn't figure out was that he had his own agenda, which was revealed in the season finale. That was a jaw dropping moment! I thought the other twists involving Icabod, Katrina and the headless horseman was the kicker but the writers left us with something else to ponder for the next season.
What is great about this show is that you care about the characters and the relationship they have with each other. The mixture of comedy and serious moments for each episode flowed very well. Crane learning to live in the present with technology such as cars and cell phones as well as dealing with social changes provided some very cute scenes. One moment that comes to mind is when he complains to Abbie about the injustice of paying for water bottles.
I can't wait for Season 2! I am really interested in seeing what will happen to all of these characters. I'm going to write another article with what I would want to see in Season 2 which will contain spoilers! See you next fall in Sleepy Hollow!
Natasha aka Natty Willy
The Nerd Element
Twitter @willcat12, @TheNerdElement
Photos found on Sleepy Hollow Fans website, links here: http://sleepyhollowfans.com/sleepy-hollow-1×11-vessel-promo-pics-info/