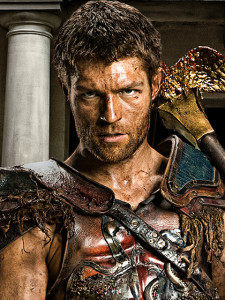 According to a  Starz Press Release, the SyFy channel bought basic U.S. Cable rights to all three seasons, including the prequel, of the show Spartacus from Starz Worldwide Distributions. The titles for each season is Blood and Sand, Gods of the Arena (prequel) Vengeance, and War of the Damned.   The first season, Spartacus: Blood and Sand, will make its debut on  Syfy Thursday, June 26 at 10PM ET/PT.  It will follow original Syfy shows Defiance and new show Dominion.
This will be a good opportunity for those that did not watch the show when it originally aired on Starz to check it out. The show, created and executive produced  by Steven S. DeKnight was inspired by a slave who led a major rebellion around 73 B.C. against Rome but was later defeated by the Roman army. Rob Tapert, Sam Raimi, and Joshua Donen were also executive producers.  It will be interesting to see how much violence and nudity is edited out.
I watched the show when it first debuted in 2010.  The writers, cast and crew retells the story in such a way that you cannot help but feel for the characters,  both the Romans and the slaves.  The political intrigue among the Romans in the show were just as interesting as what was happening with the rebels. The first season explores the circumstances in which Spartacus became a slave as well as his training in becoming a gladiator.  The main character Spartacus was originally portrayed by the late Andy Whitfield in the first season.  If you watch, I hope you understand why Whitfield will always have a special place in the hearts of fans of the show.  Liam McIntyre took over the role in the last two seasons and in my opinion honored Whitfield's portrayal while at the same time making Spartacus his own.
The supporting cast includes Manu Bennett, as Crixus; Lucy Lawless as Lucretia, John Hannah as Batiatus; Peter Mensah as Doctore; Dustin Clare, who debuted as Gannicus in the prequel season and many others.
Have you watched the series? If so, how do you feel about this development?  If you have not watched the show are you going to?
Photo Credit: Starz