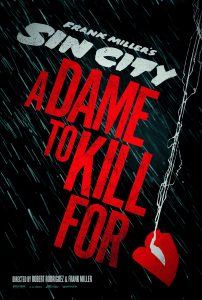 "I told you you'd be back!" "There's only Sin City." Gail to Dwight.
While it's been a long nine years, we are finally back in Sin City. Written by Frank Miller, Sin City: A Dame to Kill For brings back a few character favorites and some new ones. You have Mickey Rourke coming back as Marv, Jessica Alba reprising her role as Nancy, Bruce Willis returning as John Hartigan, Powers Booth once again playing the corrupt Senator Roark and Rosario Dawson as Gail once again. Though he isn't a new character (he was recast) Josh Brolin plays Dwight. Then you have some of the new major characters, you have Eva Green playing the dame to kill for for, Ava Lord, who is also Dwight's old lover and you have Joseph Gordon-Levitt playing Sin City newcomer Johnny.
Just like the first Sin City this movie consists of multiple stories from multiple character perspectives. In this movie, I would say about half the stories take place before and after the first movie. For example Nancy's and Johnny's stories take place four years after John Hartigan's story in the first movie. While Dwight's story takes place before the events of his story in the first movie, which as you see the movie the recasting of his character actually really works towards the end of his story in this film.
Now I'll give a brief non-spoiler summary of the stories you will see in A Dame to Kill For.
The opening is a very brief Marv story about him trying to figure out how he got to where he got, and what he's going to do moving forward.
The second story stars Johnny who is a big game lucky gambler who attempts to go up against Senator Roark in a game of poker that gets him into a little trouble and a deep secret is revealed, as there is much more to Johnny then the movie lets on.
The third story takes place a few years before the Dwight story in the first movie and has him receiving a call from his old lover, Ava Lord, which gets them into a whole lot a deep trouble as Ava Lord isn't who she appears to be at all.
And the last story is the continuation of that yellow bastard but instead of Hartigan being the main character the main character is now Nancy who was seeking revenge for his death so she herself tries to go up against the corrupt senator. Wow, Hartigan's ghost tries to get her not to do anything that would get her killed.
Seeing it I felt the movie was greatly paced, and there is a lot of visual effects just like the first one, as well of a lot of great makeup. I don't know what seeing it in 3-D is like since I saw it in 2-D, but no matter which format you see it in there's lots of action and drama. I think this is a movie that's definitely worth seeing in theaters this summer. The acting from all the characters is phenomenal, and I was really, really, really impressed even with all the newcomers to the movie.