Nightmare Code (2014)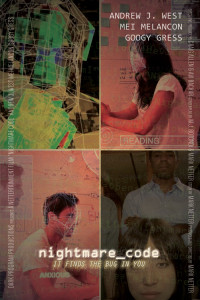 Fresh off the festival circuit, Nightmare Code is an inventive exercise in paranoia that's worth seeing despite some faltering in the third act.
Nightmare Code stars Andrew J. West (Gareth from Season 5 of "The Walking Dead") as Brett Desmond, a computer programmer with a troubled past who's hired by a start-up company to complete coding its innovative program, R.O.P.E.R., after the previous programmer, Foster Cotton (Googy Gress), snaps and shoots several co-workers before turning the gun on himself.
Brett, who's embroiled in a Wikileaks-type scandal, needs to make as much money as possible to pay his legal bills and support his wife and young child (Caitlyn Folley and Isabella Cuda, respectively). Because of his desperation, he's willing to ignore every red flag about R.O.P.E.R. that waves in front of him.
Helping Brett are co-workers who escaped Cotton's wrath, including Nora Huntsman (Mei Melançon of X-Men: The Last Stand and "The L Word"), a beautiful programmer who catches Brett's eye. The group struggles to meet its deadline for completing the program because every time they correct a bug in the code, another bug appears, or worse, the old bugs re-appear. It's not long before Brett figures out that R.O.P.E.R. is re-writing itself, and that its surveillance function of behavior recognition has morphed into something much more sinister.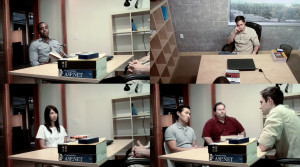 Writer-director Mark Netter tells the story in a unique way, via surveillance, computer, and eyeglass cameras, as well as video chats; there are frequently four images onscreen and they are not always in sync. The storytelling gimmick takes some getting used to; sometimes, it's hard to decide which is the most important panel to be watching. Once it becomes apparent that R.O.P.E.R. is telling the story, though, the device becomes easier to follow.
Nightmare Code won the 2015 Philip K.Dick Science Fiction Film Festival Award for Best Feature, and it's not hard to see why. The focus on malevolent artificial intelligence and themes of paranoia, government/corporate control over human life, and an unreliable narrator (i.e., R.O.P.E.R.), would be right at home in one of Dick's own stories.
The acting is mostly strong across the board, especially from West and Melançon. The attraction between Brett and Nora makes sense, given what both have been through (Nora has her own sketchy past), and what the intensive hours of work on R.O.P.E.R. are doing to them. The film moves along briskly, adding to the sense of pressure the programmers are all under. Where it falters, though, is in the last third, when we've learned what R.O.P.E.R. is really up to; although the ending is telegraphed earlier in the film, the transformation of certain characters is harder to believe because we haven't seen enough of some of them and because whatever seductive power R.O.P.E.R. possesses isn't conveyed strongly enough.
Despite that, though, I'd still recommend seeing Nightmare Code because the questions it raises about 24/7 surveillance, behavior, and government/corporate control are worth contemplating and discussing, and because of the strong chemistry between West and Melançon. I was definitely interested in seeing Brett's and Nora's fates, even if I was losing a little interest in R.O.P.E.R.'s grand plan.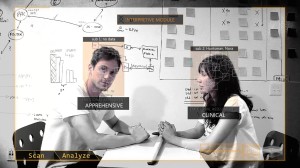 Nightmare Code is available on VOD and will be available on DVD on October 27, 2015.