One of Los Angeles's largest pop culture conventions, Comikaze heads back to the Los Angeles Convention Center for Halloween weekend and I for one am excited. While there are a number of things I plan on seeing while at Comikaze for the purpose of the article I am only going to mention a few. So here we go….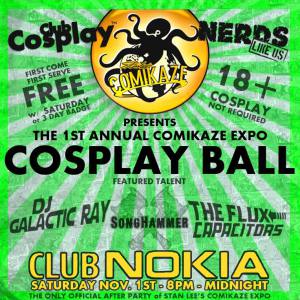 Comikaze Cosplay Ball
 The first Annual Comikaze Expo Cosplay Ball will be held at Club Nokia on November 1st at 8pm. Club Nokia is located right across the street from the Staples Center  and is typically used for concerts. The ball is free to get into if you have a Saturday badge or a 3 day badge pass and will feature DJ Galactic Ray, SongHammer, and The Flux Capacitors. A great way to wind down after a full day of Comikaze fun. Please note it is 18 and up
Thrilling Adventure Hour
Thrilling Adventure hour has been doing the con circuit for a while. Thrilling Adventure hour takes actors/actresses and performs an old time radio show on stage for audiences. In addition to their lives shows they have a podcast that can be found on The Nerdist or Itunes. I was able to see a Thrilling Adventure Hour panel at C2E2 last April which sparked my interest in this unique form of entertainment.  There is nothing out there like it at the moment so its developing a nice little niche audience. Thrilling Adventure hour was also at San Diego Comic Con and New York Comic Con and now its making its way to Comikaze. I am excited with the opportunity to see them live.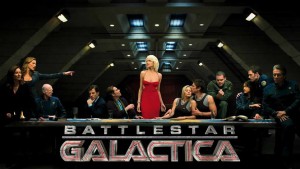 BattleStar Galactica 10th  Anniversary Panel
I was obsessed with this show all those years ago..obsessed. Now everyone knows that the show ended on a less than favorable note but now years later I am over it and looking forward to seeing some of my favorite actors from the show. Starbuck herself (Katee Sackhoff) will not be in attendance but the panel will feature Edward James Olmos, Jamie Bamber, Michael Trucco so I am very excited to see this.


Sleepy Hollow
Screening and QA
Sleepy Hollow has quickly turned into one of my favorite shows. One of the main topics of our TVTalk Podcast Sleepy Hollow brings comedy, horror and drama to a one hour show every Monday. Backed by a very talented cast Sleepy Hollow gets better and better each season. An advanced screening of Monday November 3rds episode "DELIVERANCE" will be shared with panel attendees followed by a Q&A with  Co-Executive Producers and Writers Albert Kim, Damien Kindler and Raven Metzner