Kill Me Three Times (2014)
Kill Me Three Times is a pitch-black comedy-thriller from Down Under that's finally made its way to the States after a short stint on the festival circuit.
A departure from the family-friendly fare of director Kriv Stenders' previous feature, 2011's Red Dog, Kill Me Three Times features violence, double-crosses, violence, triple-crosses, violence, and the magnificent scenery of Australian beaches—beautifully shot by cinematographer Geoffrey Simpson. The fractured narrative, unfortunately, robs some of the comedy of its potency despite the best efforts of the cast, particularly Simon Pegg as suave hitman-for-hire Charlie Wolfe.
After a whiz-bang credits sequence with the feel of an action comic book (similar to the feel of last year's John Wick), the film actually starts at the end of the tale, with Wolfe narrating how he wound up on his back, bleeding out and annoyed with his situation. As he defiantly says, "I don't die; I thrive!" From there, the non-linear narrative recounts how Wolfe came to be in his present dire circumstances.
The premise is simple: A jealous husband, Jack (Callan Mulvey) hires Wolfe to kill his unfaithful wife, Alice (Alice Braga). Easy-peasy for a talented hitman, right? What Wolfe finds when he gets to the sleepy resort Jack owns, however, is much more difficult than lemon-squeezy.
There's Jack's sister, Lucy (a terrifically cast Teresa Palmer) and her lunkheaded, gambling-addicted husband, Nathan (Sullivan Stapleton of Cinemax's "Strike Back," here playing the opposite of the smooth and in control Damien Scott); Alice's lover, the decent Dylan (Luke Hemsworth), and corrupt cop Bruce (the always- wonderful Bryan Brown). Everyone has a secret driving them, in different ways, to commit desperate and sometimes fatal acts.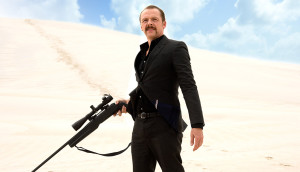 Then there's Wolfe, generally unflappable, yet alternately bemused and irritated with the folks in the quaint town. Played with brio by Pegg, Wolfe is a hitman with a twinkle in his eye, an easy quip on his lips, a gold cigarette case in his pocket, and a steely trigger finger. The film is best when Wolfe is actively engaged in the proceedings.
The story's divided into three "tales": "Kill Me Once," "Kill Me Twice," and "Kill Me Three Times." The problem with the divisions, along with the prologue, is that the narrative sets you up for three tales about Wolfe's brushes with death, when in fact, that's not what it's about at all.
Once past those false expectations, however, the fractured flow does result in some mirth with the mayhem. Sullivan is amiably dim as Nathan, going along with his more ruthless wife's schemes. Palmer brings a mean energy to Lucy, determined to carry out her plot no matter the result. Mulvey, for his part, brings some pathos to the jilted Jack; given the luminousness of the gentle Alice—played with both vulnerability and toughness by Braga—it's hard not to see why he fell in love with her, and sad that his jealousy leads to disaster.
Also fun to watch is Bryan Brown, an elder statesman of Aussie cinema, here using his natural charm for sinister purposes. His seemingly crusty older cop veneer thinly veils his venality, and when he unleashes his vicious side, it's chilling. Hemsworth is suitably gallant as Alice's lover.
The Aussie seaside provides a lovely contrast to the bloody proceedings, and the action sequences put the thrill in the "thriller" aspects of the film, albeit with some regrettably obvious CGI effects briefly pulling the viewer out of the experience. It's a credit to Stenders' skill that he's able to pull the viewer back in. The guitar-heavy score also adds to the thrills.
Though it has its flaws, Kill Me Three Times also has its charms, especially for fans of Pegg, and makes for an amusing—and violent—afternoon diversion.
Available on VOD and iTunes March 26, 2015, and in theaters on April 10, 2015