Adult Beginners (2014)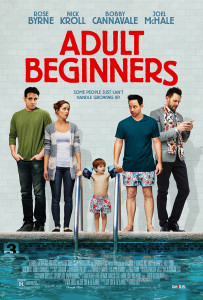 Adult Beginners is a surprisingly gentle comedy with a lot of heart and enough bite to keep the story from becoming too sentimental.
Nick Kroll stars as Jake, an entrepreneur whose company is about to introduce a Google Glass-type product called "MINDS i", which fails the night before the product launches because of a production problem with a manufacturer in China.
Abandoned by his investors and his friends, Jake shows up on the doorstep of his estranged sister, Justine (Rose Byrne), who is pregnant with her second child with husband Danny (Bobby Cannavale). Justine is wary of letting Jake stay too long with her family, but Danny assents to Jake's request to stay three months, with one catch: Jake needs to babysit his three-year-old nephew, Teddy.
The script by Jeff Cox and Liz Flahive (based on a story by Kroll) mines a lot of humor at Jake's attempts to be a manny, but it's really the family dynamic between Jake and Justine that's of more interest. Since their mother died and their father (played by character actor Jeffrey DeMunn) remarried, the siblings haven't spoken much; Jake didn't even know Justine was pregnant again, or that she planned on selling their family home, which is currently being upgraded with sconces galore by Danny (the sconces are one of the film's better running gags).
Director Ross Katz gets a lot of amusing work from his cast in this scenario, as well as a lot of emotional beats. What starts off looking like another raunchy comedy (the "MINDS i" party is typically excessive) quickly turns into a rather sweet story about the family one is born with and the family one chooses. It's not just Jake who needs to grow up, but Justine and Danny, too, typified by the swim class Justine enrolls Teddy in; neither she nor Jake learned to swim, which is one reason she enrolls Teddy, but in order for him to get in the pool, both she and Jake need to take the plunge, too. It's a simple but effective metaphor.
Kroll, Byrne, and Cannavale are all likeable actors who do a good job of bringing out the angst in the characters without sacrificing their funnier sides (those who watched "The League" or "Kroll Show" know just how funny Kroll can be), and the twins who play Teddy, Caleb and Matthew Paddock, are very natural.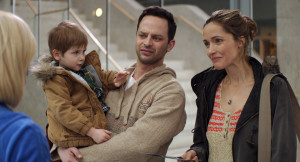 Katz wisely surrounds his main cast with veterans such as Joel McHale (perfect as Jake's  hedonistic friend Hudson), Jane Krakowski as slightly-off swim teacher Miss Jenn, and Bobby Moynihan as Paul, a high-school mate of Jake's who's now working as a store clerk and who still thinks Jake is cool.
Adult Beginners was also executive produced by the Duplass Brothers; the film has some of the same themes of marriage and friendship as in the Duplass' HBO show, "Togetherness", which recently completed its first season.
Adult Beginners is amiable, funny, and touching, and while it could have had a little more bite than it does (the things connected to Jake's work are cutting, but the family story is more traditional), it's ultimately worth a look.
Adult Beginners opens April 24, 2015