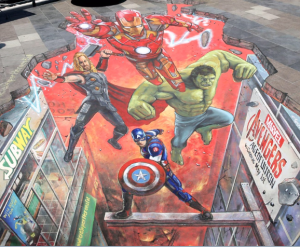 It's no secret Marvel comic book heroes and villains have taken over planet earth, with amazing movies,videos, comics and special events like comic cons and others catering to "nerds" (of which I'm a proud member).
The highly anticipated sequel to the blockbuster hit The Avengers, Avengers: Age of Ultron, is set to premiere May 1st, in theatres across the U.S.  Written by the legendary Joss Whedon and produced by Kevin Fege, p.g.a., Avengers: Age of Ultron is based on the 1963 comic.  Louis D'Esposito, Alan Fine, Victoria Alonso, Jeremy Latcham, Patricia Whitcher, Stan Lee and Jon Favreau serve as executive producers.
The cast returns, including Robert Downey Jr. (Iron Man), the sexy Chris Hemsworth (Thor), Mark Ruffalo (Hulk) and Chris Evans as Captain America. Scarlett  Johansson's Black Widow is set to wreak a little havoc and Jeremy Renner returns as Hawkeye.  Additionally the cast rounds out with Don Cheadle (James Rhodes/War Machine), Cobie Smulders (Agent Maria Hill), Stellan Skarsgård (Erik Selvig) and of course, the incredible Samuel L. Jackson who will reprise his role as Nick Fury. Those of you who love The Blacklist will be pleased to see James Spader as Ultron, a terrifying technological villain hell-bent on human extinction, who must be defeated by our heroes.  There are two mysterious and powerful newcomers, Pietro and Amanda Maximoff, played by Aaron Taylor-Johnson and Elizabeth Olsen. While the team is set to confront them, they meet an old friend in a new form when Paul Bettany becomes Vision.
When Tony Stark tries to jumpstart a dormant peacekeeping program, things go awry and Earth's Mightiest Heroes, including Iron Man, Captain America, Thor, The Incredible Hulk, Black Widow and Hawkeye, are put to the ultimate test as the fate of the planet hangs in the balance. As the villainous Ultron emerges, it is up to The Avengers to stop him from enacting his terrible plans, and soon uneasy alliances and unexpected action pave the way for an epic and unique global adventure.
Excit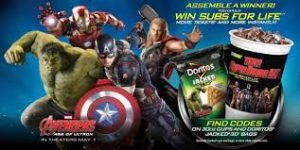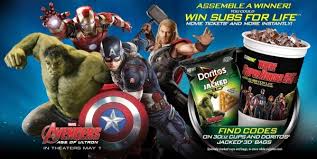 ed about the new film?  If you're like me, you can't get enough collectibles and probably scour the net for those one-of-a-kind treasures.
 Marvel and Subway Restaurants have "merged" so-to-speak, working together to bring Avenger fans something unique.  Subway is #WhereSuperHeroesEat and Global Chief Officer Marketing for Subway Restaurants, Tony Pace is thrilled to collaborate with Marvel. "Our longtime collaboration with Marvel has given us insight into the appetite of their passionate fan base. We are glad to feed their hunger for subs and super heroes."
"With SUBWAY® joining as a global promotional partner for 'Avengers: Age of Ultron,' Marvel has found new ways to interact with fans and consumers," said Stephanie Cohen, Vice President of Global Partnerships for Marvel Entertainment.
 SUBWAY® Restaurants are bringing Marvel's "Avengers: Age of Ultron" to life through in-restaurant, social, online, and broadcast promotions.  Exclusive, limited-edition 30-ounce cups will carry specially-marked codes for a chance to instantly win prizes every minute – including subs for life, movie tickets and more!  The brand also had a dedicated presence at one of their restaurants for the world premiere in Hollywood on April 13th, featuring a one-of-a-kind Super Hero Street Art experience for fans.
In the spirit of the film, Avengers fans are invited to assemble a winning meal combination with the collective power of SUBWAY's Simple 6™ Menu – an everyday "super" value with your choice of one of six 6-inch subs: Sweet Onion Chicken Teriyaki, Italian BMT, Turkey Breast, Tuna, Black Forest Ham, or Meatball Marinara; chips and a fountain drink for just $6.  Customers are encouraged to upgrade their drink to receive a limited-edition Marvel's "Avengers: Age of Ultron" 30-ounce cup and the chance to win instantly.
 To enter, stop by your local SUBWAY® Restaurant to pick up your favorite sandwich and an exclusive limited-edition "Avengers: Age of Ultron" cup. Visit www.subway.com to enter codes found on the specially-marked packaging, with additional ways to win available via select bags of the New Hulk Doritos® JACKED™ 3D.  The SUBWAY "Avengers" promotion entry period runs from March 31 – May 31, 2015, and is open to fans ages 13 or older. Please visit www.subway.com for full details on sweepstakes rules.
I am really looking forward to the next chapter of The Avenger's saga and this will definitely be a huge blockbuster to kick off the summer.  Don't miss out on this exclusive Marvel-Subway promotion only runs for a limited time, so be sure to get your limited-edition Avengers: Age of Ultron cup now!