Dark Star: H. R. Giger's World (2014; released 2015)
The new documentary, Dark Star: H. R. Giger's World, illuminates the art of Hans Rudolf Giger while leaving the artist still somewhat in shadow, which is fitting, given the nature of Giger's work.
Filmmaker Belinda Sallin opens with her camera prowling around the outside of Giger's home, which is obscured by foliage and filled with art, literature, papers—seemingly everything Giger ever created or bought. The camera pans over Giger's art, stopping here and there to focus on a particular work or its components.
It's a motif Sallin returns to frequently throughout; coupled with the film's haunting score, the camerawork lends an eerie beauty to her examination of the artist's work and life. The film is, in a word, mesmerizing, much like its subject, the "dark star" of the title.
Hansreudi, as his friends and family refer to him, is first glimpsed walking through the house, then seen sketching, barefoot and with his shirt partially unbuttoned, his Siamese cat, Müggi III, nearby.  He is next shown discussing the oldest skull in his collection, explaining that he was a little scared of it when his dad gave it to him. "To hold death in your hands like that is…Well, it's not very pleasant," Giger says. He further says he pulled it around on a string to prove he didn't fear death. Giger was only six at the time.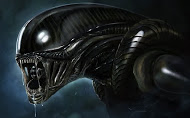 From there, the film observes what drove Giger's art in all its "biomechanical" glory. That underlying fear of death and Giger's desire to overcome it led to some of the most beautifully terrifying art in existence, including his Oscar-winning work for the 1979 seminal science fiction/horror film, Alien.
The film includes interviews with Giger's family and closest associates, and it's evident in every discussion that the man was not only well-regarded, but well-loved (Giger passed away May 12, 2014, shortly after filming was completed). Whether it's an interview with Giger's now-widow, Carmen Maria Giger, or his assistant, Tom Gabriel Fischer, or even his ex-wife, Mia Bonzaniga and another ex-partner, Sandra Beretta, the admiration and respect Giger engendered burns brightly in every look and word.
In an interview with author/photographer/curator Andreas J. Hirsch, Hirsch notes that it's a misconception Giger's art only shows darkness, and that the central motifs of his work are "birth, sexuality, death," with death but one part of the whole, and life a bigger portion.
It may seem at odds with Giger's work that Giger himself appears to be a "normal man" (as he is described by his mother-in-law, Carmen Scheifele de Vega), but as explained by Hirsch, "light shines through" the "darkness" of Giger's art.
Sallin's camera glides through Giger's world, investigating and revealing that shining light. As Carmen says at one point in the film, "Either he loses his fear or he draws until he gets it right." But it's not just fear that can be seen in the work, as evidenced by the loving shots of the details of his art as Sallin's camera pans over it, and by the actions and words of the man she captures in the twilight of his life.
Dark Star covers many parts of Giger's life, with Sallin slowly unveiling—though not completely—the artist behind the art via archival footage and interviews, at one point focusing on his nine-year relationship with Li Tobler, a Swiss actress/model/gallerist who was Giger's muse and partner, and who tragically took her own life in 1975. Giger coped with his loss by throwing himself into his work. It's heartbreaking to see him discuss Tobler's death; the pain is still etched in his face.
However, the film is not all brooding shots and eerie spaces. In a sequence toward the end of the documentary, we are treated to Giger riding a miniature train in his backyard past some of his own sculptures, one of his childhood dreams realized. The others, his own museum and his own castle (really a chateau), also came true.
It's a lighter moment in a documentary that, by circumstance, captures Giger's declining health; despite his growing frailty, however, Giger continued to create and to attend openings, signing autographs for fans, many of whom weep upon meeting their idol.
As Giger himself stated, "I've seen everything I want to see. … I'm happy with what I've done." In that spirit, Dark Star: H. R. Giger's World is a fine coda to the life of a man whose artwork remains as indelible as the man himself.
Dark Star: H. R. Giger's World (in Swiss German with English subtitles) opens in limited release on May 15, 2015